coville123
Silver Post Medal for All Time! 433 Posts
April 26, 2019
0

found this helpful
IT COULD BE DEAD LICE ,DEAD LICE LOSE THERE GRIP ON YOUR HAIR SHAFT.KEEP WASHING
YOUR HAIR.THAT WILL TAKE THEM OUT.

November 21, 2020
0

found this helpful
Omg I have had all of this going on for almost a year this this is what it is...mother of twins its been a nightmare.
Please email me

January 14, 2022
0

found this helpful
Dr bronner's peppermint liquid soap use on your hair and bedding. It kills everything. You can also spread diatomaceous earth all over your house it kills all Crawlers

April 5, 2022
0

found this helpful
There dust mites I'm having that problem as we speak I thought it was just fuzz at 1st and soon realized my rental was infested this house is going to be the death of me
There is a rat,roach,nat,dust mite infestation I hve lost 30 lbs since I've moved in in February where I dnt sleep well or eat right. I'm constantly cleaning everyday with no progress. I purchased an air purifier now I hve to go buy a humidifier but what I found little helpful was spray LYSOL or Flea spray wash everything in hot water and and dry in hottest heat... dust 1st then vscumna with a hepa filter in ur vacumn cleaner and spray with either spray I mentioned but dnt walk into the room for 20 minutes. Depending on how bad it is do it every other day, I do it everyday and it's killing me I'm breaking my lease early I've been dealing with crap since mid February & landlord doesn't want to make repairs & won't let me do it not to mention I also found out this house has lead base paint the list goes on and on....but whatever you do don't shake clothes or sheets etc etc. After bathing pat dry and drench urself in moisturizing lotion. God luck

August 18, 2019
8

found this helpful
I have had the same problem and Ive been viewing these critters via 30x magnifying app on my phone for 10 months at first I just noticed them in the carpet then furniture than the past three months on me Ive trued everything to get rid of them. Ive also been researching on line. They are in my hair and my hair will move all by itself. I hold a light to it to try n see bugs but nothing although Ive noticed a lot of similarities in the thing Ive finally found today during yet more research. . They can be translucent they are usually microscopic but Ive noticed I can now see some of them wo magnifier. They tend to be pale peachy to green in color in the carpet and those Ive found in my dog. The ones I vigorously rub off of myself are small tan to blackish in color of different sizes. Today I located the straw mite and the oak leaf mite online this is the closest thing Ive found to my problem. Tho theres nothing official. If you can download supervision app its a magnifying app that gives a better view. You have to play with it and hold at different depths and angles to find out what gets the clearest and closest pic. Im so excited to at least not feel as if Im hallucinating as no one in my family gets it until today. I show them some bugs Ive been able to bag up along w some other bug like material...egg sacs, and the sticky glue like substance. These mites that I mentioned (straw and oak leaf) can tend to infest homes after a wet winter or spring; weve had both here in the Carolinas. Theres so much more I can share but Ill leave it at that. Thanks and good luck to everyone and my prayers to find a way to get rid of it!! Btw Ive used permethrin, peroxide alcohol you name it. Yesterday I thought my brain was on fire bc I mixed turpentine (the wrong kind) w conditioner and lathered my hair bc the itch is driving me nuts. Omg!!! DO NOT DO THIS unless you get the right kind. I called an ambulance I was so scared my scalp was burning like crazy and hypersensitive!! But it got rid of 80%of them. I still use permethrin lotion all over including hair daily. And my power bill will be sky high from hot water washing and drying everything reg plus an extra 20 minutes.
Happy itch free night to all
Cindy T. North Carolina

September 1, 2019
4

found this helpful
I have had same thing for almost 5 yrs. I have just recently been looking into types if mites and the Cheyletiella mite might be a culprit. There is a ointment called Wilkinson's ointment that is not sold in the United States over the counter that seems to help ppl with such mites. It is made out of tar and sulfur as the 2 main ingredients plus other beneficial ingredients. I am too trying to figure this all out. Hope this helps someone and if so please let me know where you were able to get ointment and any alternatives you may find. Thanks

November 15, 2020
0

found this helpful
(Describe having the exxact same problem i use rid and a lice comb and this is what i found in my hair i have light blonde hair these tiny black things live in my hair and everywhere else in or on my body. I put bleach in my bath use sulfur soap all over including hair and i add peroxide and larher and set.I also use rid all over my hair and body let set. I also poor poroxide in my ears let set about 3 to 4 times each side that kills them in my ears. I also take ivermectin 200 ml. Two days in a row every week and permethrin cream all over my body I spray my bedsheets with rid spray for lice I recently started using 91percent isopropyl alcohol with eucalyptus essential oil in a spray bottle it seems to help r. These are some of the things that has helped me and I dont go barefoot ANYWHERE! I dont know what it is ive been to several doctors which has gotten me no where so if you find any info please let me know this has been going on since febuary it started after I sprayed a miteacide its been a living hell. Your Image Here)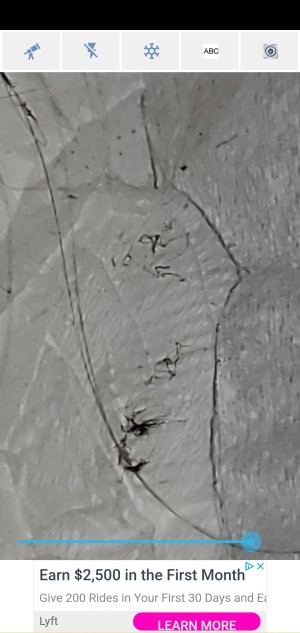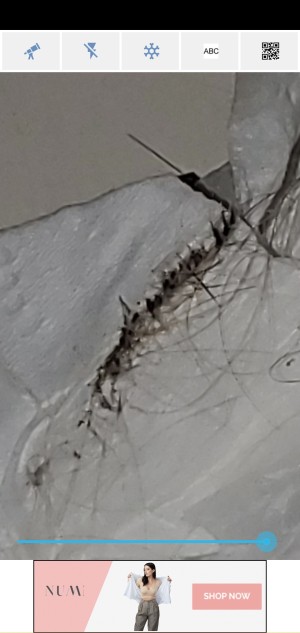 September 14, 2021
0

found this helpful
I'm also a Cindy in north Carolina suffering with this for over a year now

October 30, 2022
0

found this helpful
Same thing here. I hope you found out what it is. They are also all over our yard and neighborhood. They look like little creatures and the can morph into anything and be in anything. They look like some sort of fungus with bacteria and they took over a kite maybe. It I thought was going to kill me. I cut hair and have seen a lot of people with the same thing in there hair with dandruff. The dr thinks scabies for 2nd time. Not it they do crazy stuff and have multiple bodies in one. They seem to be smart I hate it but what sucks is I quit trying to tell people because they either say Im in drugs (IM NOT) or do u. Red to go to the hospital. So Im on a mission taking as many pictures of everywhere I see them and hopefully someone one day will be able to help. Hope you found what it was and solved the how to get them gone part. Thinking about taking all grass out already got rid of flower and gardens trees too. Also miss they are in moss. All moss that I have seen in my town.

August 29, 2019
0

found this helpful
I just started to find the same on my bed and clothes. Every speck i pick up and zoom in with phone camera and its exactly what you posted. Its in my sons hair probably mine too. But burns my skin at night by my ankles. I went to er for scabies and got permethrin cream for entire family. They say everyone that is in close contact with you must treat at the same time or it will keep coming back. Scabies burros and lays eggs in skin and will live on household items furniture towels sheets for 48 hrs or something like that. If you think it can be scabies google the treatment. Hope this helps. I prey we all get rid of this nasty mite problem.

November 26, 2022
0

found this helpful
Hydrogen peroxide, lemon fabuloso, white vinegar, coconut oil, eucalyptus oil, tea tree oil, lemongrass oil, permethrin cream which requires a prescription, permethrin liquid concentrate from any farm and garden store, metal lice comb, diatomaceous earth
Salt scrub body wash
Rubbing alcohol
Spray bottles
For any flooring vacuum daily.
Put diatomaceous earth on all carpet in house and your car.
Safest for pet's and children: mix equal parts of white vinegar and lemon fabuloso and 2 part's warm water and mop floors daily after vacuuming, spray baseboards, cabinets, etc with the mixture.
Works longer - permethrin concentrate and mix with water as directed and place in spray bottle and spray floors, baseboards, under cabinets and let dry.
Add the 3 essential oils to any of your shampoo and conditioner and comb hair while wet with not comb.
Purchase any body wash that is labeled salt scrub to help release them from skin.
Use rubbing alcohol to remove any you see on the skin that the body wash didn't remove.
For this one please consult your Dr because it really dries your skin out and could cause you other problems if you have certain health conditions but it feels amazing. Take a hot tub bath with hydrogen peroxide in your water. The amount depends on the depth of your tub but I would start with 1 cup and see what happens. When you have enough you can lay back under the water and when you raise up the tub will be full of these things if they are mite's.
Whether you have insurance or not please try to find a way to see a dermatologist for a definite diagnosis and treatment both oral and topical because whether it's flea's or mite's you can easily get a parasite from these and wind up in an infectious disease specialist care.

September 23, 2019
6

found this helpful
I could almost break into tears finding this web site...I'm sooo sorry, so many others are dealing with this, i completely feel your pain, but the assurance that i am not alone has been God sent. I have been going out of my mind & basically keeping it all inside. I do not want anyone thinking I'm crazy For the mere fact i have been dealing with a multitude of parasites since March, now being September. I have to live in a motel 6 with my cats until my apartment was ready. The place was filthy. I did as much as i could not to touch anything while i was there, using my own blankets, towels, shower shoes...etc. but my cats were everywhere, especially under the bed, then in bed with me. I then moved into an apartment rushed & it was not cleaned properly, nor do ui think that would've even helped. So I'm not sure where I've picked everything up. I treated my cats before we went, hoping this would protect them, but they have gotten mites & after reading, if your animal has mites, you're sure to get human form.. aka scabies. So it began with a nasty outbreak of demodex mites on my eyelashes & in my hair. I noticed lil white things falling out of hair onto face & my eyelashes are blonde but turned white. The demodex then took over my whole face. It was HORRIBLE!!! i began to wonder if they moved into my body as i started to feel moving everywhere. I also had movement under muy skin, that was extremely painful, i began to believe i had worms. I do. They moved into my wrists creating painful lumps, i could see them moving on my face, all under the skin. The demodex finally went away to leave me with scabies. I mean it's completely insane!!! I am such a germ phobe, i can not understand how, what or where??? I want to mention that i have RA, so my immune system is compromised. During the scabies infection, i went to the hospital & they literally treated me like a meth addict or something. I guess with sores all over & complaining of a worms under my skin, i may have fit the bill perfect. They asked if i had mental issues, if i was being abused at home....they gave me scabie medicine& sent me on my way. The worm infection is getting worse. I went back to ER with proof in hand & my stool sample, loaded with the nasty lil things. They again treated me like i was a nut job, said oh hunny you seem so anxious, there are not worms under your skin, you are fine, let me get you something to calm your nerves. She was gone forever, i truly feared they were getting me a room in the psych ward. I left with my stool sample, she never even looked at. So the scabies are gone, but I'm now dealing with these worms & other lil black specs falling out of hair, and going to every place my skin is compromised from the remaining scabies sores. Can i actually be dealing with yet another friggin parasite? This is completely INSANE, but i believe I'm suffering from the same thing everyone here is dealing with. I'm going out of my mind! I stumbled across SPRINGTAIL MITES & i believe that's what we are all suffering from. There are many different variations, but i think it's what we're all dealing with. I hope this helps all of you...& God bless, wishing & praying for us all to get our body & mind back GOD SPEED

October 12, 2019
0

found this helpful
I have the same. Saw tiny specs. Took a fine tooth comb and wiped the sink with a tissue. Photoed with smartcamera and maximized - horror- they are tiny worms and animals. Nothing can be resistant to them. I tired over the counter lice shampoos, vermox anything- help!!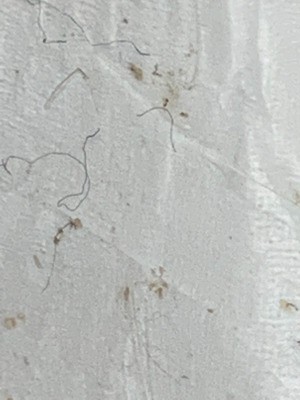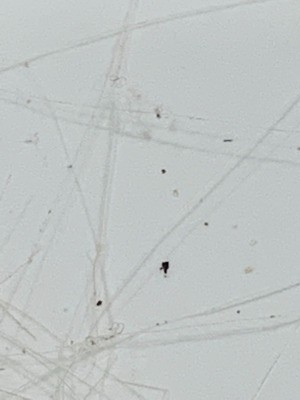 November 3, 2019
0

found this helpful
Try SSKI you can buy on Amazon

February 19, 2020
1

found this helpful
I am also going through this and I think it is springtails as well, and they can attract other stuff since they like fungus, I am trying Ted's remedy just as soon as I finish with the epsom salt protocol...
I found that sulfur is best and if you spry hairspray on your hair and skin you can sleep much better, Also Sea Salt and Coconut makes nasty stuff come from your skin...
Spray yourself down with Listerine (gold stuff) and let it sit on you in the shower.. you can see the suckers coming out and dropping off you.. Take a hot shower to get them out of you. If you have springtails you probably have demodex too

April 10, 2020
5

found this helpful
I have all these symptoms you can see black specks all under my skin when magnified by the phones camera lens. Sometimes you can watch the black spec enter under my skin when you pull it out with tweezers it never moves, sometimes when I find a spot that I assume to be a burrow where one has laid eggs they come out really fast once at a time and they're sometimes white and flat in a triangular shape and it's almost like fleas, flies, bees all bugs are attracted to me more so than usual. Just when I think maybe I am crazy and they start to go away I will scratch one of my scabs and the eggs/ babies fall out and start reentering my skin stinging me in a 1000 different places and I've found no matter where thr place is that I've scratched the scab off the eggs/ babies one or two always always find their way to my nose, and always one corner of my mouth is a sore. When one side starts healing the other side cracks open again. You can see them under my skin it looks like a little flap of skin sometimes with a black dot in a perfect line, they love getting around and underneath my nails both fingers and toes. Bugs are my biggest fear, I've felt so so nasty for over a year now and doctors treat me like a meth addict I never understood how a person could take their own life and this is seriously the closest I've ever gotten to understanding it, my whole family thinks im back on drugs im a recovering addict I lost my husband my children's father ten years ago and became addicted to xanax it made me not feel anything I've relapsed twice since having this problem but I've never used methamphetamine. I would never pt something in my body that would make me hallucinate something remotely close this this is worse than a Stephen king novel this is our worst nightmare came to life. Please if anyone has any advice please email me I have no one I've lost friends because of this no one NO ONE BELIEVES ME AND I'VE NEVER FELT SO ALONE IN MY LIFE. Im turning 40 in June and I don't wanna live the rest of my life like this. I can handle the skin issues and that's hard to deal with!!!!!!!! what I can't handle is everyone thinking i'm crazy and having to deal with this alone with no one to talk to. Thanks guys for sharing your stories so people like me know their not the only ones dealing with this shit. I wish it were drugs then the world be an explanation for this and a solution and everyone giving the answer scabies or lice, thanks for your responses but trust and believe that was our first diagnoses and we treated as and it didn't work, it is far worse than scabies or lice.

May 4, 2020
4

found this helpful
I'm so happy to have found this website. In the beginning when you spoke of getting the tweezers to extract the embedded bugs and how they never ever move. Sometimes they break apart and make you pick a sore in your skin and other times they pop right out whole, no blood. Which is a problem with these mites, one little scab will make you bleed to death no matter how old it is.
The red orange flat mites that seems to be everywhere. Wash my hands and see mites all over on white paper towels. Scalp sometimes has this dark color like flat worm that is shaped like a hair comb, flat on one side and teeth like on the other. Now my nose itching alot when I have a new set of little seeds shaped like half moon. Soft when fresh and hard when dried out in my bed. Little blue black bugs in hair and private area and scalp. Black ones started looking like moles so when I grabbed a few I new it was bugs with like brown fluid if smashed. Some looked as it it had fur. Scalp had some that had like mites stacked up on top of each other. My skin has white flaky mites. I believe all of these related. I listened to your stories and I happy to have someone else who knows about this horror. I use salt water spray bottles, Clorox bleach, sulfur soap and cream scrub. Mite away "from Amazon. I did buy " licefreee" because it can be left on scalp and body. My hair didn't have any bugs today after washing. Used the spray on body and away the went. Night time pure coconut oil and tea tree oil. Does anyone smell differently? Like a chemical? I do and wonder if people can. 8 months and dealing with this. But I'm not crazy. Thanks for any help you can offer.

November 15, 2020
1

found this helpful
I had the excact same experience I now have tiny black fibers in my hair so I comb it out using a lice comb but there back the next day all the doctors say I'm crazy. I feel tiny things crawling all over me my face and hair are the worst of all

January 12, 2021
1

found this helpful
Hello,
I saw your post and wondered if you are ok? Also are you still having same issues? I have exact same pics as above and millions more.
Hope you don't mind the email,
Quan

April 9, 2022
0

found this helpful
Spring tail mites is one of the things i was thinking too but that I think is why they are so hard to kill. They are considered the most abundant arthropods on earth. Since prehistoric times, they have survived frigid winters and very hot summers, but their numbers decrease exponentially under dry conditions.

December 21, 2019
7

found this helpful
Mold mites could be the answer do you have a mold problem in or around your house or mulch in your garden? You can beat this by first off deworming yourself for multiple parasites from chemist and your pets, and putting tea tree oil and peppermint oil all over you then bathing in Epsom salts and or borax! Wash all your clothes and bedding in hot washes with borax, detox your body lots of water and charcoal tablets, you will feel sick detoxing so plan when you do it, be vigilant with cleaning and vacuuming your home and use a UV black light in every room to eliminate bacteria! Build up your immune system with multi vitamins, B plus, zinc, garlic, apple cider vinegar, chlorophyl, colloidal silver both internally and externally, eliminate sugar, treat yourself for fungal problem topically and orally, oregano oil is great at killing fungi topically. Take food grade iodine! Gargle with betadine and use a cotton bud to put in nostrils! Fog your house for mites and try to find the source of your mold problem to eliminate it....this has a 4 week and 6 week cycle so keep up with everything for several months and be careful going back to sugar! Buy a book on how to cure Morgellons mites naturally from Amazon...Lots of good info on you tube about mold mites and Morgellons and good luck you can beat this it took me about 3 weeks to start feeling better and lots of hard work cleaning but the UV light helps cut that down if you get a second occurrence as I did...thinking of you all whom have suffered and you are all totally sane and dont let anyone tell you otherwise as youre the one living this horror story!! All the best...

February 7, 2022
0

found this helpful
We need to figure out how to educate the world on this.
I just found my sanity 2 months ago after doing a parasite cleanse. Scram, it's called. Lol 2 weeks on, 2 weeks off. This on top of your info, will literally save people's lives.
I have pictures for days. Going to dermatologist for 2nd time tomorrow with my speech and evidence ready. (I need some sort of proof...like this post isent enough