Can Your Water Make You Itch?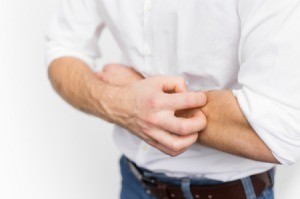 Could my water be what is making us itch? Even my pets are itching non-stop. I have scatched my legs until they bleed. I have used lotions, oils, etc. but nothing seems to be working. I have rusty well water and we all drink it, bathe in it, etc.. Can you please help us scratch our itch. Thank you.
Aloma from Michigan
Answers
March 7, 2009
1

found this helpful
Best Answer
Water generally doesn't do anything to you - even rusty water.
You mention your pets and legs are real itchy areas. Are you certain you don't have fleas or that the animals don't have any forms of mange? The mange mites can also make humans extremely uncomfortable.
Neither fleas nor mites will be affected by any oils or lotions you apply to relieve dry or itchy skin.
March 7, 2009
0

found this helpful
Best Answer
I too got itchy from our water. Our city water comes from wells and the water filters down through limestone so we have very hard water. The calcium dries my skin and makes me itch. I switched from bar soap to moisturizing shower gel and my skin has been much better. Hope this helps. P.S. The federal governement made our city drill new wells this year and now we have rusty water, so the iron may be a factor. This is the first year I had a problem.
March 7, 2009
1

found this helpful
Best Answer
Hopefully your home has an operational water softener installed. With very hard well water like yours it's a necessity. If you have one, is it working properly? Is it simply out of salt? I've had well water in every home I've lived in, and I assure you that hard water residue on your skin can definitely make you itchy. Until you get to the bottom of it, a little water softener powder (like Calgon - laundry aisle) in a bath will soften the water for bathing, and use bottled water or a filter pitcher like Brita for drinking water (because of the rust content). Most importantly, you need to have your water softener checked or have one installed!. Good luck!
March 7, 2009
0

found this helpful
Best Answer
I would not assume that the people in your family and your pets itch for the same reason. However, it can be. For the animals, you would need to check with a vet.
I must tell you that for myself, water does indeed make me itch. The dermatologist has called it dermatitis. I am to not even load my dishwasher. (lol) The opthamologist has told me the cracks I get in the corners of my eyes are from my eyes tearing. I dry very carefully between my fingers, but have noticed break outs there. I think it is due to perspiration.
I do not believe any tap water can be so different from other water that it in itself would cause itching. The symptoms I have described occur with all water.
March 7, 2009
0

found this helpful
Best Answer
Hi! Consider getting a water panel run. Aqua MD is one I used before, but there's lots of labs out there. Unfortunately, we discovered some really nasty stuff in our water like high nitrates, fluoride and rocket fuel. It's worth checking it. Especially if you are near any chemical or military site. And by near, I mean within a hundred miles or so. Good luck!( Feel free to contact me privately for info on investigation of such things).
March 8, 2009
0

found this helpful
Best Answer
Hard water can definitely have this effect. A lot of people swear by getting a water softener installed.
March 16, 2009
0

found this helpful
Best Answer
Your rusty well water. That is the clue. Have it tested. You could have organisms swimming in it as well. Water can make you itch ( it does me) by the sensitivity and health condition does it for me. My family is fine. And our water is pure. Test your water, you may be told NOT to drink or bathe in it either. Happened for my son and his wife on the farm. Contaminated from the fields near their farm. No bathing, even the dog got bottled water after that.
Read More

Answers
Published by ThriftyFun.
© 1997-2021 by Cumuli, Inc. All Rights Reserved.
https://www.thriftyfun.com/tf80114405.tip.html