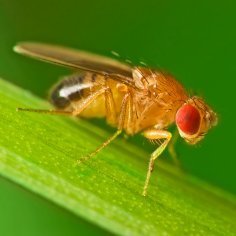 Fruit flies can be really annoying. Making a homemade trap can help you get rid of these pests. This is a guide about making a fruit fly trap.
Ad
---
I absolutely hate fruit flies! This trap is very easy to make and works really well. I always have this trap set up on the counter, so an infestation never has a chance to take hold. View the full project here: Fruit Fly Trap
Solutions: Making a Fruit Fly Trap
Read and rate the best solutions below by giving them a "thumbs up".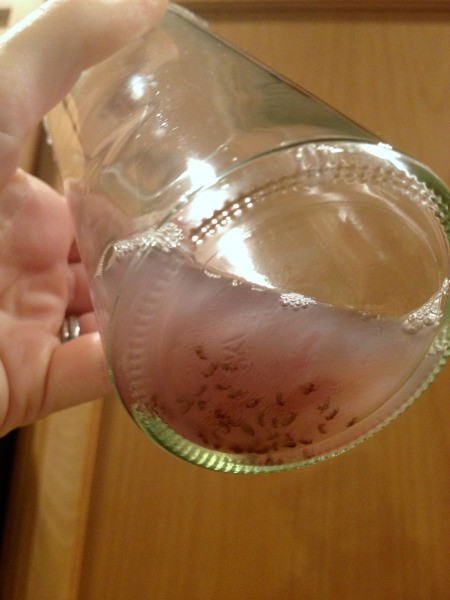 I absolutely hate fruit flies! This trap is very easy to make and works really well. I always have this trap set up on the counter, so an infestation never has a chance to take hold. :)
Approximate Time: 5 minutes
Supplies:
red wine vinegar
Dawn dish soap
plastic wrap
rubber band
toothpick
clear jar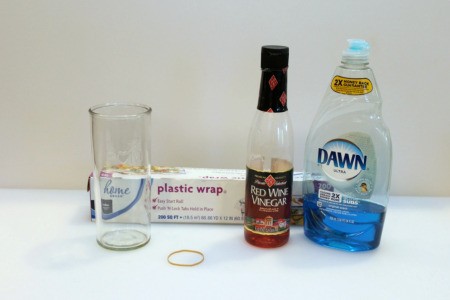 Ad
---
Steps:
Put 3-4 drops of Dawn soap into the bottom of the jar.
Pour 6 Tbsp. of red wine vinegar into the jar (or enough to fill it about 1/4 in.).
Gently swirl the jar around to combine the ingredients.
Place a piece of plastic wrap over the jar and pull it tight across the top. Secure it with a rubber band. Trim off any excess plastic.
Using a toothpick, poke holes into the plastic so the flies can get in.
Place your trap near any fruit you have out on the counter. Goodbye fruit flies!

NOTE: I change out my mixture about every 2 weeks, more often if I am catching a lot of fruit flies.
This may be an off-the-wall idea, but it has worked for me. All summer, we did not have any fruit fly problems. About ten days ago, there was an explosion of fruit flies in our kitchen. It was the worst fruit fly problem we have ever had. I have always washed any produce that we buy, but for some reason it didn't work. The flies were invading my kitchen. It was a daily endless battle to rid these critters. Running out of ideas to get rid of them quickly, I came up with this idea.
I placed a large bowl of cider vinegar with a few drops of liquid detergent on a large dinner plate. I used the scraps of a fresh tomato that I had cut and placed around the bowl on the plate. I covered this loosely with wax paper with some slits on the top to allow the flies to enter easily. I let this sit with the microwave door open for about an hour.
After that hour, there were a large amount of flies on the bowl and plate. I quickly closed the microwave door and then turned in on high for one minute. The flies were zapped dead when I opened the door. I wiped it out and repeated one more time; keeping the oven door open again for an hour. This killed the majority of the fruit flies in the kitchen. A few were flying around the kitchen, but I was able to rid of them with the fly swatter. So far, the fruit flies are gone.
Be sure to use dishes/containers that are microwave proof. Since you will be cooking in the microwave, use enough cider in the bowl so it doesn't cook off. Also, use large enough pieces of fruit/produce that will not burn while cooking. Our microwave is 1100 watts so the time may vary. I used wax paper to keep any of the food from splattering, but put slits in it to allow the flies to enter. I had a concern because there are small holes inside of the microwave; I thought maybe the flies would escape, but I watched while the microwave was running and the flies did not go into any of them.
Before trying the microwave, I was using the cider vinegar with dish detergent in a bowl plus another bowl using beer. Both had worked, but I had so many fruit flies it seemed like it would never end.
Along with the vinegar/beer dishes on the counter, I had used sticky mouse traps and turned them with the sticky adhesive on the outside. I did get some that way but the microwave worked the fastest. I also got rid of any food source that would attract the flies. I also removed the trash out of the kitchen every day.
My husband said this is my craziest idea yet, but was happy with the results. It worked and worked quickly. I don't think I could have taken one more day of those fruit flies in the kitchen.
By mkymlp from NE PA USA
Getting rid of fruit flies. First get a plastic grocery bag. Put the rotting fruit in the bottom of the bag. Set it on the counter fully open at the top with the sides pulled up. This is so the flies will go down to the bottom of the bag.
Wait about 15 minutes or so and then quickly shut the bag trapping the flies inside. Take the bag outside and let them loose. I had to do this three times as they are fast little buggers.
By elizabethgb7 from Bremerton, WA
Fruit flies were taking over the kitchen because of my wife and I love fruit. She hates them so I used a trick I learned in science class. Put a piece of fruit in the bottom of a glass. Then make a funnel with a piece of paper and put on top. Push down and tape to make seal. Overnight the flies will go in the funnel to eat and not get out. The fruit fly traffic will stop and you can release them outside. Works like a charm.

By George from Culver City
Give a "thumbs up" to the solution that worked the best! Do you have a better solution? Click here to share it!
Questions
Here are questions related to Making a Fruit Fly Trap.
Does putting a cup of vinegar on the counter catch and kill fruit flies?
By Deb
Ad
---
---
Best Answer
By Sandi/Poor But Proud [429]12/13/2011
Yes, but you have to put a few drops of dishwashing liquid in to break the waters/vinegars surface adhesion. That way, the gnats or flies drown. Other wise, they will just land, drink and fly off. It works great.