Kelly Ann Butterbaugh
6

found this helpful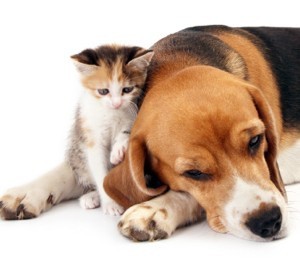 It's that time of year again. Time to take our old friend, a mutt whom we adopted at the pound twelve years ago, to the vet. He'll be excited until he gets there, but when it's over he'll happily leave with a treat and new vaccination tag. For me, however, the pain of the shots lingers a bit longer.
Last year we invested more than $150 in one single visit to our veterinarian. Add onto that the year's supply of flea and tick medicine, and he's topping $200. This year, with the economy the way it is we decided that everybody was cutting back, everybody.
The Shot
The first place we decided to cut our vet costs was at the vet itself. Knowing that our dog has been an exceptionally healthy animal who has been on routine worm medication, we opted to only have him vaccinated. At this point we'll recognize signs of serious illness; we've gotten to know him pretty well by now.
However, to vaccinate at our vet incurs a hefty office visitation cost as well as a slew of vaccines. Instead, we called our local chain pet store (Petco for our area) and asked about vaccinations that they offered. Luckily, they offer a Saturday clinic that provides all of the required vaccines for dogs and cats for $49. If we opt for the additional heartworm and other parasite check our bill still comes in under $75. The only cost? We have to arrive on a Saturday at 2pm and wait in line. Our trip to the vet takes well over an hour, so we figure we'll bring a book and find our place in line.
The Maintenance
Again, luckily we have a healthy pet. However, a few years ago we cut the cost of our flea and tick medicine by ordering it online. The exact same box arrives in our mailbox (just like the ad on TV claims) and we save nearly half the cost of buying it at the veterinarian. By purchasing a year's supply at once we save even more, sometimes getting a full month free. It pays for the shipping. If we combine orders from our family and buy all the dogs' medicines for the year in one large order we receive free shipping and the months free. Not bad.
The Food
Before our dog became a permanent fixture on our couch (remember, he's twelve. That's the equivalent to an 84 year old man), he required more energy than a teenager. We were tempted by the ads for the high-priced dog food like Eukenuba and Iams. They touted benefits for the active dog and the growing dog.
However, before buying we talked to a very down to earth veterinarian who offered this test: Lay a handful of dog food on a non-waxed paper plate overnight. In the morning if the food left some greasy marks, it was a valuable dog food. He claimed that the brand name foods are only selling the brand and not the benefit.
However, he cautioned against foods that didn't have the level of moisture that showed on his test. One such food we quickly found was Ol' Roy marketed for Walmart stores as well as our local grocery store's generic Dog Chow. The same veterinarian recommended Purina or Alpo, but warned that the dog would decide which he preferred (Dogs must be like people deciding between Pepsi or Coke; it's either one or the other but not both.) We've been cycling through Purina Puppy Chow (yes, he's a Pepsi type of dog), Purina Dog Chow, and now Purina Senior. He seems happy with it, and at $8 a bag so are we.
The Love
Regardless what level of care you give, your pet will appreciate nothing more than your love. If he needs veterinary care, give it. If she needs special food for a sensitive stomach, feed it. Just love your pets; they'll love you back! (It's also not a bad idea to invest in an at-home care book which can save many trips to the vet for silly doggie things like swallowing a bee or cutting a paw. We've been there for both. The bee cost us $120.)
May 30, 2009
0

found this helpful
I've also heard that the rabies vaccine lasts up to seven years but now vets give them once every 3 yrs (vaccines account for a good percentage of vet's income) .
June 1, 2009
0

found this helpful
Another good idea for all pets is to have an identification tag on your pet's collar. We have been getting our tags at love-tags.com for many years. Custom engraved tags are $5 with free shipping. Customer service is great! I always get the brass tags, but they have plastic and aluminum tags also. (My husband swears by the brass collar tags for his hunting dogs.) Five dollars is pretty cheap to make sure your pet finds his way home. Also remember to spay and neuter your animals!
April 8, 2011
0

found this helpful
Be careful about "cheap" dog food. While a vet may say it contains the appropriate nutrients, It can be similar to eating McDonalds every day and then taking a vitamin! The first listed ingredient should ALWAYS be meat. Never a grain or other "filler". Also, look up the definition of "meat byproducts". Did you know this can mean just about anyting. The QUALITY of the food we feed ourselves and our pets is very important. Also, the better the quality of food, the less you have to feed and the less you have to clean up-lol
April 8, 2011
0

found this helpful
Iams and Eukanuba are not actually high quality dog foods.
www.dogfoodadvisor.com is an unbiased great web-site to check out how a dog food ranks.
April 8, 2011
0

found this helpful
I agree with almost everything you say except the food part. Buying cheap food is only going to lock you into a life time of vet visits as your pet will get ill more frequently and more severely. The person who said feeding cheap food is like feeding McDonalds every day was correct, put crap food in your dog will only lead to bad results. Feed the highest quality you can afford. There are lots of good choices out there and dgofoodadvisor or Whole Dog Journal is a great place to start looking. And another thing, if you don't want to vacinate older dogs for rabies every 3 years, have your vet run a titer test to see if the old vacination is still effective. If so, you are still "legal" and don't have to put more medicine into your dog.
April 8, 2011
0

found this helpful
Please read all of my past posts if you love your pet. NO grocery store food. No poisons, they kill. Food grade diatomacious earth for intestinal worms. NO poison vaccines. Immunities present in almost any dog with just a few years of age. Did you know there are euthanized animals from the shelters being put into pet food? Complete with the euth poison that does not cook off. Google it for the proof if you like. Borax for fleas. Natural remedies, no poisons, no vaccines, decent food. Protect them please. Don't kill them
July 16, 2013
0

found this helpful
What happened when he swallowed the bee?
I have learned to make do over the years with many things for the home. Often the results are better than what you could buy. For instance, I needed a scratching post for my cat, so I took an old board, nailed leftover carpeting onto it for an 8 foot long climber and scratching post. I lean it against the wall. You could also attach some carpeting, like a rug sample, to match your decor to a wall instead. Cats like to stretch out, so make it as long as possible.
For a litter box, I took a 10 gallon plastic bin with a snap-on lid, cut a doorway in one side with a knife 6 inches above the floor, and filled it with sawdust and wood shavings for my cat to use. The extra depth of the box helps to keep the litter inside. Wood shavings are free - ask at a lumber yard or wood-workers shop.
For cat toys, I make a small ball of aluminum foil for kitty to chase. The light weight is especially suited to cat's play. I also make a "catnip mouse" using a small drawstring cloth bag filled with cotton or crinkled cellophane. Tie it tightly closed and store it in a zip-lock bag with catnip for a week or so. It will absorb the scent, the cat will love it, and it is reuseable.
For a cat carrier I use an appropriate sized plastic bin with a snap on lid. I cut some 1 inch; holes in the sides for breathing, put an old towel in the bottom. For extra security, you may attach the lid by punching a hole in the lid and one in the box, adding a shoelace or string to tie the lid closed or just use some duct-tape. Now you can transport kitty to the vet in comfort.
By Jennifer from Gilbertsville, NY
April 5, 2011
0

found this helpful
You have some great ideas but, please do not use sawdust or wood shavings for litter. I have worked for a Veterinarian for over 27 years and we have found that wood will cause upper respiratory and eye infections in cats. Good luck.
April 11, 2011
0

found this helpful
While I love saving money and reusing things, I would be careful with some of these suggestions. Certain wood shavings can cause reactions, especially if your cat has asthma. Ingesting them accidentally can lead to a blockage.
I love the scratching wall idea, but I would attach it to the wall, so the kitty does not bring it down on himself. One of the shelters I volunteered had one, and it was great! the kitties got a great workout on it.
Foil balls are fun, they and the drawstring pouch should only be used with supervision and taken up once the game is over. A friend lost her kitty to peritonitis from a fun foil ball, when he ate a piece.
Catnip can be stored in washed out peanut butter or jelly (plastic) jars, and the home grown variety seems much stronger than store purchased.
Hate to be a kill joy-but if you are saving money by doing these it would be awful to have your kitty need vet care because of them.
Cat collars, on the cheap! Use plain elastic! Tie it. The beauty of a piece of elastic is that it won't choke a cat and works as an expandable "breakway" collar. Another cheap collar: Cut off the ribbed tops of old socks. Make five collars per sock. Nice and soft! This should also be listed under "what to do with old socks!"

By Mary from Kensington, MD
July 30, 2007
0

found this helpful
(Sent in by Email)
It seems to me this may be dangerous. I
think that a cat could get that tangled while outside, and it could just
become more and more tangled, and tighter....
Susan M.
By guest (Guest Post)
July 30, 2007
0

found this helpful
I agree that this sounds dangerous. If a cat is wearing a piece of elastic round their neck while they're squeezing through a tight place, part of the elastic could get caught and your cat may end up being strangled.
I know that I am unable to break the top of a sock with my bare hands, so I doubt that it would break away if a cat wore it. Please everyone, before you put elastic or any sort of material on a pet, test it yourself first to make sure that it will break if caught on a nail or something similar.
July 30, 2007
0

found this helpful
My cat would try to play with the elastic, it's her favorite thing to play with elastic string (long pieces and she doesn't eat them just stretches them). But socks on a cat, that just seems kinda not safe and ugly. Oh well, to each his own, but I personally don't mind paying a few dollars for the break away collars, Wallyworld has them for less than $4, we then add a different bell for either cat, so we know which one is coming!
By guest (Guest Post)
March 1, 2009
0

found this helpful
Yes, if it isn't elastic, no if it is elastic.
September 5, 2009
0

found this helpful
I've used elastic with a bell for years and it works fine. I got tired of paying store prices for new collars every month or two, plus custom tags. I know the elastic collars don't get caught and choke them because the cats lose them, too! They can take them off themselves if they really set their minds to it. The difference is I replace them for pennies.
My vet says she buys cheap collars by the bunch at the dollar store and writes her phone number on them with a Sharpie. I have been to a lot of dollar stores but I can't find what she's talking about. It's doubly annoying because I paid good money to have my cats microchipped and it turns out most people don't bother to check for microchips when they find a lost cat! So right now all I have is a bell for the birds. I'm still working on the ID issue.
September 20, 2005
0

found this helpful
Do you have any money saving tips for pet supplies? Share your ideas with the ThriftyFun community by posting feedback below.
September 20, 2005
0

found this helpful
When out purchasing pet supplies, be sure to ask if they have any broken or torn bags or dented cans of hamster litter, kitty litter, pet foods, fish food, wildbird seed, etc. Also, might ask if they've got any doggie beds, kitty towers, bird cages, aquariums that might have a flaw, that could be purchased at a discounted price.
Not necessarily all of those, just whatever you might be needing with your special pet(s).
By Terri
September 20, 2005
0

found this helpful
I make my own beds-Polar Fleece [$6 @ yd, $1.29 for Polyfil]. Bought a fiberboard 24" in diameter from bakery store. Trace around fiberboard, cut out 2 layers, machine sew around edge leaving hand size opening to stuff it, turn right side out, stuff and hand sew opening closed. These go through the washer and dryer beautifully. Also they aren't stuffed with all the 'floor sweepings' that beds bought are!!!! Any left over scraps I sew as for the beds, stuff with polyfil and close. Can get 2-4 beds for the price of one bought in Petco! Fantastic site for pet things is UPCO.com. Top quality, low prices!! Joandogs
May 11, 2011
0

found this helpful
For those of us that can't sew or don't have time or have access to a machine. I have found a new bath mat at Wal-mart that would make a wonderful pet mat for inside a kennel,or carry kennel and is nice enough to put just on the floor. It comes in two sizes and several colors. Great for small or medium size pet.. What I like is that it is made with memory foam and covered with a soft cloth. It is machine washable and dryable. I would air dry this mat. It is very soft and spongey. Dogs or cats would love it. It is called Cloud 9 made by Mohawk and found in the home dept at Wal-mart. The small one cost around $ 12.98 plus tax and I bought a small brown one, This is 10.00 to 20.00 less than I saw for a actual pet mat the same size in the pet dept or at a pet store and not nearly as nice. My Mini Pin really likes his. He used to scrunce every thing he laid on. Now he uses this pad flat. It might have to do with the memory foam and it is more comfortable for him.