You can make your own custom colored Easter egg dye at home. This page contains Easter egg dye recipes.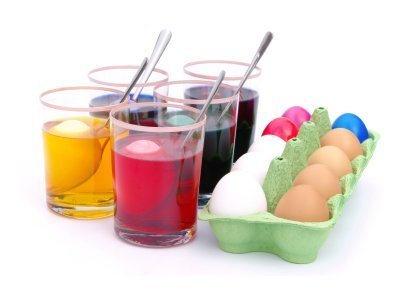 Filter

: All Articles
Sort

: Relevance
You don't need to purchase those boxes of Easter egg tablets to dye your Easter eggs and this is such a fun way for children to learn color wheel basics. This formula is for just one color mixture, so all you have to do is use the same formula for each color if you're planning to make multiple colors of eggs.
Oh, and in case you've forgotten the basics: Yellow and Blue = Green; Yellow and Red = Orange; and Red and Blue = Purple ;-)
Ingredients:
1 tsp. distilled vinegar
20 drops food coloring
1/2 cup boiling water
Directions:
Set a wire cooling rack on a large cookie sheet or roasting pan and then mix water, vinegar, and food coloring in a small bowl. Submerge eggs in the dye mixture, turning occasionally until desired color depth is reached, about 2 to 5 minutes; remove eggs with slotted spoon or tongs and place on rack to dry. "Voila!"
I am looking for recipes for making my own easter egg dye for my 4H group. Does anyone have any recipes to share?

Thanks,
Diane
Answer
Was this helpful?
Helpful?
Yes
We always used the directions on the box of food coloring, food coloring and vinegar plus water, we used crayons like while yellow, pink light colors work best to draw designs on the eggs before we dyed them.
Reply
Was this helpful?
Helpful?
Yes
Read More Answers...
Instead of using expensive Easter egg dye kits use packets of Kool-Aid instead. It's much less expensive and you don't have to end up with all of the doo dads included in each dye kit package that you'll probably not use. All you need to do is mix one packet of Kool-Aid with 3/4 cup warm water in small glass bowls.
For colors the following Kool-Aid flavors work the best:
red = cherry
orange = orange
yellow = lemonade plus a little bit of orange
green = lime
blue = berry blue

Comment
Was this helpful?
Helpful?
Yes
I read a recipe for making Easter egg dyes using jello. I can't find it.
Can you help?
By Robin
Answer
Was this helpful?
Helpful?
Yes
I don't have a recipe for using jello, but I do have one using 2/3 cups of water to 1 pack of Koolaid. Hope this helps.
Reply
Was this helpful?
Helpful?
Yes
I've seen a really good list of, every day ingredient, egg dyes and how to make them. Be forewarned, they take a day to soak in the color, and be sure to wash the eggs before you dye them. I tried three colors this year: yellow made from turmeric, pink made from beets, and green made from spinach.
What worked best was the turmeric. Unfortunately, I tried using canned beets and freeze-dried spinach, and I think that boiling them as directed for fresh ones ruined the color. Learn from my goof :)
Source: http://www.mommypotamus.com/how-to-dye-easter-eggs-naturally-with-everyday-ingredients/
By Kirsten from Logan, UT
Comment
Was this helpful?
Helpful?
Yes
Mix 1/2 cup boiling water, 30 to 40 drops of food coloring, and 1 teaspoon of white vinegar. Let the dye cool completely before dipping eggs.

HINT: You can use crayons to write and draw lines or stripes on the eggs before dipping.

By Marnita
Answers:
How to Make Your Own Easter Egg Dye
You can also make natural egg dyes with fruits, spices and vegetables. Try beet juice, cranberry juice, blueberries, spinach, turmeric, grape juice, asparagus, coffee or tea. It's fun to experiment. (03/13/2005)

By JoMama
Comment
Was this helpful?
Helpful?
Yes