Read and rate the best solutions below by giving them a "thumbs up".
Cat with Hairballs
I have a 15 year old cat that is having a terrible time with hairballs. I have switched to wet food thinking he might be able to get it down easier and keep it down. Should I still be giving him dry food too? He still throws up, but not nearly as much. Sometimes he will come up with a hairball that is 3-4 inches long. He won't eat the food if I put hairball medicine on it. Poor baby.
By Phyllis
---
RE: Cat with Hairballs
You need to brush or comb your cat as often as possible to get rid of excess hair, especially in the spring and summer when they are shedding the most. It really helps a lot! (10/14/2009)
RE: Cat with Hairballs
Our longhaired cat had an awful time with hairballs and the vet suggested mixing 1/4 teaspoon of mineral oil into his dry food with every feeding. Bert (the cat) didn't like the oil on his food at first, but when he was hungry enough he ate it and got used to it. The mineral oil worked. (10/14/2009)
By Mlina
RE: Cat with Hairballs
The advice about combing or brushing is very important. When I had cats that would get hairballs, I found that rubbing a small amount of the hairball medicine that comes in a tube on the tops of both front paws worked great. Cats can't stand anything on their fur, so even though they didn't like doing it, they licked their paws clean! Just be sure to rub it in and not use too much because sometimes they'll try to shake it off. Hope this helps. (10/15/2009)
By BMD
RE: Cat with Hairballs
Considering that you already brush your kitty and his advanced age, kitty may be losing more fur than when he was younger. If the home remedies do not work ask his vet what he should have to slow shedding. Good luck and give kitty love for me! (10/15/2009)
By purrplekat
RE: Cat with Hairballs
I've always given any baby I have both a small can of food each day and dry food to let them choose what they want. Each baby is different.
The fur balls are probably more troublesome now because of advanced age and your baby just doesn't groom itself as much, just as what happens with we humans.
The one thing I do is give my baby a heaping teaspoon or two of either sour cream or cream cheese as a treat each morning. She loves the treat and she, who used to throw up fur balls all the time, has not done so since I started giving her this daily treat. Hope this information is helpful for you. (10/15/2009)
By Deeli
RE: Cat with Hairballs
I had to switch recently to all canned food because one of my male cats was having urinary troubles. Within a week to ten days I noticed all the cats getting up their fur balls, and one even passed one in the litter box. I also rinse the can and pour it on their food so he gets more water in him. It wasn't what I was expecting, but it was a positive side effect. (10/16/2009)
By Beth
RE: Cat with Hairballs
Don't be afraid of the plain, unscented petroleum jelly. It is the only thing my cat would take for hair balls, in fact she loved just licking a little off my finger every couple of days. My cat preferred Vaseline brand as when I tried the cheaper stuff she did not like the stronger smell. Also if you read the ingredients on most hairball remedies it is mostly petroleum jelly! (10/16/2009)
By thriftmeg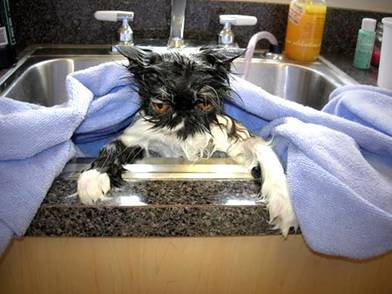 RE: Cat with Hairballs
I was just looking online for remedies and found: 1 tsp. of canned pumpkin or baby food squash will help. And, mineral oil can deplete vitamin A. Also, 1/2 tsp. of butter 2 to 3 times a week was another remedy. (11/16/2009)
By Eclipse557
RE: Cat with Hairballs
You know, I just realized that I didn't mention that it would also be of great help for you to brush your fur baby twice a day which would remove even more of the fur instead of him ingesting it :-o Cats groom themselves at least a couple of times in a day so it makes sense to me that they do it for a reason. Sorry I forgot to write that before :-( (11/17/2009)
By Deeli
---
Vaseline Hairball Remedy
If your cat suffers from hairballs, here is a cheap, useful remedy. Just give him a teaspoon of Vaseline every 2 weeks and the problem should be alleviated.
By Robin
---
RE: Vaseline Hairball Remedy
I have found that when trying to give cats Vaseline is to put a little on their front paws and a little bit on there nose! They can't stand anything on their paws or nose! Make it a lot easier! (11/07/2004)
By kay
RE: Vaseline Hairball Remedy
What does the Vaseline do for the cat? It is a petroleum based product. Would it not be harmful to your cat? Our cat is 13 and every once in a while (maybe a couple times a year) she just brings up the hairball. No big deal. I simply clean it up with a tissue and throw it out. (11/07/2004)
RE: Vaseline Hairball Remedy
Some of the hairball formulas sold on the market are also petroleum based. Groom the cat daily to reduce the hair he swallows! (11/07/2004)
RE: Vaseline Hairball Remedy
Just a note of interest. Vaseline balls rolled in sugar about the size of a sweet pea, and then frozen are given to be swallowed whole by the elderly, bedbound, and hospice patients, for release of a high bowel impaction! (11/07/2004)
By lorac456
RE: Vaseline Hairball Remedy
I use organic butter and they love it. I do brush them daily so this happens infrequently. Jennifer (11/08/2004)
By ILuvDobes
RE: Vaseline Hairball Remedy
Vaseline should NOT be given to cats every day as it will bind up the fat solouble Vitamins A, D and E and prevent your cat absorbing these nutrients. It is quite alright to dose your cat with for a few days when you suspect he has a furball and very effective and safe when only used as needed. My cat likes his Vaseline mixed with an equal quantity of Vegemite, It can then be smeared on the fur or mixed in with food. (11/16/2004)
By Jim
RE: Vaseline Hairball Remedy
My cat is 11, and has a habit of vomiting 3 or more times daily. He has done this his whole life and the doctors and I haven't found a reason. Recently I tried having him lick Vaseline off my finger and he loves it. He practically attacks me to get some. He hasn't thrown up in 2 weeks, but i have been giving him fingerfuls daily. Should I stop giving it to him? I feel the Vaseline couldn't hurt him more than the vomiting. (11/20/2004)
By marilyn
RE: Vaseline Hairball Remedy
If your cat is vomiting daily and there is no medical reason for this, It is likely he eating something thats upsetting his digestive tract. If he is allowed outside it could be very difficult to determine what is causing him to vomit. I would keep him inside for a few weeks and see if things improve. Even when kept indoors cats sometimes start to chew or suck on wool or other types of fabric. I would also increase the amount of fibre in his diet by giving him Dry cat food more often and feed him Raw Chicken Necks/Wings several times a week, But never feed him any cooked bones as they can splinter and cause internal problems. Please stop giving him Vaseline every day as this will cause a deficiency of Vitamins A,D, and E. If things don't improve it is time for further medical testing to be done. (11/27/2004)
By Jim
RE: Vaseline Hairball Remedy
My cat BEGS for Vaseline every time I'm near the medicine cabinet. He practically bites my finger licking it off- he's so excited. Has anyone else experienced this or know why he is so crazy for it? (12/13/2005)
By Katy
RE: Vaseline Hairball Remedy
I have recently found that buying the indoor formula cat food for indoor cats helps lower the amount of fur balls. I didn't think it would matter but my mom tried it for a month and it started get the hair balls down, so I started to buy it, it is a bit more expensive than the cheap food but it is worth it, I have had them (4) kitties on it for about 6 months now and I see maybe 2 hairballs in a month. Just thought i would share this. I buy it at Walmart, it is the cheaper one of the 2, there are 2 brands of it. The cats also love the food, the oldest also got his weight down closer to where it should be. (01/08/2006)
By jennma521
RE: Vaseline Hairball Remedy
I forgot to add, that my mom got this formula for the reason to keep the cats out of her plants that they would eat to kill. And it worked, they don't touch any of them anymore. Thanks again Jen (01/08/2006)
By jennma521
RE: Vaseline Hairball Remedy
I give my cats about 1/4 teaspoon every week. It really helps with hair balls. I have 8. If one starts to hack, I give her about 1/4 teaspoon right away and she is done. (12/09/2006)
By Sylvester
RE: Vaseline Hairball Remedy
Vaseline has petroleum in it, as do MANY hairball remedies. NEVER give your cat Vaseline! http://onlynaturalpet.com has alternatives and there are many other sites that offer information, like http://peteducation.com (02/05/2008)
By Karen
RE: Vaseline Hairball Remedy
Interesting that several responses warn never to give your cat Vaseline. My cat is 12 years old and gets a small dab of Vaseline pretty much every day. Just a dab on his front paw. He loves it and has never had any health issues. (07/23/2010)
By catmom98
RE: Vaseline Hairball Remedy
Vaseline (petroleum jelly) is perfectly safe for human or animal consumption. It used to be (and still may be) a base for suppositories. Some petroleum products are toxic (like gasoline), but this hairball remedy has proven effective for over 100 years and you will find no record of ill effects from its use. (07/31/2010)