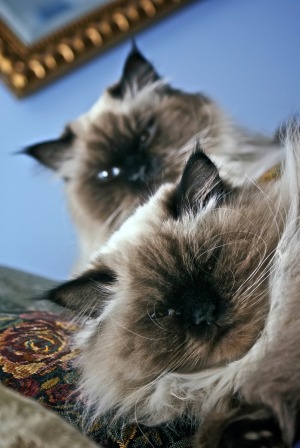 I got 2 new 9 month old male kittens. I brought them into a home with neutered male and female cats (all are neutered by the way). The oldest reigning male cat of the household is started to try and be overly friendly with the biggest male kitten! This is so gross. How do we fix this? I've done the water bottle squirting in the face. Still happened again. In the meantime, my next action until I get a better suggestion is to continue to squirt with water and put him in the timeout box (the pet taxi carrier).
Leave him there for a bit. Might even make him sleep there in the nighttime to avoid a problem while asleep. I don't know what else to do. Anyone else had this problem and solved it, and if so, how so? Thanks to everyone in advance for the help!
Lori
Answers

March 10, 2007
2

found this helpful
You need do nothing. This is normal behavior. Most male cats I've had have done this, and the vet has said it is natural behavior. You may find it to be "gross," but it's part of nature.

March 12, 2007
2

found this helpful
The cat is acting normal.You are applying what you think should be normal behavoir for a human to a cat.Cats,as any animal, do not have the same moral compass as you.I am sure you may have heard this old joke.A vet visits a woman who tells him she can't understand how her cat keeps getting pregnant.At that moment a big tom cat walks by and the vet says what about that tom cat.The woman replies don't be silly thats her brother.
Let the cats be cats and not humans.You will only have a break down treating cats as children.

March 12, 2007
0

found this helpful
This has nothing to do with sex, but rather your older male cat is exhibiting his dominance over the newcomers. This is normal and will continue to happen whenever he feels it necessary to put them in their place, so to speak.
By (Guest Post)
March 12, 2007
0

found this helpful
ditto all of the posts...we have a female dog who will "hump" the cat...it is a sign of dominance and not a sexual move...just looks like one!!

Beth
Silver Feedback Medal for All Time! 407 Feedbacks
March 13, 2007
0

found this helpful
Yes, everybody is right. The oldest male is the "Alpha Cat" and making sure the new little one (who might have an attitude!) knows who's boss.
By lindau (Guest Post)
March 13, 2007
0

found this helpful
my 7 year old male cat gets on my side when I am laying on my bed and watching tv and humps on me and meows he has been nuetrued a long time ago, the vet says some cats just do that, or some thing simular grrrrr

March 18, 2007
1

found this helpful
I have 3 female (fixed) cats, and it is funny to sometimes see them trying to get ahold of each other's neck (in the back), as if they were going to mate. It IS just a domination move, though. I leave them alone unless they get unnecessarily rough. If that it what's up at your place I'd talk to a few vets for advice.
abbie
Read More

Answers

I have never heard of this problem with cats. My niece has two neutered male cats, Sammi and Buddha. They are about 5 years old and are from the same litter. They have been together since birth without any problems. They are inside cats, fed well, and well loved. They were recently to the vet and have a clean bill of health.
Sammi is showing signs of sexual aggression. He mounts Buddha and grabs his neck, and trys to mate. It happens in a matter of seconds. So far, this has happened in her presence, five to six times. Buddha never challenges Sammi.
Other than that, they play together, eat together, basically get along very well. I would think this is a sign of dominance. She is on a limited financial budget so we are going to do research before she decides to take him to the vet.
We also considered the fact that my niece in the past few months has been working full time and going to school at nights. Sammi and Buddha are her only companions. Could it be jealousy? Is Sammi letting his brother know that he doesn't want to share her affections? I would appreciate any input.
Thank you.
"Mike"
Answers

December 27, 2004
0

found this helpful
We have two neutered dogs that do the same thing - it's annoying, but with dogs, it means that the one is trying to establish dominence. I would assume this would also be true of cats. :)

December 31, 2004
0

found this helpful
I have a male neutered rescue cat. He began the thrusting behavior on a pillow of a frog, on top of it's head which has plastic eyeballs.
I have two pillows, one frog and one alligator for each of my two rescue cats. The cats, one female, both sleep on these pillows and no one else uses them.
My boy goes through different emotions with this frog and sometimes avoids it refusing to go near it. Other times he will knead it with his paws and still other times seems to try to mate with it's head. He used to just sleep on it but the behavior started after we moved.
He doesn't bother with the alligator at all. My girl just kneads both of the pillows with her paws.

January 1, 2005
0

found this helpful
I have a funny thing about my pets... I have 3 female cats and a yorkie terrier .. I have a mommy cat and her 2 kittens well they are about 3 years old now but my yorkie that is not fixed he tries to mate with the cats...
and they seem to look for him to let him do it all the time its quite funny... my husband wont let me fixthe yorkie he wanrs to breed him but he jokes and said we will have catdogs one day and get rich....

January 4, 2005
0

found this helpful
This is interesting! We have two older pure-bred cats, one male, one female, both have been neutered. The female "knows" she is the "queen" and expects to be treated royally. The male (who is her half-brother and a year younger) is the vocal one with his meows, but the passive one as for as agression. However, I caught him doing that very same thing today, trying to "mount" the female, and it has happened in the past! But of course he gets himself slapped silly by the female, and it really made the female angry yesterday. I don't know what's going on, either, and this is an interesting inquiry, so thank you for asking...maybe someone can give us answers!! As the dog-owner in one of these postings suggested, I think he is trying to gain dominance.... but he usually is so laid-back and "I don't care"-acting while the female wants to get all the lap-time attention. (I'll post a photo of our male if I can get it to work.)
By Vicky (Guest Post)
February 19, 2005
0

found this helpful
I have four cats, two male and two female, all neutered. The younger male cat is about a year and a half old. He has always been very affectionate to me and kneaded my hair whilst I am asleep/ in bed, but recently he has started thrusting and pushing on my head. I push him away but he gets quite aggressive and jumps on top of my head making a funny mewing sound.
Since then he has also started kneading my clothes and yesterday I caught him on top of my big cuddly toy cat. He had mounted it and had the scruff of it's neck in his mouth, he was also thrusting his groin.
He always licks his genitals after doing this action.
I am getting quite concerned about it and not sure whether to take him to the vets.
When he is doing this thrusting action he acts like a different cat and once it is over he goes back to being a very happy, affectionate, playful cat.
Does anyone know if this is something he may grow out of as it seems to have developed in the last few months.
I've read the posts about dominance etc. but he usually makes sure he is the centre of attention anyway and pushes my other cats out the way. This thrusting is something he does when he is on his own with me.
Does anyone have any suggestions?
By micki449 (Guest Post)
August 10, 2005
0

found this helpful
My 11-month old male cat started doing this a few months ago. I woke up one night to see him doing what appeared as if giving a massage to his teddy bear on the floor. I was shocked and disturbed by this because I did not know that even neutered cats will do this. I almost creid, because he was "moma's baby"! Nowadays you can find him toting his "girlfriend" around the house, massaging her back and biting her neck. He sometimes brings his girlfriend in my bed while I am sleeping. I now have to warn people before they come over that they may witness some strange things with the cat and his bear!

March 7, 2008
1

found this helpful
We have five cats, 2 male and 3 female, all fixed. Gradually my oldest male cat(Theo) began mounting and now is penetrating the youngest male cat(Charlie). It has all been rather overwhelming considering we have recently added our 7 month old baby to the "litter".
I assume that there was penetration based upon the screams coarsing from our bedroom and the positioning of the two upon the light switch thrown on. You'd think that there could not be anything more alarming, but they DID NOT move when I flew into the room! Not a flinch or a hesitation! I had to literally pull them apart. Although I paint a picture the visually wasn't anything like two stuck dogs. After I let Charlie outside I went back to Theo and his kitty penis was out and throbing and let's just say, I clearly left Theo feeling unsatisfied, as he kept his head buried between his legs for longer then I should have noticed.
After reading some of the feedback we feel much better about our kitty situation. Not to offend anybody but now these two are known as the "Brokeback Cats"

May 17, 2012
0

found this helpful
My dogs do this. They are both neutered and I think its to show dominance. One is female and she occasionally sucks the other dogs penis but only very briefly and he does not really seem to get off. She does not seem all that sexually interested as she just kind of licks it and walks away. I think its a dominance thing.
Read More

Answers