Because your cat is such a conscientious groomer, you will find that from time to time he experiences a delightful phenomenon known as a hairball. Ah, hairballs. The hacking, the spitting up, and the singular delight of accidentally stepping in a fresh one.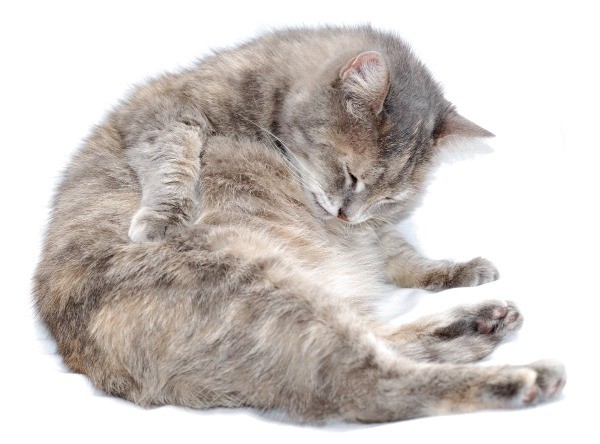 How are hairballs formed?
As your cat grooms himself, he dislodges loose fur. Some of that loose fur may be swallowed. Over time, the loose fur collects into a ball, and is regurgitated. You may find that your cat brings up a small hairball every few days or so. And that is perfectly healthy and normal!
Hairballs can be dangerous if they become stuck in the cat's intestine. A cat experiencing a stuck hairball may seem tired and run down, and will often lose his appetite. In extreme cases, your cat may need surgery to remove the blockage. However, a little fish oil in your cat's food may help the ingested hair slide through your cat's system.
Hairballs can also cause your cat to become constipated. Adding a little bran or roughage to your cat's diet can help things move more regularly.
Domesticated cats do not have one yearly shedding time, like cats in the wild do. Thanks to our artificial lights and temperatures of our homes, indoor cats will shed gradually throughout the year, leaving hair on carpets, furniture, and clothes. The constant shed means that hairballs will be a constant part of life with your cat.
And don't think that stopping your cat from grooming himself will stop the hairballs. Grooming is a natural behavior that is an important part of your cat's life! It is an enjoyable activity for your cat; if you have multiple cats, it is also a social activity.
If you brush your cat regularly, you can reduce the amount of loose fur, which will help lessen the frequency and size of hairballs. Grooming your cat also gives you a chance to check your cat for coat and health problems.