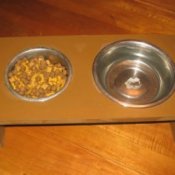 There's nothing worse than a spoiled puppy, but it sure is fun to cater to our faithful friends. Though a raised dog dish seems silly, it actually provides an eating area for dogs that is easy to clean.
What you'll need:
MDF board (1/2" thick)
Two stainless steel dog bowls (8" diameter or less)
Drill
Screws
Jigsaw
Paint
Paintbrush
Wood putty
Varnish
Instructions:
Depending on the size of your dog, modify the dimensions of this project accordingly. Cut two squares measuring 10"x10" from MDF board. Measure your stainless steel food and water dishes, add the measurements, then add an additional 4-6". Cut a rectangle that is 10" tall and your above determined measurement wide. Cut a support board the length of your top board, minus 1", and 10" wide.
Lay the dog dishes upside down on the larger MDF board section, spaced as you want them to be in the finished project. Trace the dishes in pencil. Measure the lip of the dishes, and double the number. With a jigsaw, cut the inside of the traced circles out, subtracting the doubled lip measurement from the entire radius. This will allow the dishes to fit nicely into the holes.
As in the photograph, attach the square pieces of MDF board to the bottom of the larger board, with screws. Insert your dishes, and then place the support bar beneath the dishes. Mark the location with a pencil. Attach the support bar with screws.
Sand the entire piece, then cover the screw heads with putty. Apply paint and varnish. Let the finished project dry for at least 24 hours before use. Just beware of dog. Before you know it, Fido may want to be served breakfast in bed.