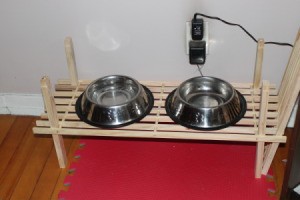 We just got a Great Dane pup. He is growing quite quickly, and we need to keep his food and water elevated to help with digestion. Those dog bowl holders are quite expensive. So I saw a sale on shoe shelves for $3.99, and thought that was perfect since you can add levels as dog grows. I hope this helps anyone with a large dog to feed.
By Donna from Foymount, Ontario
May 4, 2011
0

found this helpful
I think that's a really good idea, a nice looking & inexpensive alternative to an expensive dog shelf, however, I think you are asking for trouble to have it so close to that outlet! Dogs are so messy when they drink water, it could short out the outlet and/or whatever is plugged into it, possibly hurting the dog. Or your pup might decide to nibble on the wires!
June 12, 2012
0

found this helpful
I agree, the shoe shelf idea is a very good one! Please, for safety's sake, relocate it away from the electrical outlet. Good luck to you and enjoy your "gentle giant"!
I have always had large dogs, Great Danes, St. Bernards, Great Pyrenees, etc. Many years ago, my husband made each pet a table that was best suited to the height of the animal. He put cross pieces on the bottom so there would be no tipping and cut holes in the top to fit the size of the dish. There is also a shelf on a lower level for storing treats, blankets, etc. My pets have always enjoyed eating from their table(s) and I found it less messy.
By Willi from Calgary, AB, Canada
October 6, 2010
0

found this helpful
How did your husband make this? I have a German Shepherd, Lab, Pitbull.
December 10, 2015
0

found this helpful
Back in 1969 my husband invented an adjustable dog feeder. It was made from a metal track that was about 3.5 feet long, he made two medal rings by welding metal strips together. They fit inside the tracks and were tightened with wing nuts. It was very easy to raise the rings up or down to adjust the height for a dog who was growing taller. I purchased stainless steel pans to go into the rings. They were a sensation. He sold the patent for it and it can be found in several dog supply catalogs. Oh, and yes, we also had Great Danes.
Because a Greyhound finds it difficult to reach to the ground for food, water, etc., place his water and feeding bowl on a bucket so he does not have to struggle. They appreciate this especially when they are reaching the 'winter of their years'.
Read More...
Shauna Smith Duty
0

found this helpful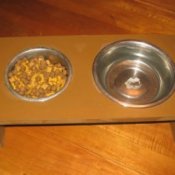 There's nothing worse than a spoiled puppy, but it sure is fun to cater to our faithful friends. Though a raised dog dish seems silly, it actually provides an eating area for dogs that is easy to clean.
What you'll need:
MDF board (1/2" thick)
two stainless steel dog bowls (8" diameter or less)
drill
screws
jigsaw
paint
paintbrush
wood putty
varnish
Instructions:
Depending on the size of your dog, modify the dimensions of this project accordingly.
Cut two squares measuring 10"x10" from MDF board.
Measure your stainless steel food and water dishes, add the measurements, then add an additional 4-6".
Cut a rectangle that is 10" tall and your above determined measurement wide.
Cut a support board the length of your top board, minus 1", and 10" wide.
Lay the dog dishes upside down on the larger MDF board section, spaced as you want them to be in the finished project. Trace the dishes in pencil. Measure the lip of the dishes, and double the number. With a jigsaw, cut the inside of the traced circles out, subtracting the doubled lip measurement from the entire radius. This will allow the dishes to fit nicely into the holes.
As in the photograph, attach the square pieces of MDF board to the bottom of the larger board, with screws. Insert your dishes, and then place the support bar beneath the dishes. Mark the location with a pencil. Attach the support bar with screws.
Sand the entire piece, then cover the screw heads with putty.
Apply paint and varnish. Let the finished project dry for at least 24 hours before use.
Just beware of dog. Before you know it, Fido may want to be served breakfast in bed.
By guest (Guest Post)
Flag
July 5, 2005
0

found this helpful
I also bought a metal one on-line. Deep chested, & certain breed dogs, are prone to bloat. It's healthier to have them eat with their heads up higher than having to reach to a bowl on the floor.
November 10, 2014
0

found this helpful
Large breeds (Great Danes, Greyhounds, Saint Bernards, etc. have a difficult time eating off the floor. Worse yet - if you show the dog in Confirmation competition eventually from eating on the floor the dogs front paws will start to sway outward - this is known as "east & west" feet.
A cheap easy fix is to buy two 5 gallon buckets (try Home Depot's orange ones or a large soap bucket). Clean it, spray paint it any color you wish and then buy a stainless steel pan with a lip on it that will fit the open end of the bucket & plop it into the bucket. You're done! Plus, it's easy to take it with you on vacation or where ever you go.
After removing the small double cabinet above the refrigerator (because the refrigerator would not fit), I used the cabinet to make an elevated dog feeder for our two dogs.

First I attached rubber feet on the bottom so that it would not move and would not scratch my wood floors.

Next, I cut two holes in the top to place the bowls. It is a terrific feeder, plus there is storage room below. You could look for unfinished cabinet or used one at flea market if you are not as lucky as I.

By EJ