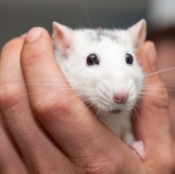 Here are the five pluses of keeping rats, an often overlooked pet.
Rats are affectionate.

Unlike most small animals, such as hamsters and gerbils, rats know how to love and even how to recognize their caretakers. Some rat owners, such as my myself, claim that the affection some rats can give can rival that of a dog.

Rats don't take up a lot of space.

Rats only require about two square feet of space, a bit more if you decide to buy them a larger cage.

Rats can be affordable.

Rats don't break the bank when it comes to money. Food and bedding costs run low if you find the right store, and money can be saved if you potty train your rat (yes, it can be done!) and feed your rat a homemade diet (see Suebee's diet on the RMCA website). Toys can be made at home too - a pant leg from slacks or a chicken bone make good toys for rats.

Rats make excellent first pets for children.

Hamsters aren't always the best choice when it comes to first pets for children, choose rats instead! These easygoing creatures don't mind if they get awoken while taking a nap and are "a lot" less aggressive than most other small animals. However, please supervise young children when they handle rats or any other animal.

Rats are low maintenance.

Rats need their water and food bowls cleaned and filled daily (include fresh food). Rats only need about 30 minutes of attention from you a day (compare that with a cat, dog, or ferret). And of course, your rat could use a yearly check up from the vet and a clean, disinfected cage every week.
By Misha
August 17, 2014
0

found this helpful
I have never had a rat, I've had frogs, toads, fish, gerbils and hamsters. I now have 23 rescued cats and a rescued dog! If all goes well I am seriously looking into getting a rat. All other creatures carry diseases, so a rat can't be the only culprit to carry bad stuff. So saying that, I will research rats to find out where to get one (but I don't think it will be from the slums). Lol.
Read More Comments
Catherine Forman
1

found this helpful
In many ways, setting up for a pet rat is similar to preparing housing for other small furries -- rabbits, guinea pigs, or ferrets.
You can house your rat in a cage or a large aquarium. Cages are generally more popular because they offer climbing opportunities and good ventilation -- aquariums have poorer circulation, which can lead to health problems for your rat. If you choose to outfit a cage for your rat, make sure that the bars are close enough that a baby or young rat can't squeeze out.
When it comes to cage size, a good rule of thumb is to allow two cubic feet for each rat. But really, the bigger the cage, the better. Your rats will love having the space to climb and play!
A plastic tray for litter at the bottom of your rats' living area will make life a little easier for you -- especially when it comes to cleaning. Your rat habitat should be thoroughly cleaned every three to five days. All tubes, toys, shelves, and litter trays should be removed and washed. You may need to pick up food waste and excrement every day. Soiled or wet bedding should be removed as soon as you notice it.
Your rat habitat will need a nest box -- somewhere for your rat to sleep. Choose a bed that is warm and secure, like a small plastic basket or even a cardboard box. Your rat may even like sleeping in a hammock! Offer bedding like shredded paper, chopped straw, or old linens. Try to avoid cottony, fluffy bedding, as your rats can get their toes tangled or even choke on the fluff.
Make sure your rat has access to water at all times! A gravity feed water bottle works very well with a cage. If you choose to provide a bowl for water, be prepared to wash it frequently -- the rats may use it as a bathtub. And make sure your bowls (for food or water) are heavy enough not to tip when your rats lean or climb on them. Ceramic, stainless steel, or plastic bowls should work well. You should provide separate bowls for dried food and fresh food.
And rats love to play. They can spend hours climbing, crawling, and exploring. Your rat's particular tastes may vary, but you can try tubes and tunnels, ladders, shelves, ropes and swings, or even a wheel. Use your imagination to make your rat's home a fun one.
February 26, 2013
0

found this helpful
Having rats as pets is very rewarding, educational, and increases creativity as one thinks up new ideas for an interesting habitat, games to play, and interaction with an intelligent, fun, affectionate pet.
Bandit is a 1 year old rat, who we bought at the pet store. She loves to run around on the couch and in the bathroom. She likes climbing all over me. She is very friendly.
Rats get a bad rap. People automatically get squeamish when I say I have a rat for a pet. Rats are very clean animals. They are always washing themselves. They are affectionate and become attached to their owners like a dog or cat.
By Judy from Waterloo, IL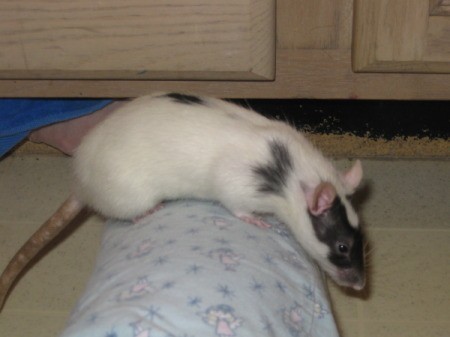 July 12, 2011
0

found this helpful
Bandit's name certainly matches her markings :-) What a cutie! I love rats! I still miss my buddy boy, Yodi, from way back in the early 70's! He was my very first pet when I moved out on my own.
Read More Comments