Bake up a batch of flourless peanut butter cookies and pour the milk. This page contains flourless peanut butter cookie recipes.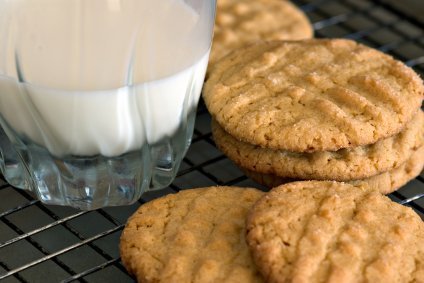 Real easy to make and just a few ingredients.
Ingredients:
1 cup peanut butter
1 egg
1 cup sugar
Directions:
Mix the three ingredients together and drop by teaspoon full onto lightly sprayed cookie sheet. Bake at 350 for about 15 minutes. Will be slightly soft. Cool slightly and remove from cookie sheet.
That's it! Super simple cookies with just a few ingredients. So yummy!
Source: A dear friend from Orville, Ohio
By dwedenoja from New Creek, WV
Easy, cheap, tastes great, and kids love them.
Ingredients:
1 egg
1 cup sugar
1 cup peanut butter
extra sugar to sprinkle on cookies if you like
Directions:
Mix sugar, peanut butter, and egg together. Roll dough into quarter size balls. Make crisscross with fork on balls or leave ball shape. Sprinkle with extra sugar if you want.
Bake 8-10 minutes at 350 degrees F. Let cookie set on pan, then remove.
Cooking Time:
8-10 Minutes
By turtleswife from OH
This is so simple and tasty, frugal too!
Ingredients:
1 cup peanut butter (chunky or smooth depending on taste)
1 cup sugar (preferably a raw sugar)
1 large egg
Directions:
Preheat oven 350 degrees F.
Mix sugar and egg together. Add peanut butter. Form into 1 inch balls and press with fork. Dip fork in a little sugar so it won't stick.
Bake for 10 to 12 minutes.
By Ivy from Rancho Palos Verdes, CA
By Free2B 217 350
You may have noticed a recipe for super easy peanut butter cookies. The recipe calls for just 3 ingredients, egg, peanut butter, and sugar. Well, I tried this recipe on the recommendation of my dear friend, Beverly, and it is outstanding!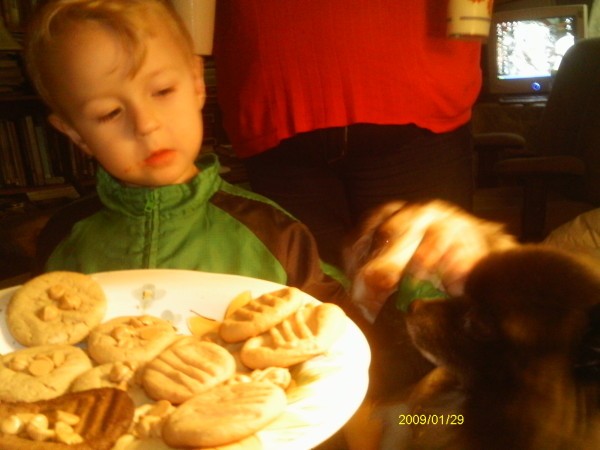 Ingredients:
1 cup peanut butter (smooth or chunky)
1 cup sugar
1 egg
Directions:
Mix the three ingredients until you have smooth, clay-like dough. Form into balls (tsp. size works well) and flatten by pressing criss-cross pattern with fork.
Bake 350 degrees F for about 10-15 minutes. Watch your first batch as time depends on size and the type of peanut butter you use. I like mine to get golden brown around the edges.
Source: The recipe was given to me by a gas company home advisor, who was buying our house, about 40 years ago.
By Robin 5,893 29
Ingredients:
1 cup chunky peanut butter
1/3 cup confectioners' sugar
1 (7 oz.) jar marshmallow creme
Directions:
Combine all ingredients in large bowl; mix well. Drop by teaspoonfuls onto cookie sheet. Bake 10-15 minutes or until lightly browned, at 350 degrees F.
By Robin from Washington, IA
These are cookies made with peanut butter, egg and Splenda. If you want to, you may use regular sugar for non-sugar free cookies.
Ingredients:
1 cup smooth or crunchy peanut butter
1 regular egg
1 cup Splenda
Steps:
Mix ingredients.
Roll into balls.
Flatten with fork dipped in Splenda.
Bake at 375 degrees F for 10 minutes.
It consists of 4 items and takes less than 5 minutes to prepare. They are like the old fashioned Grammy's peanut butter cookies.
Ingredients:
1 egg
1 cup sugar (regular granulated)
1 cup peanut butter
1 tsp. vanilla extract
Directions:
Mix all ingredients until it stops sticking to the bowl. Take a tablespoon size of dough and roll it into a ball. Do this with all your dough, leaving at least 1 1/2 inch between cookies. Once all the balls are ready to go in oven, take a fork and lay on cookie to form a grid pattern.
Place in oven on 350 degrees F for 13-15 minutes. It really depends on your oven, these setting may vary. Cookies should not turn darker.
These cookies are the best ever, any problems contact me please.
Cooking Time:
12-15 Minutes
Source: I have been making these cookies without flour for a good 30 years now, so I'm not sure if any one has the same recipe.
By marshafaith606d from Agawam, MA
By Harlean 142 427
Ingredients
1 cup peanut butter (smooth or chunky) (You can even use carb-conscious peanut butter.)
3/4 cup Splenda
1 large egg
Directions
Mix all three ingredients with a spoon until well combined. Drop by heaping teaspoonful or even tablespoonful on an ungreased cookie sheet. Use a fork to squish them down to the height you like. You can make the traditional crisscross pattern with your fork or vary it. Bake at 350 degrees F for 10 to 12 minutes.
You can decide how browned you like your cookies. Let them rest on the cookie sheet for a few minutes before you remove them or, if they are medium rare, they might fall apart. I like mine chewy so that's how I do them. This recipe will make about a dozen cookies depending on how large you make yours.
By Harlean from Hot Springs, Arkansas
Many Easy Flourless Peanut Butter Cookie Recipes...
This is the perfect recipe if you are looking for a quick and delicious peanut butter cookie. It doesn't get any easier then this!
That's it! Mix them together and spoon on a baking sheet. Bake 7-9 minutes in a 375 oven! You can also low carb this recipe by using LC peanut butter and Splenda. Increase the egg to 1 whole egg and an egg white. We love these! By Andrea in NC