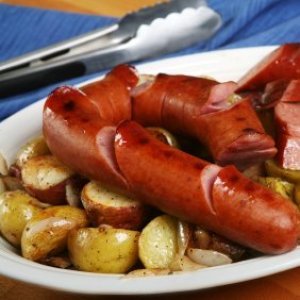 Kielbasa is a popular ingredient in many recipes. It is often used in recipes based on dishes from Eastern Europe, but is adaptable to many cuisines. This page contains recipes using kielbasa or Polish sausage.
Ad
---
Recipes
Read and rate the best recipes below by giving them a "thumbs up".
This recipe combines kielbasa, potatoes, and onions, and it's so good. Its been a family favorite for over 20 years. I really like it, because not only is it tasty, it's cheap.
Ingredients:
kielbasa (you can use lite, turkey, or chicken kielbasa if you like)
4 large Idaho potatoes
1 medium onion
enough oil for frying potatoes (1/4 to 1/3 cup is usually enough)
1 Tbsp. mustard (again use your favorite, I use regular table mustard)
1/4 cup brown sugar
Directions:
Wash and cut up potatoes. I cut them up really small (like 1/2 inch cubes), they cook faster this way. Fry the potatoes by putting them into a pot with oil, putting it on medium high, and adding a lid. This softens them without browning. When they get soft, remove the lid and crank up the heat. Stir occasionally until they are golden brown.
Cut up kielbasa. I slice the meat through the middle and then in half again so it's roughly the same size chunks as the potatoes. Dump the meat, onions, mustard, and brown sugar into non stick skillet. Put it on medium heat until the brown sugar is melted and bubbly, then turn up heat and cook till browned.
Drain oil off of potatoes and combine meat and potatoes.
I serve this with beans and cornbread, and it feeds four people for less than 5 dollars.
By christi from Columbia, TN
Ingredients:
6 potatoes, cubed
1 head cabbage, cut in pieces and separated
1 pkg. baby carrots
1 pkg. kielbasa, cut into 1 inch pieces
salt and pepper, to taste
butter, to taste
Directions:
In a large pot, place the cubed potatoes, cabbage, carrots, and add enough water until everything in the pot is covered. Cook over medium heat for about 45 minutes. Add the kielbasa and cook for an additional 15 minutes. Add salt, pepper, and butter to taste.
By Robin from Washington, IA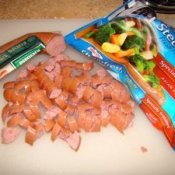 Ingredients
1 Pack Hilshire Farms Polish Sausage
1 bag frozen stir-fry vegetables
1/4 cup Kikkoman's Teriyaki Baste and Glaze
Directions
Saute Polish sausage in skillet. When heated or browned, add frozen vegetables and stir until softened. Add about 1/4 cup of the Teriyaki Baste and Glaze, more or less to taste. Stir well and serve over rice or as is. Everyone will love this and beg for more! This cooks fast so be watchful!
By Linda from Eustis, FL
Editor's Note: Some of the ThriftyFun crew tried this recipe. It was wonderful, even passing the taste test of a 4 and 6 year old! We made a few slight modifications of the recipe on our 2nd attempt.
We used 1/2 a Hillshire Farms Turkey Kielbasa and sauted onions along with the sausage. We also added 2 Tbs. of water as it was cooking to provide a little more liquid when it was served over rice. The pictures provided are from when we made this dish!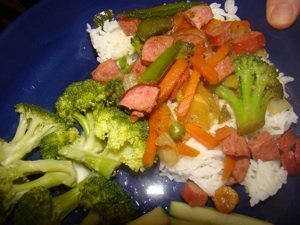 Ingredients:
1 can mashed cranberry sauce
9 oz. cocktail sauce
9 oz. (plain) BBQ sauce
2 lbs. sliced kielbasa
Directions:
Combine the 3 sauces together into a crock pot. Add kielbasa and mix. Cook on high for 90 minutes.
By LRP from LWL, MA

These meals are intended to be a relatively simple and healthy weeknight meal for a family of four. We assume that these dinners are being made in a kitchen stocked with regular kitchen staples. We will not include prices of oil, sugar, flour, spices, etc. unless you need a 1/4 cup or more. Regional food prices may vary and can be reduced by smart shopping techniques.
This is a quick and easy weeknight meal that my whole family likes. It is inspired by a recipe of my mother's.
Shopping List
1 turkey (or regular) kielbasa or sausage

$2.50
2 to 3 potatoes
$1.50
1 lb. baby carrots, or 2 carrots, cut up
$2.00
1 medium onion (use 1/2 onion if large)
$.99
2 to 3 cloves of garlic
$.50
Total Cost = $7.49
Staples
Olive Oil (Any cooking oil or butter could be used too)
Worchestershire Sauce
Italian Seasoning
Dried Thyme
Salt and Pepper
Directions
Slice kielbasa into coins and brown in large saucepan or dutch oven over medium heat. While this is browning, put 1 to 2 cups water in bottom of a saucepan with steamer basket (water should just touch top of basket), start heating on high. While the water is heating, cut up potatoes (peeled or unpeeled) and carrots (if necessary) into bite sized pieces and place in pan. Cook covered about 15 minutes or until veggies are softened.
Chop onion and mince or press garlic. When the kielbasa is browned, remove from pan and add enough oil to equal about 1 Tbps (this may be unnecessary if you used regular kielbasa). Saute onions and garlic until soft, about 5 minutes. Add water and scrape bottom of pan to release browned bits. The potatoes and carrots are usually ready to go at this time.

Dump steamed veggies and the steaming liquid into saucepan with onions, etc. Bring to a boil, stirring occasionally. Allow to thicken slightly then add kielbasa, 1 to 2 dashes of Worchestershire sauce, 1/2 tsp. thyme and Italian Seasoning, salt and pepper. Reduce heat, cover and allow to "stew" for as long as you need, at least 10 minutes. I usually serve it with a crusty bread that I heat up at this time. If there is any left, it makes a great work lunch the next day. Start to finish, this shouldn't take more than a half an hour.
Tips:
Any other veggies you may have on hand could be added into this simple stew. You could use green beans, celery, sweet potatoes or pumpkin. Mushrooms are particularly good (saute with onions).
Any broth or a red wine can be substituted for the deglazing liquid. Broth could also be used to steam the veggies for extra flavor.
If you would like to cook this for longer, you could add uncooked carrots and potatoes and simmer for approximately 1 hour. You could even put it all in a crockpot, just cook the kielbasa and onions and deglaze the pan for the best flavor.
As this is a basic quick stew recipe, you could substitute any other meat. Pork would be very tasty. If you are using leftover cooked meat, just add it in where the cooked kielbasa is added. You may want to adjust the spices for different meats.
Share Your Feedback: Have you tried this recipe? Do you have your own variation which you would like to share? Click "Share a Recipe" above!
Questions
Here are questions related to Recipes Using Kielbasa or Polish Sausage.
My parents and I really enjoy kielbasa. We have very limited ways of preparing it. Normally we fry or grill them and eat them on hotdog buns or bagels. We would really appreciate any casserole dishes or other ways to prepare this meat. We looked in a couple cook books with no success what so ever.
Thank you.
By Suntydt from Tazewell, TN
Ad
---
---
Most Recent Answer

By Elaine [129]03/27/2012
This is one of my favorites from the Better Homes and Garden Cookbook.

Kielbasa and Cabbage

1/3 cup chopped onion (one small)
1 Tbsp. butter or margarine
1 small head green or red cabbage, cut into 12 wedges
3/4 cup apple juice
2 Tbsp. brown sugar
2 Tbsp. red wine vinegar or cider vinegar
12 ounces fully cooked kielbasa, cut into 8 pieces
2 medium cooking apples, cored and sliced.

In 12 in skillet cook onion in hot margarine or butter till tender. Add cabbage wedges. Stir together apple juice, brown sugar, and vinegar. Pour over cabbage in skillet. Bring to boiling. Reduce heat Simmer, covered, for 15 minutes.

Add kielbasa and apples. Return to boiling. Reduce heat and simmer covered, for 10 minutes or till sausage is hot and apple is crisp tender. Serve with slotted spoon. Makes 4 servings.

Note: I have used apple cider instead of apple juice and I have used smoked kielbasa also.
I am looking for a bean recipe. If I were to name this recipe, I would call it ranch style beans, but not like the canned ranch style beans. These are slow cooked and have some sort of kielbasa sausage in them. (No other chunks that I could tell... haha) Wonderful flavor. I don't like most of the canned baked bean and related beans but we had these at a catored event recently and they were marvelous! Does anyone have anything similar?

Trisha from Albuquerque, NM
Ad
---
---
Most Recent Answer

By Rosemary [2]10/02/2006
are you talking about red beans and rice? or bacarro beans(which are Mexican beans with bacon or can have smoked sausage in it)
I've been trying to find a recipe for kielbasa made with Coca Cola.
---
Most Recent Answer

By sUSAN (Guest Post)12/31/2005
I was told...

1 package kielbassa
1 small package of brown sugar
1 can of coke

Simmer in crockpot.

Im actually also trying to look for a precise
recipe. This guessing is driving me crazy. lol
My son gave me some kielbasa, the Polish sausage. I would like some recipes for its use, but not too heavy. Does one boil it, saute it, broil it? Help!
---
Most Recent Answer
By Rachelle [16]03/30/2011
I saute in skillet using water instead of oil ( to reduce the fat) for 2 minutes then drain on paper towels. I then use hash brown potatoes and add a side of vegetables and make it a meal.