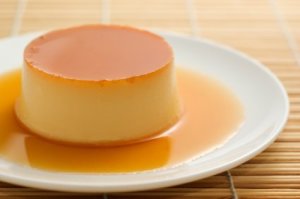 These creamy custard desserts originated in Spain. This page contains homemade flan recipes.
I was craving flan but didn't have ramekins so I came up with making it in muffin tins.
Solutions: Homemade Flan Recipes
Read and rate the best solutions below by giving them a "thumbs up".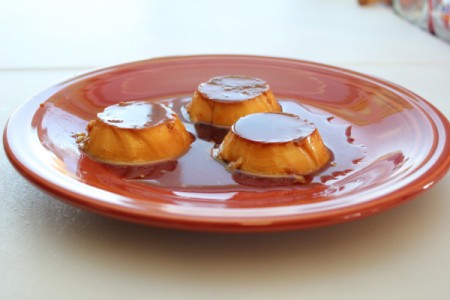 Flan is a delicious, rich treat and can be made using ingredients most people have on hand.
Note: It works to make flan in muffin tins although I found that it wasn't ideal because removal was difficult and the flan didn't turn out as beautiful as it would using a ramekin. That said if you don't care so much about looks and don't have ramekins, the muffin tin works fine. If you are so lucky to have a silicone muffin tin, use it! I think it would work wonderfully.

Ingredients:
1 1/2 cup milk
3/4 cup sugar for flan
2 eggs
1 egg yolk
1 tsp vanilla
1 cup sugar for caramel
Steps:
Preheat oven to 325 degrees F.

Make caramel:
In a heavy bottomed pan, heat 1 1/2 cups of the sugar over high heat. Stir constantly with a wooden spoon. It will take about 5 minutes. You want the sugar to turn a deep brown. Be careful because it can easily burn and will continue to darken even after you turn off the heat.

Pour the caramel into the bottom of each muffin tin or ramekin, completely coating the bottom. Be sure to use up or throw out the left over caramel and not leave it in the pan. Once it has cooled it is extremely difficult to remove from the pan.
Bring the milk to a simmer on medium, stirring often.
In a bowl whisk together the eggs and extra yolk and 3/4 cup of sugar for about 2 minutes until it looks pale.
Once the milk is brought up to a simmer, remove it from the heat and stir in the vanilla.
Then, slowly pour the milk mixture into the egg mixture, whisking constantly.
Remove any froth that may have formed. Then, pour through a mesh strainer.

Place the muffin tin or ramekins into a pan that is at least as tall. Then, divide the custard evenly, filling your muffin tins or ramekins. Carefully fill the pan with the hottest tap water or boiling water halfway up the muffin tin or ramekins. Place in the oven and bake for 50 minutes until the surface doesn't jiggle.

Remove from the water bath and let cool for about an hour. Then cover and place in the refrigerator for 2 hours and up to 2 days, serving at your leisure.

If you used a muffin tin you will have to remove all of the flan from the tin at once. Use a thin knife and run it around the edge of each mold. Place a baking dish larger than the muffin tin on top and hold the muffin tin flush with the bottom of the glassware and flip it over. Let sit for a few minutes. If you find that the flan is not dropping out of the tin, you will need to lift up the tin and gently pop them out into the baking dish using a spoon.
To serve, place a flan on a plate and spoon some of the caramel sauce over the top.

I'm looking for an easy, delicious flan recipe that I can make with ingredients I already have on-hand. I don't have sweetened condensed milk, and most of the recipes I have seen use that ingredient. I do have evaporated canned milk.

Tina from Ashland, OR
Ingredients:
1 1/2 cups sugar, divided
4 squares semi-sweet baking chocolate
1 can evaporated milk
1 pkg. (8 oz.) cream cheese, cubed
4 eggs
Directions:
Preheat oven to 350 degrees F. Place 1 cup of the sugar in small heavy saucepan; cook on medium heat until sugar is deep golden brown, stirring constantly to create a caramel sauce. Pour into 9 inch round pan.
Place chocolate squares in microwaveable bowl. Microwave on high 1 1/2 minutes or until chocolate is almost melted, stirring after each minutes; cool. Place milk and cream cheese in blender container; cover. Blend until smooth. Add remaining 1/2 cup sugar, eggs and melted chocolate; cover. Blend well. Pour over caramel sauce in pan.
Bake flan in water bath to ensure a gentle, even heat that will prevent curdling. To create water bath, set round pan holding the mixture inside a larger pan. Add water to larger pan, surrounding round pan about half way up the side.
Bake 1 hour or until knife inserted 1 inch from edge comes out clean. Refrigerate 4 hours or overnight. To unmold, run metal knife around edge of flan. Invert onto plate; shake lightly to loosen. Gently twist to remove pan. Add chocolate garnish, if desired. (Note: Caramel sauce on top will drizzle down sides).
By Robin from Washington, IA
Ingredients:
1/4 cup sugar
1 can evaporated skimmed milk
1/2 cup skim milk
3/4 cup egg substitute
1/4 cup sugar
1/8 tsp. salt
1/2 tsp. almond extract
2 cup assorted fresh fruit
Directions:
Sprinkle 1/4 cup sugar in a heavy saucepan; place over medium heat. Cook, stirring constantly until sugar melts and syrup is light golden brown. Pour syrup into 6 custard cups; let cool. Combine milks in a medium saucepan, and heat until bubbles form around edge of pan. Combine egg substitute, 1/4 cup sugar, salt and almond extract; beat well. Gradually stir about 1 cup hot milk into egg mixture; add to remaining milk, stirring constantly. Pour mixture evenly into custard cups; cover with aluminum foil. Place custard cups in a shallow pan; pour hot water to a depth of 1 inch into pan. Bake at 325 degrees for 25 minutes or until a knife inserted in center comes out clean. Remove cups from water and chill at least 4 hours. To serve, loosen edges of custard with a spatula; invert onto plates. Arrange assorted fresh fruit around sides.
By Robin
Give a "thumbs up" to the solution that worked the best! Do you have a better solution? Click here to share it!
Questions
Here are questions related to Homemade Flan Recipes.
I am looking for a recipe for something called "Flung". I think that is how you spell it. Anyone have it?
Thanks
By Dorie from Algoma, WI
---
Most Recent Answer

By Dorie Crews [2]06/19/2009
Yep that's it. My son swears by this and I am trying to find the recipe for Flan. I am still looking. Thanks.
I'm looking for a recipe I had found years ago, it was in a magazine I believe. It is called Country Leek Flan.

Carol from Yonkers, NY
---
Most Recent Answer

By Lynda (Guest Post)02/10/2008
Because our family is milk/cheese intolerant, any recipe with cheese might not work for us. However, at the natural foods market this week, their sample table included the best recipe you might also enjoy since you are searching for one with leeks:

Apple-sausage slices steamed with tomatoes and leeks galore. It was so very good that I plan to try this for us. I forget to BEGIN with onions, leeks, or garlic, which are SO good for us. I also forget that
cooked tomatoes might turn to mush if not watched, but that they, too, are VERY good for us and so easy to serve up. Good luck and God bless. : )