Saving Money on Acrylic Nails
Solutions
Share on ThriftyFunThis guide contains the following solutions. Have something to add? Please share your solution!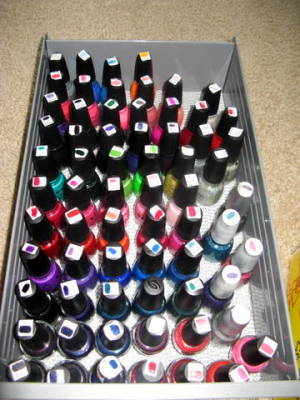 The best thing to do, is take some good vitamins. Also, use some good products such as a base and top coat to embrace the nails you have. Acrylic ruins your nails and fungus can get up there quite quickly.
If you use a good base coat, any nail polish, and a good quick drying top coat (Sally Hansen in the red clear bottle or Seche Vite at beauty supply stores), you'll save tons of money that way. The top coats are not like they used to be. They actually work, no more sheet marks. The only downside to not having acrylics is the nail polish doesn't last as long. But that's the fun, changing the colors!
If you must use acrylics, use Sally's beauty or online retailers like Head2ToeBeauty, they have name brand nail polishes very cheap and all acrylic nail supplies, even with shipping they are still better deals than local stores.
Source: Nail polish addict, over 200+ bottles and have given up acrylics for the health of my nails!
By Michawn from CA
October 14, 2011
0

found this helpful
I use Sally Hansen triple string advanced gel nail fortifier and have had beautiful nails for 2 years now. I used to have one nail that would always split down the middle and the nail fortifier in the green bottle has cured that problem.
August 10, 2011
1

found this helpful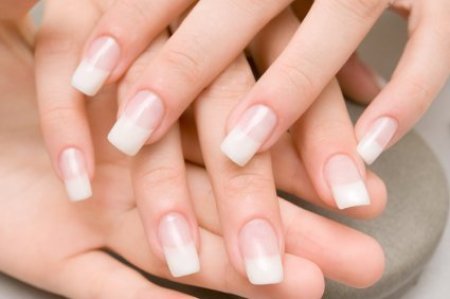 This is a guide about applying acrylic nails. Applying your own acrylic nails can save you money over going to the nail salon. If done correctly, they can be just as durable.
Read More...
Questions
Ask a QuestionHere are the questions asked by community members. Read on to see the answers provided by the ThriftyFun community or ask a new question.
December 29, 2006
0

found this helpful
Will getting an acrylic overlay mess up my beautiful natural nails?

Lisa from Nesbit, MS
November 1, 2008
0

found this helpful
I heard bio gel is natural and the healthiest for your nails. I've taken off my acrylics and my own nails are a mess. Not only weak and cracked but big indents in the nail bed itself. I'm embarrassed to show them....would the bio gel be ok long term?
By guest (Guest Post)
February 16, 2009
0

found this helpful
I have to say I am thinking of getting acrylics and none of you are helping. I am not for or against them. I am trying them today with a friend who has gotten them before and her nails are beautiful and I am jealous. So why she wants to get acrylics I don't know. But I do have to say one thing, I just learned about what cells are important and dead and what not. And your nails are dead, but I have no clue if acrylics can hurt them or not! THANKS!
By guest (Guest Post)
February 28, 2009
0

found this helpful
I wore acrylic nails for 4yrs off & and on. I took them off thinking they would grow out and put them back on when I got tired of my nails looking like crap. To make a long story short it took me getting pregos just to grow out all the damage bcuz I was scared the acrylic would harm my my unborn child. And now I'm proud of my healthy strong acrylic free nails and my healthy baby boy of course...lol
September 9, 2010
0

found this helpful
After having read all these comments about acrylic nails and having done them myself, off and on, I have a few comments of my own.
Pros of acrylic nails:
- nicer looking
- polish lasts longer
Cons:
- need as much care as natural nails (fill in every couple weeks)
-possibility of fungus if gap exists between fake nails and natural nail bed
- could be expensive
P.S. for those who keep saying that it is the nail tech that can cause damage to the nails; while this is true in some cases, also bear in mind that there are harsh chemicals that are used during the process and these lead to weaking of the nail bed, along with the excessive filing from the electronic file. Also, the combination of chemicals used during the nail application process can also potentially lead to cancer.
August 22, 2012
0

found this helpful
I unfortunately have acrylic nails put on to stop me from an incredibly bad habit of picking my cuticles. The thickness of the acrylic prevents from doing so, yet yes, acrylic nails do result in damage to your natural nails. It's not rocket science. Your nails need oxygen (yes, even that hard keratin that creates the foundation of the fingernail needs that sweet co2 to breath!)
Sadly, I have to choose between mangled looking chewed up fingers, or grooved nail beds. Maybe when my teenagers are grown ill finally be able to kick this nasty habit (not holding my breath on that one given you know our parents never stop worrying about us;)
February 4, 2016
0

found this helpful
Acrylics will weaken the part of your nail that has already grown. But once it's completely grown all the way out from cuticule to base they will be fine. I have had mine on numerous times, usually for about 2 months before I soak them off and let my natural nail breathe and grow all the way out then I get them back on again. I enjoy having acrylic one because it makes them near invincible, I can pick at things and scrape things off with my acrylic nails that I could never do with my natural nail. I've always had weak nails that don't grow even though my acrylics are pretty short it's simply a preference to having them on. I go every 2 weeks for a fill sometimes I can make them last 3 weeks depending on money cause it can be pricey going that often but it's nice "me" time to just sit and have them work on my nails.
Read More Answers
My husband recently gave me a gift certificate to do something to my nails at a local spa. The lady told him to do it for $75 (since he did not have a clue how much to buy). When I first saw the certificate I can't describe what rolled through my mind that $75 could have bought. But I thanked him and went for my nail treatment.
It has now been a couple of weeks and I need to either have a "fill in" or soak them off. I find that I like having nails which I have never been able to grow, but there is no way I would ever pay this every 2-3 weeks. I do still have a little on my certificate that I have not spent but what after that? Does anyone know of a way to "fill in" that it is not expensive?
By notwrong
July 29, 2009
0

found this helpful
Go have your nails filled the first one or two times and watch very closely how they do it. then go to Sally Beauty Supply and buy the powder, liquid, no lift, brush cleaner, brushes, and files. Go to walmart for the nippers. for $50-$75 you can get the supplies and can do your nails for a year. I have been doing my own for about 15 years and it takes a couple of hours every 2-3 weeks. It just takes practice.
July 30, 2009
0

found this helpful
The fill-ins are only about $15.00 to have the same nail girl do them for you. When you originally had the nails put on, that is the expensive part. The upkeep, like I said, is only about $15.00 every other week.
July 30, 2009
0

found this helpful
You could go in & have just the nail polish done again & it extends the time a little. I used to get my nails done, & I would purchase a bottle of the nail color. After about 2 weeks, I would repaint my own nails & I could get a little more time.
It's so expensive though, that it is one of the things I felt I had to give up. I really miss those nails, plus my own nails have been super soft for almost 3 years now from the salon nails.
July 30, 2009
0

found this helpful
Wal-Mart sells acrylic fill in stuff for less than $10. Maybe get that kit to fill in, then after it is dry use the rough side of an emery board (about $1 for a pack of several) to smooth it out. Then buffer and repaint the area to match the acrylic nails. I've tried this before with nail glue itself and the results were similar; nail glue is cheap as well.
July 30, 2009
0

found this helpful
Up keep for me is about $15 a week. To me I am worth it, aren't you, too?
August 4, 2009
0

found this helpful
Forego the acrylic nails and go to your local Walgreens (or any other drug store) and purchase Calcium 600mg with vitamin D. I have NEVER had nails that would properly grow and if they did get any length to the they would split, bend and break off. Since I've been taking the Calcium my nails look just as good (if not better since it's "free") than acrylics any time. Once you've grown them out have your hubby polish them up for you. With a little practice he should become just as proficient as someone in a salon.
Good luck and I hope this tip saves you some $.
Read More Answers
I get the Kiss brand nails from Walmart and they end up coming off in about a week. I'd lke to reuse the nails but you can see the glue. Is there any way to remove the glue from the nails?

Dana
By guest (Guest Post)
May 15, 2007
0

found this helpful
all you need to do is soak your hands is warm water for twenty to thirty minutes
By guest (Guest Post)
July 7, 2007
0

found this helpful
i have professional acrilic nails on, and i want them off what do i use??
By guest (Guest Post)
July 30, 2007
0

found this helpful
iv had acrylic nails done, and was going to get them infilled before i go on holiday, but i went bowling and 3 of them are coming off at the sides, if i get infiills will this matter? or will i have to have them re-done completely?
HELP?!
By guest (Guest Post)
February 12, 2008
0

found this helpful
I allowed my hairdresser to convince me that it was okay for her to use Nail Glue for extensions to stay in my hair. Now, after meticulously removing the extensions from my hair, I am left with hard clumps of my own hair where the Nail Glue was used. How do I get it out? I have tried deep conditioning with both conditioner and hot oil (separately) with no result. Please, please. How do I get it out?
By guest (Guest Post)
February 29, 2008
0

found this helpful
I went with my mum to get my nails done for the first time in my life and then 1 week and 5 days I decided to take them off. I took off the tips but the acrylics are still on and I dont' know how to get them off. plz help.
By guest (Guest Post)
November 17, 2008
0

found this helpful
You can use acetone a nail polish remover containing acetone. Hope this helped.
Read More Answers
Can anyone tell me how often you should have acrylic nails removed? I have had them now for about seven months and was told in July that I needed to have them taken off and a new set put on which I did. I then went in for a fill last week and was told that I would need another new set next time I go. I thought that you could just get a fill every couple of weeks and that would be it until I had them taken off. If I have to have a new set every couple of months this will be quite costly.
By J Evans from UK
September 23, 2010
0

found this helpful
I am getting the impression that you have gone to several different nail technicians. My best advice is to find one that you are comfortable with and trust. This way they can guide you to what is best for you (not just their wallets) and they will stand behind their work.
I've had "new sets" that lasted most of a year, and while in search of a trusted tech have gone thru maybe three in a year! It's frustrating! When I found nails that I admired I would ask for the name of the tech and tried that salon, etc.
I first got mine 8 years ago when I lived in another state and LOVED the results. Then I moved and started the search. It took awhile, but I found a "keeper" and she does back up her work. Good luck to you!
September 24, 2010
0

found this helpful
They are kidding you. As long as the nails look good and are not loose they can stay on forever. Just keep them filled. No matter what they say your nails do not need to "breathe". They are dead cells like your hair.
September 24, 2010
0

found this helpful
I have had acrylic nails for 35 years and have never had any problems. The key is maintenance. I get fills every 2 weeks. This keeps the edges sealed so water cannot get in and then create a fungus. I rarely get a new set. Usually after about 6-8 months the nails seem to get more brittle and start to crack or I hit one really hard and break it; the tech simply replaces the needed nail. When I've had to replace 3-4 nails, I usually ask to have the set soaked off and get a new set. This is generally at the 10-11 month point. I also do not pay extra for the "pink and white" but get the regular acrylic, it is the same powder, just clear.
June 9, 2017
0

found this helpful
I'm a nail tech of 30 years & have had a very successful career. The only thing in mind, when techs tell you you need a new set of acrylic nails, is money. I've had my nails since I was 15 now I'm 52. You repair areas that are lifting, cracked, etc..at the time of your fill. Your nail grows out with acrylic on it! The only reason someone would urge you to put a full set on, when you aren't having any issues, is money. Don't totally trust them, in my opinion.
What is the difference between gel nails and acrylic nails? Can anyone give me advice on which to get? My real nails keep splitting and breaking and look terrible. I am looking for low maintenance nails that won't break and will look good, but I do not want to get nail diseases. Thanks.
By Catastrofy from Winnipeg, Canada
July 14, 2011
0

found this helpful
I have worn artificial nails for the last 18 years and did my own acrylics for two years. I bite my nails completely off if I don't have the artificial ones on. The last 3 years I have worn gel nails. They are so light and you can see through them. they are stronger also.That is what appears to be the only difference, color and of course, price.
Related Content