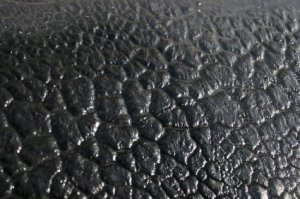 Whether it's form working on a roof, the roads or just by accident, if you get tar on your clothes it's very difficult to get out. Get your clothes back to looking good by getting rid of the tar stain. This is a guide about removing tar form clothing.
Ad
---
Solutions: Removing Tar from Clothing
Read and rate the best solutions below by giving them a "thumbs up".
Use machine or any white oil to remove tar or black oil from clothing. Just lay it out flat, soak in oil and gently scrape the tar. Keep it soaked in the oil and rub. When out, wash well in suds.
By shi [7]
Give a "thumbs up" to the solution that worked the best! Do you have a better solution? Click here to share it!
Questions
Here are questions related to Removing Tar from Clothing.
I need to know how to get road tar out of cotton jeans and 100% micropolyester.

Lucretia from Oklahoma
AnswerWas this interesting? Yes No
Ad
---
---
Most Recent Answer
By duncan fox (Guest Post) 01/01/20080 people found this helpful
Suits, jackets/pants with dry clean only label should be cautious to follow instructions to avoid side affects after using home products bought at store. Especially on white or black colors. The stain may come out but you have a 85% chance of color change. A costly suit should go to the cleaners so they have to pay for damages if there are problems.
---
My grandson got fresh asphalt/tar on an expensive football jersey. Any ideas on how to get it out without ruining the shirt?
By Grandma-ma from LA
AnswerWas this interesting? Yes No
Ad
---
---
Most Recent Answer
By tash 1 08/02/20100 people found this helpful
I live next to the railroad tracks and my 2 year old likes to throw rocks in the creek next to it. We sat down on the wooden ties and one had tar all over. My son just plopped down. I tried to make him get up but he persisted to tell me NO MOM. and just scooted his little tooshie all over the place. So, now his brand new beige shorts are covered in black tar. I tried washing them but it didn't help. It actually got all over the place. I didn't know it would rub off onto other clothes. Any suggestions on how to get it off of cotton clothes and polyester?
---
How do I get pine tar off a baseball uniform that has already been washed?
By Susan from Louisville, KY
AnswerWas this interesting? Yes No
---
Most Recent Answer
By Elizabeth Reynolds 1 12 05/17/20100 people found this helpful
I used to use clear Karo Syrup for this. I've also heard WD40 works well. I would try both and see what works. Don't put the clothes in the dryer until the stain is gone.
---
How do I remove tar from a swimsuit?

By Michael H.
AnswerWas this interesting? Yes No
---
Most Recent Answer
By Deb S. 3 21 05/21/20130 people found this helpful
Try Goo Gone, works like a charm and won't harm the fabric or it's elasticity. Make sure the fabric is colorfast by trying it on an inside seam first. If it is not, try the lard and then hand wash the spot with dawn or the like. Good Luck!
How do you get tarmac of shorts?
By Katie from Mancheaster
I work in a saw mill. I come in contact with a lot of tar. I'm looking for simple solution to clean and preserve my clothes.
By Lilly
How do I remove a tar stain from white pants?
By Bozena
Archives
Thrifty Fun has been around so long that many of our pages have been reset several times. Archives are older versions of the page and the comments that were provided then.
I was wondering if anyone can help me. I was filling in a hole in the roof and I got sealer/tar on my clothes and I didn't notice it until after it was washed. Can anyone please help me on how too remove tar from your clothes after it was washed?
Thanks,
Joyce Wis
---
PURE LARD
I have used PURE LARD from the dairy case, to remove tar, even after it has set up for years.
I had an old school-desk that had been sitting upside down in a puddle of tar and it was hard and dry. I smeared the PURE LARD over it, let it sit a day or two, and it wiped right off.
My car was left parked under a railroad trestle and tar dripped on it for 2 days. We smeared the pure lard over the tar spots and they wiped off.
Also used it on the white leather sleeves of my son's high school jacket - smeared lard over the tar and let it sit awhile, then wiped it off. Then you just use a good soap to wash out the lard (liquid Tide poured on and rubbed in works great) (12/01/2000)
By Ginger
Lestoil
I think that the easiest way to get tar and grease out of clothes is to apply Lestoil full strength out of the bottle and put the garment in a plastic bag over night so the Lestoil doesn't dry out. Wash the next day in the hottest water the garment will take. Some times it will take two treatments to get out all the tar. If you can't find Lestoil some of the waterless hand cleaners that are sold in auto parts stores work pretty well too. You may have to follow them with a second wash where you have treated the grease spot that the hand cleaners might leave, with a spray on pre-wash spray. Do not put the item in the drier until all the stain is out. I would line dry it and look carefully to be sure. (12/01/2000)
By Linda
De-Solv-it
I use De-Solv-it citrus solution to get tar out of clothes. It has no harsh chemicals and 100% organic. At the apartment was living at they repaved the street and all the kids got it all over their clothes and I used De-Solv-it and it worked great. (12/01/2000)
By Carol
RE: Removing Tar from Clothing
I just used the lard (bacon grease actually) and it does work! The windbreaker had been washed prior also and the tar was imbedded. (11/07/2004)
By Carolyne
RE: Removing Tar from Clothing
This just happened to me on my capris, I used olive oil. Grape seed oil works also, just pour a little bit on and gently scrape with your finger nail. Then I rinsed it out with dish soap and laundered as normal, works wonders! (05/25/2005)
By Julie
RE: Removing Tar from Clothing
"Soluble paint thinner gets it off most things. Safer for the skin, hair, etc, try bacon grease or lard, rub and wash. Mayo is good for hands, rub on thoroughly, wash off. Also try Avon Skin So Soft." (09/30/2005)
By Helen
WD40
I tried WD40. Sprayed it on, dabbed with a paper towel, and washed with dish soap. Worked great. Also worked great to get grease out of my carpet. (10/02/2005)
By Marge
Removing Tar From Clothes Dryer
A big thank you to Ginger who mentioned lard for removing tar. I washed a pair of work pants not knowing they had tar (driveway sealer) all over the bottom of the legs. It melted in the dryer and spattered the whole inside of the drum. I tried Goo Gone which melted the tar but left an awful yellow stain. Also, it smelled awful and I was warned later that it could have ignited. I decided to give the lard a try and it worked like a charm! I painted it on the entire dryer drum with a clean paint brush. I left it on for a couple hours and then wiped it out with paper towels. I just wish I had tried the lard before the other product. Oh, and the lard cost a mere one dollar and seven cents for a whole pound at my local grocery. Thanks for this great website! (06/22/2006)
By Lynn
WD-40
I tried the WD40 on large spot of my Mariner's shirt - and then soapy water after that - it worked great! (08/20/2006)
By Will
How can I remove tar from clothing?
Liz from Mass
---
RE: Removing Tar from Clothing
I used chicken fat to get a lot! Of dried tar off the seat of a pair of cotton pants and to my great suprise and wonderment it all came off! I gernerously applied defrosted fat, rubbed it into tar, used my fingernails and a butter knife to help with thicker spots, then paper-toweled off the fat, and repeated this process several times... Wow. Thanks to the woman who suggested using pure lard. She's right-- it works! (07/23/2007)
By j.m.
My boyfriend and I went to the beach and he got tar all over his brand new swim shorts. How does he get it out?
Lauren from Los Angeles, CA
---
RE: Removing Tar from carpet
Mega thanks to this site and the useful info, it has saved me buying a new carpet. WD 40 did a grand job. Thanks for all the useful info. (07/31/2008)
By Lesley
RE: Removing Tar from Clothing
I used Fast Orange and it saved my shirt and a $40 pair of kids jeans. (11/29/2008)
By Tom