Read and rate the best solutions below by giving them a "thumbs up".
Save Envelopes For Lists
After opening mail, keep envelopes to write shopping list or to do list. Then you can recycle. Also if there is paper inside that is only printed on one side, use this for scrap paper as well.
By Carol from Massachusetts
Editor's Note: This is a great way to re-use junk mail envelopes. Then when you go shopping, put the coupons that correspond to items on your list inside the envelope so you won't forget them.
---
RE: Save Envelopes For Lists
Great idea! (05/30/2007)
RE: Save Envelopes For Lists
Great tip! I do this all the time. Also much of the junk mail has a return envelope inside. I save all these in my desk drawer and use them to send lunch money or field trip money, permission slips, etc with my kids to school. I just cross out the address part and write on what it is for. These are also good for taking coupons with in my purse. I used to get so mad at all the junk mail that comes every day but now I recycle into note paper, etc.
Also, if you get those advertisement sheets, a bunch of them in one envelope, most of them are only printed on one side. These are great for scratch paper and grocery lists. I never buy any notepads anymore....I get note paper free every day in the mail! (05/31/2007)
By Debbie52
RE: Save Envelopes For Lists
Don't toss those USED envelopes, either. After all coupons are out of them, INSERT THE SHOPPING RECEIPT FROM THAT STORE INTO that same envelope just as your are handed it, in CASE YOU NEED TO RETURN/EXCHANGE ANYTHING, AND THE LIST OF IT ALL IS ON THE FRONT FOR EASIER READING/REMEMBERING. After a week, if there's nothing to return/exchange, use it unfolded in a bird cage or shredded for a house bunny's edding/toilet. Let's keep those brain cells working, right? LOL God bless frugal PEOPLE...... : ) (05/31/2007)
By Lynda
RE: Save Envelopes For Lists
Brilliant! File this one under, "now why didn't I think of that" for sure. All this free paper passing under my nose for all these years. Thanks! (07/25/2008)
By guest2232223
---
Reuse Junk Mail Envelopes
Reuse junk mail return envelopes as mailing envelopes. If envelope has a bar code at the bottom, you can run a black marker through the bar code. I always write a reminder on any box or envelope I use, such as "Go Green-Recycle" or "I recycle, do you?" If you get really irritated by all the prepaid junk mail envelopes, stick everything the company sent you in the prepaid envelope. Be sure you include your name and address section and mail it back to them at their cost! Write next to your name/address to remove you from their mailing list. Eventually they will take you off their mailing list even if you don't make a note!
By Tracey from Thomasville
---
RE: Reuse Junk Mail Envelopes
A less mean-spirited way is to recycle the junk mail. The church near here is part of the Abitibi Paper Retriever recycling program with big yellow and green bins open to the public. Profits from the paper, magazines, newpapers, toilet paper and paper towel rolls, etc. go back to the companies whose parking lot is used. Look them up online. Most websites will tell you how to unsubscribe to advertising mail. (05/04/2007)
By OhioGirl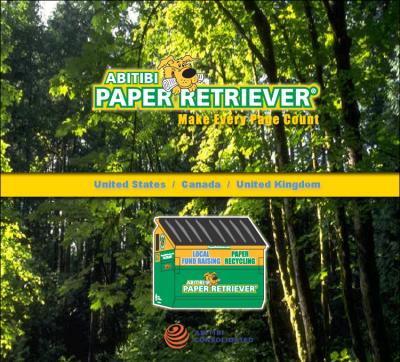 RE: Reuse Junk Mail Envelopes
I sometimes take the inside out, because it usually has some sort of a print on it. I then save these to my scraps of printed paper for making my own cards. (05/04/2007)
By okstamper
RE: Reuse Junk Mail Envelopes
You and OhioGirl both have marvelous suggestions for recycling! I plan to start practicing your idea and looking into hers online. God bless both of you! (05/05/2007)
By tedsmom
RE: Reuse Junk Mail Envelopes
Consumers pay for those prepaid envelopes in the end through increased costs, so while this type of "revenge" may seem clever, I wouldn't suggest this route. Opt out, and/or reuse the envelopes in some manner. I shred anything with my name on it, and toss the usable envelopes into a basket, using them for my grocery lists, errand lists, notes to family and for to-do lists. (05/14/2007)
By mef1957
RE: Reuse Junk Mail Envelopes
Using prepaid envelopes for purposes other than the use for which they were intended is against the law. It is fraud, and may be a federal crime.
You may throw them in the trash (I hope) or use them as toilet paper, but you can not use them as correspondence envelopes with the company who sent them or other wise. (07/25/2007)
By Scott
---
Reusing Envelopes for Lists
I like to re-use envelopes. I use a letter opener thing I got from an insurance company (a scissors will work) to neatly open the mail. Then I re-use the envelopes to write my "to do" list and/or grocery list on the blank back side. You can store coupons and receipts inside the envelope, too, which is very handy. I keep a little pile of envelopes just for this use near the phone in the kitchen.
Source: Source: my own idea
By Lee from Twin Lakes, WI
---
RE: Reusing Envelopes for Lists
A great idea. I usually throw them out. So now I won't be doing that. Thank you (04/08/2008)
By Pennypacer
RE: Reusing Envelopes for Lists
I have been using my envelopes in this same manner. I find it very handy to have my coupons in the envelope with my list on the back side. Thanks for letting others know about this. I also find it helpful to keep my gas receipts and my ATM receipts in envelopes which I date monthly and keep with my monthly records until I know I can shred them after they are recorded. (04/08/2008)
By Arlene
RE: Reusing Envelopes for Lists
I too do this same thing. I also save anything from junk mail that I can re-use/recycle. It is nice to get something useful from stuff I'd have to just pitch. When those credit card invitations come, I tear anything off that is plain on one side to use for note paper. The return envelopes I save to use for grocery lists on one side and put coupons inside or I use them to send lunch money, field trip money, etc to school with my children. It's a good way to have junk become something you can use! (04/09/2008)
By Debbie52
RE: Reusing Envelopes for Lists
I used to always write on the backs too. I Like your grocery list idea and put your coupons in the envelope, I never did that but will now. (04/10/2008)
By Vint1