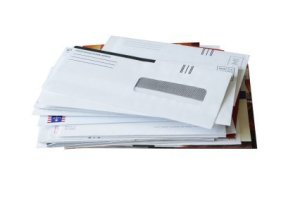 Solutions: Reusing Envelopes
Read and rate the best solutions below by giving them a "thumbs up".
To save money on buying envelopes, take any pre-addressed envelopes that come in the mail that aren't going to be used and put white labels over the address. Make sure not to use envelopes that are obviously not suited to your purpose. Even the envelopes with the see through windows can be used. Just put the white label over the window part. We haven't purchased envelopes in ages!
By fossil1955 from Cortez, CO
I don't get junk postal mail anymore but I do receive bills that always have return payment envelopes. I pay my bills by phone or online now and just hate the idea of throwing those envelopes away. I have started using them as shopping lists and place the appropriate coupons inside. Not only is the envelope being used for something but I also don't forget to hand over the coupons at the point of sale anymore.
In case you're wondering why I don't just get my statements online, well, I believe in having a paper trail to be on the safe side. Being on a fixed disability income, I have to be careful about using up printing paper and ink. Oh, and there's always the possibility of losing saved data on computers and backup disks too ;-)
By Deeli from Richland, WA
Here is an easy solution for all those envelopes that are left over from your bills. I now use bill pay for the majority of my bills, but sometimes I need to mail out a check or paperwork. Most of those envelopes have those windowpanes. I attach the address of the organization I am sending information to the inside of the envelope's windowpane. This also frees up my usage of my plain white envelopes. Recycling and repurposing, all in one.
By Georgetta from Waterloo, IA
If you have been lucky enough to receive those beautiful Christmas cards, don't be so quick to throw away the envelopes. In my life the number of cards I receive varies from year to year, as well as how many cards I mail. I have noticed because of the economy, and the price of stamps, many are not doing cards like in previous years. The ones you do receive can save you in days to come.
Cards come in lots of different sizes whether we pick them up at the drug store, the dollar store or post office. It is very noticeable the paper on these has gotten thinner to save money in production. The more expensive ones are thicker. Before I throw away the envelopes from the cards I look see if I can remove the return address, if they use the self adhesive ones or if I can cover it my own.
Same thing with where your address is written, it usually can easily be covered and readdressed. Not every card will arrive in a reusable envelope however, but most do. They take up little room to keep, but saves so much money when you reuse them.
I keep mine in a file with the rest of my mailing items. I keep a glue stick (can use tape) with my stamps and other legal envelopes. Don't throw away any unused cards you may have, Christmas will be here same time next year.
Source: I didn't have a nice envelope. Now I recycle everything. It's what is inside that matters; colored ones makes letters and notes feel special.
By Luana M. from San Diego, CA
While I know that a lot of us use those return envelopes we get in our junk mail and simply place a white label over the printed address, I have been advised by my friend at the post office here to ALSO make sure that any and all barcodes be completely covered by a white label, as computers that sort the mail will read those over anything hand-written. Just a tip and a bit of a warning, if you want your mail to end up going where it is supposed to go! :)
By AlaskanAurora from Dutch Harbor, AK
My favorite way to make lists is to recycle used envelopes. I just turn them over and write my list on the back. The size is great, easy to manage and take with me! The opened envelope gives added benefit by being able to slip in savings cards and coupons as needed for errands on the list!
By Janet from Carmel, IN
I am a mother and a full time student working towards my college degree. I have financial limitations and constraints and I was always looking for practical ways to save money and recycle at the same time.
One day, it occurred to me that I was wasting tons of paper over the years writing notes to myself a "To Do" list or to write down ideas, thoughts etc. on discussions we had in school that would later translate into a research paper.
It hit me that while I was opening a "large white envelope" that was delivered to me, it had two small labels (recipient and sender). I was looking for a notepad and couldn't find one handy. I looked at the white envelope and it was one of those "ah hah!!" moments. It was like a light bulb when on in my head.
After I read and discarded the contents in the envelope, I decided to utilize the envelope as a writing medium. I wrote in almost all of the areas: front and back and then I took a scissors and cut it open and wrote on the inside of the envelope. That one large envelope is equivalent to a few pages of a notepad.
I was happy with the idea I came up with because the landfills throughout the country are already full of excess trash. I thought to myself, "Why should I throw out a potential writing paper and create more trash?"
I saved money from not buying any more notepads as they are now selling for as much as $4.00+. They were getting more expensive as time goes on and the best benefit of all is that I am recycling. I would be going "green", "eco-friendly" and helping the environment. I have to consider the current state of the environment and how we can continue to maintain and sustain recycling over to the next generation and so on and so forth.
From that moment on, I consciously look at each envelope that is sent to me and evaluate it for a potential writing paper. Also, I wanted to emphasize that the envelope does not have to be a white envelope. I have used yellow, gray, light blue, and beige color etc. envelopes. When I spot an envelope that meets my needs, I am thrilled beyond words. I hope this tip helps lots of people save money. I have never bought another pad ever again and so happy about it.
By gracie213
I pay many bills online. Instead of throwing away the window envelopes from bills, I cut out addresses or use labels to cover the window. I don't have to buy envelopes and I am not adding paper to the garbage.
By Louella from Billings, MT
I remember seeing this when I had my regular job with a school district. One of the Pre-K teachers had small bulletin board pictures and game pieces for her class stored in a large brown envelope. She had laminated the envelope in the open position and then carefully cut the laminating film at the place where the envelope would open.
This would make a wonderful place to store any lightweight items such as game pieces or paper dolls. I used to laminate with clear contact paper. Once you get the contact paper in place, you can iron it between 2 sheets of brown paper.
By MartyD from Houston, TX
Save those unused envelopes with windows that sometimes come with bills. You can use them for your own personal mail by writing the address on a 3X3 post-it note (under or over the sticky area) and placing it in the envelope so the address is showing in the window. It may take a trial run but once you figure out how it's done, you'll never throw away an unused window envelope again.
By Aaron's Mom from Kaneohe, Hawaii
I save the envelopes that come with the credit card offers I receive almost daily. I use these for paying bills that I normally drop off myself, the dentist, for example, is just right up the street.

If we are making payments I have one of the kids just run in and put the envelope on the receptionist's desk. I scribble out the preprinted address and write the dentist's name on the envelope so they know it is intended for them to open. My kids' school requires that hot lunch payments be made in separate envelopes, that is two a week. I reuse the junk mail envelopes for this purpose. I don't know exactly how many envelopes that saves me every year, but I am guessing it is quite a few!

By Vicki from ME

Give a "thumbs up" to the solution that worked the best! Do you have a better solution? Click here to share it!
Archives
Thrifty Fun has been around so long that many of our pages have been reset several times. Archives are older versions of the page and the feedback that was provided then.
After opening mail, keep envelopes to write shopping list or to do list. Then you can recycle. Also if there is paper inside that is only printed on one side, use this for scrap paper as well.
By Carol from Massachusetts
Editor's Note: This is a great way to re-use junk mail envelopes. Then when you go shopping, put the coupons that correspond to items on your list inside the envelope so you won't forget them.
---
RE: Save Envelopes For Lists
Great idea! (05/30/2007)
RE: Save Envelopes For Lists
Great tip! I do this all the time. Also much of the junk mail has a return envelope inside. I save all these in my desk drawer and use them to send lunch money or field trip money, permission slips, etc with my kids to school. I just cross out the address part and write on what it is for. These are also good for taking coupons with in my purse. I used to get so mad at all the junk mail that comes every day but now I recycle into note paper, etc.
Also, if you get those advertisement sheets, a bunch of them in one envelope, most of them are only printed on one side. These are great for scratch paper and grocery lists. I never buy any notepads anymore....I get note paper free every day in the mail! (05/31/2007)
By Debbie52
RE: Save Envelopes For Lists
Don't toss those USED envelopes, either. After all coupons are out of them, INSERT THE SHOPPING RECEIPT FROM THAT STORE INTO that same envelope just as your are handed it, in CASE YOU NEED TO RETURN/EXCHANGE ANYTHING, AND THE LIST OF IT ALL IS ON THE FRONT FOR EASIER READING/REMEMBERING. After a week, if there's nothing to return/exchange, use it unfolded in a bird cage or shredded for a house bunny's edding/toilet. Let's keep those brain cells working, right? LOL God bless frugal PEOPLE...... : ) (05/31/2007)
By Lynda
RE: Save Envelopes For Lists
Brilliant! File this one under, "now why didn't I think of that" for sure. All this free paper passing under my nose for all these years. Thanks! (07/25/2008)
By guest2232223
Reuse junk mail return envelopes as mailing envelopes. If envelope has a bar code at the bottom, you can run a black marker through the bar code. I always write a reminder on any box or envelope I use, such as "Go Green-Recycle" or "I recycle, do you?" If you get really irritated by all the prepaid junk mail envelopes, stick everything the company sent you in the prepaid envelope. Be sure you include your name and address section and mail it back to them at their cost! Write next to your name/address to remove you from their mailing list. Eventually they will take you off their mailing list even if you don't make a note!
By Tracey from Thomasville
---
RE: Reuse Junk Mail Envelopes
A less mean-spirited way is to recycle the junk mail. The church near here is part of the Abitibi Paper Retriever recycling program with big yellow and green bins open to the public. Profits from the paper, magazines, newpapers, toilet paper and paper towel rolls, etc. go back to the companies whose parking lot is used. Look them up online. Most websites will tell you how to unsubscribe to advertising mail. (05/04/2007)
By OhioGirl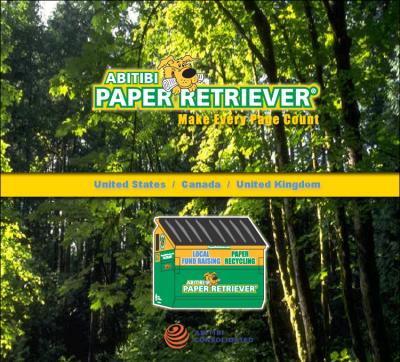 RE: Reuse Junk Mail Envelopes
I sometimes take the inside out, because it usually has some sort of a print on it. I then save these to my scraps of printed paper for making my own cards. (05/04/2007)
By okstamper
RE: Reuse Junk Mail Envelopes
You and OhioGirl both have marvelous suggestions for recycling! I plan to start practicing your idea and looking into hers online. God bless both of you! (05/05/2007)
By tedsmom
RE: Reuse Junk Mail Envelopes
Consumers pay for those prepaid envelopes in the end through increased costs, so while this type of "revenge" may seem clever, I wouldn't suggest this route. Opt out, and/or reuse the envelopes in some manner. I shred anything with my name on it, and toss the usable envelopes into a basket, using them for my grocery lists, errand lists, notes to family and for to-do lists. (05/14/2007)
By mef1957
RE: Reuse Junk Mail Envelopes
Using prepaid envelopes for purposes other than the use for which they were intended is against the law. It is fraud, and may be a federal crime.
You may throw them in the trash (I hope) or use them as toilet paper, but you can not use them as correspondence envelopes with the company who sent them or other wise. (07/25/2007)
By Scott
I like to re-use envelopes. I use a letter opener thing I got from an insurance company (a scissors will work) to neatly open the mail. Then I re-use the envelopes to write my "to do" list and/or grocery list on the blank back side. You can store coupons and receipts inside the envelope, too, which is very handy. I keep a little pile of envelopes just for this use near the phone in the kitchen.
Source: Source: my own idea
By Lee from Twin Lakes, WI
---
RE: Reusing Envelopes for Lists
A great idea. I usually throw them out. So now I won't be doing that. Thank you (04/08/2008)
By Pennypacer
RE: Reusing Envelopes for Lists
I have been using my envelopes in this same manner. I find it very handy to have my coupons in the envelope with my list on the back side. Thanks for letting others know about this. I also find it helpful to keep my gas receipts and my ATM receipts in envelopes which I date monthly and keep with my monthly records until I know I can shred them after they are recorded. (04/08/2008)
By Arlene
RE: Reusing Envelopes for Lists
I too do this same thing. I also save anything from junk mail that I can re-use/recycle. It is nice to get something useful from stuff I'd have to just pitch. When those credit card invitations come, I tear anything off that is plain on one side to use for note paper. The return envelopes I save to use for grocery lists on one side and put coupons inside or I use them to send lunch money, field trip money, etc to school with my children. It's a good way to have junk become something you can use! (04/09/2008)
By Debbie52
RE: Reusing Envelopes for Lists
I used to always write on the backs too. I Like your grocery list idea and put your coupons in the envelope, I never did that but will now. (04/10/2008)
By Vint1