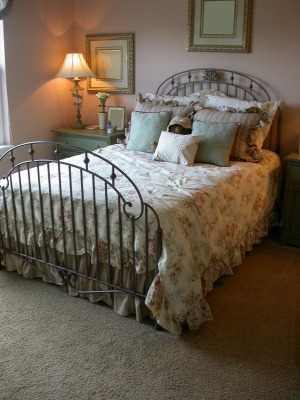 Depending on the color paint on your bedroom walls, you can choice sheets, pillows and blankets that make your room look best. This guide is about coordinating bedding with walls.
Ad
---
Questions
Here are questions related to Coordinating Bedding with Walls.
I am supposed to be moving and I'm getting my own room. When we move, I get to decorate it any way I want. This is the problem, I wanted to paint my walls lime green and hot pink but I can't find a bedspread, sheets, etc to match it. If you know any websites or stores that would help me please let me know. I really had my heart set on those two colors but I can't find any bedding to match, should I just give up or keep looking?
Ad
---
---
Most Recent Answer

By Carla07/12/2010
Go to jcp.com they have a bedding set on sale right now that is lime green & hot pink for about $30!
I have a black satin bed spread and almost magenta sheets to go with it. I need a color to paint my walls and then a color to paint the trim around my windows! Please Help!

Justine
Ad
---
---
Most Recent Answer

By Barbara Mixon (Guest Post)09/26/2008
I just recently remodeled my son's house and painted the bedrooms a Sleek Silver, which is like a light shade of gray. We had Silver Mist carpet installed and it turned out beautiful. We also painted the kitchen a Chromium color (another light gray color) and put up a pretty border with the same color and black marble diamond shapes in it. It turned out beautiful with the new black appliances and black marble countertops. I personally like black and silver or light gray together and they seem to go with everything. I would paint the room a light shade of gray and put up a pretty matching border that bring out the other colors you are working with.
Has anyone got any ideas what colour I should paint my bedroom, that will go with pale pink bedding and curtains? I was looking at a very pale pink from Dulux (Blossom white), but am not sure if this will be too much pink. Any ideas? This is the bedding:
By Maiseyg from UK
---
Most Recent Answer
By Di [12]05/19/2009
It depends on the look you want. Dusty pink might work or even a very pale lilac. I've always loved grey with pink.
I am decorating my 2 year olds room and I just purchased new bedding that is pink and brown. I do not want to paint her room pink because my older daughters' room is pink. Does anyone have any suggestions on what other colors would go with this. Do you think a light purple would be ok? I don't know what to do. I have attached a picture of the bedding.
By Javoletta from NY
---
Most Recent Answer

By Leah [12]04/09/2009
Yes, I also vote for a cream, tan, khaki, etc. - a light, neutral color. As others mentioned, it would set off the bedding colors yet work easily with any future changes. Good luck & have fun!
What color bedspread would go well with maroon colored walls and black furniture?
By Lauren from NY
---
Most Recent Answer

By Maryeileen [76]12/08/2009
sage
I bought a medium sage color to paint a bedroom. What colors will be good to go with this sage color on my walls (for the bed and window treatments)? The carpet is a medium grey.
By Barbara
---
Most Recent Answer

By susan [33]09/09/2012
I would go with anything in the earthy tones such as deep reds, purples, golds, and browns. You could also go to the charcoal and grays since your carpet is gray. Good luck.
I'm also painting my mother's room this fall, the walls are going to be a light grey, and her carpet is a light and dark brown. What color bedding should I go with? I am looking for something not too expensive.
By Sarah from Indianapolis, IN
---
Most Recent Answer

By Carolyn C. Cooke [18]08/21/2010
Coral is good if with very little "orangey" tint. My personal favorite, and one I could live with a long time, would be dusty rose (medium value). Blues and greens would be too depressing in time, for me, anyway.
We just moved into a new home. Our bedroom walls are beige. The furniture is a dark espresso colour, and the rug is off white. What colour of bedding should I use?
By Shannon M.
---
Most Recent Answer

By Louise B. [5]09/01/2011
I agree that those are lovely neutrals, and you can go with whatever color you like. Sage green, burgundy, dark blue, soft blue; I would not go with bright or neon colors, but I think that the bed is the place to get some color into the room. Go with your favorite. Patterns with the brown and beige in them would be very nice.
What color walls can go with my brown and gold comforter?
By Patsy from Thomasville, NC
---
Most Recent Answer

By Marg [16]10/19/2010
Cream?
Marg from England.
Solutions: Coordinating Bedding with Walls
Do you have knowledge about this guide topic? Feel free to share a solution!