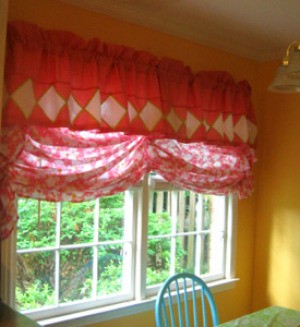 I need help making curtains for my new home. Does anyone have any ideas or helpful tips?

Thanks!
Chandra from Texas

Answers
By Lisa (Guest Post)
July 20, 2005
1

found this helpful
Best Answer
The easiest, economical way to make curtains that I have found is to buy flat sheets. Usually two twin sheets or one queen sheet is enough for one window, depending on the style you want. Sometimes there is even a casing at one end of the sheet, so only minor sewing is needed with hemming, etc... One of my sisters loved the idea so much she bought 12 flat twin sheets and made curtains, table cloths, etc. White looks great in bedrooms, clean and crisp. Have fun!
By Teresa (Guest Post)
August 5, 2005
1

found this helpful
Best Answer
You can get tremendous bargains on yards of drapery and upholstery fabrics on eBay, usually the ends of bolts. One of my favorite sellers is crabdaddylonglegs (search title and descriptions.) He sells by a set amount, not just by the yard.
By Nicole (Guest Post)
November 16, 2005
1

found this helpful
Best Answer
I'm in the process of making my first curtains too. My mom filled me in that instead of sewing, just use fabric glue. She did this and made a curtain out of a kitchen towel. Just fold down the top, glue, and slip it on a curtain rod.
You can use the same idea to fold frayed ends if that's an issue. (BTW If you have a Big Lots around they have great deals on curtain rods!)

February 7, 2009
1

found this helpful
Best Answer
Alicia the sheet idea is something we use at our house as well. To save some money, shop for your sheets when they are on sale or a particular color/style/pattern (if not objectionable to you) is being clearenced out of the store. Usually measuring 1 & 1/2 times the width of your window gives a pleasant fullness to the coverings. If you want them to be fuller try 2 times the width. Another thing you might try are the inexpensive spring rods that sit inside the window frame.
Slide the rod through the already available "pocket" that is the top hem of the sheet (the part at the head of the bed) and hang. Sometimes on better sheets this pocket is seamed shut, but a seam ripper or small pair of scissors could be used to carefully clip those threads. Also higher thread count or darker sheets would probably not need a lining. Good Luck!!
Answer

this Question
If I have a 10 foot wide window, how wide would you make each panel? I know the rule of thumb is the curtain width should be 2 1/2 times the length of the window. I didn't know if it wasn't different with the drop cloth material. Thank you.
By Lisa
Answers

February 2, 2015
1

found this helpful
Best Answer
With any fabric, the rule of thumb applies - unless you want super gathered curtains, in which case doubling that 'rule of thumb' measurement usually results in really good looking, privacy creating-light blocking (ish) curtains when closed.
Be advised a drop cloth is usually fairly heavy and even standard gathering will create a heavy curtain panel - be sure your curtain rod (and the wall it's screwed to) can support the weight of what ever amount of gathering you choose.
And what a great idea! I hope you'll upload snaps of your finished curtains!

Marty Dick
Bronze Post Medal for All Time! 169 Posts
April 19, 2015
1

found this helpful
Best Answer
Since the drop cloth is so heavy would it be more feasible to have box pleats at regular intervals and use tape across the top to form a rod pocket? Two or three pleats per panel would give fullness without all that weight from gathering.
Answer

this Question