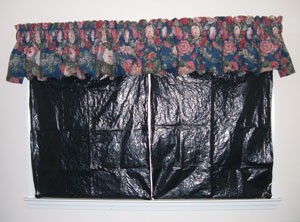 Do you have problems sleeping when the moon is full? Are you bothered by street lights or yard lights brightening up your room at night? Do you work at night and have to sleep during the day? Maybe you can benefit from this tip. To darken your room, cover your windows with black plastic. Materials needed:
Heavy duty large trash bags or black plastic that will shield the light.
2 inch masking tape
Self sticking Velcro
Measure window so plastic will overlap on sides and hang below the window blinds.
Place a strip of masking tape across top of the plastic for facing and to hold the Velcro.
Stick a 2 inch set of the Velcro to the top corners of the plastic curtain and then press into place to the window molding.
At bedtime, close your blinds, dim the lights and hang the black plastic. Tuck the bottoms under the blinds so air from the heat vent will not disturb. When you get up, take the plastic down, fold it up and stick it in a drawer or under the bed. The neighbors will never know.
By Not Telling from NC
Read More

Comments

Betty
Bronze Post Medal for All Time! 104 Posts
The size shade I need runs in the hundreds. Block out drapes won't work because the hardware sticks out from the wall letting in streams of light from both sides. I now have a blanket covering the window with a black sheet behind it and it's still not dark enough. Does anyone have any inexpensive solutions? Outside appearance is not an issue.
Betty from Lubbock, TX
Answers

lalala...
Gold Post Medal for All Time! 899 Posts
February 7, 2008
0

found this helpful
Maybe cardboard cut to fit your windows, placed behind the blankets, would help!
By KELLY (Guest Post)
February 7, 2008
0

found this helpful
USE FOIL.
WORKS GREAT.

February 7, 2008
0

found this helpful
try a sleep mask

February 7, 2008
0

found this helpful
we taped up black garbage bags for our kids' room and while, it's not too pretty, it works great.

pam munro
Gold Post Medal for All Time! 519 Posts
February 7, 2008
0

found this helpful
I agree - try a sleep mask - & add ear plugs? - works for me!

Cyinda
Bronze Post Medal for All Time! 213 Posts
February 7, 2008
0

found this helpful
Go to the dollar store & buy a plastic shower curtain that matches the outside of your building or home. (so it looks good on the outside) Cut (or fold) the shower curtain to the size of your window... (this should just "stick" to your window if it's winter, if not just spray a bit of water on your window.)... You could hang up 2 showetrr curtaing, back-to-back to make it extra dark...
* OR, better yet, for under $10 you could do what I did to block out noise from 3 train tracks I lave (literally) in my back yard. (and noise can be just as much a problem as light can be for sleeping during the day) ... I first hung up the plastic $1 store shower curtain & left about 8 inches hanging out the bottom (more on this later) ...Then went to Home Depot & bought hard foam-board insulation (it comes either the size of a sheet of plywood or half that size & comes in about 6 different thickness', I chose 2 inch thickness for about $4) You can cut it with a jigsaw, a hacksaw, an electric carving knife or sometimes just score & break it... (It's just lightweight Styrofoam) ... Cut it to fit INSIDE your window sill exactly... Then tape it in the window with white duct tape (or a color that matches your walls) or Velcro strips if you want to open your window often... The foam sits INSIDE the window-sill (& ON the window-sill ledge) so you can still hang your drapes up over it (& you'll never see it behind the drapes!)....
Now, you probably wonder why I told you to leave that 8 inches of shower curtain hanging out of the bottom... It's a "quick release" handle in case you have to pull the whole thing down quickly in case of fire. Just grab the part of the shower curtain that hangs out the bottom with both hands & if you've just used the duct tape (or Velcro) in only a few places, you'll be able to pull the whole thing down quickly & easily.
* You'll have to take the shower curtain down & wipe the window clean about once or twice a year because of possible mold growth (depending on your climate)... But this is both cheap, & fast! ... PLUS, the Styrofoam helps keep out noise & keeps in warmth (or air-conditioning).
---> I guarantee if you hang the styrofoam up you'll have TOTAL & COMPLETE darkness! You'll not be able to tell day from night anymore!... My only problem, I sleep-in more now that I can't see any daylight, but the train & train whistle sound has been reduced considerably because of the Styrofoam!
PS. Betty, if you don't want to hassle with cutting the foam yourself, just take your "INSIDE-the-window" measurements to the home store & they'll cut it for you! (Just ask them where the "Foam Insulation" is)... But I'm a 53 year old gal & I successfully did all this myself with no trouble, & it still looks good from the inside AND outside of my place!

Julie
Bronze Feedback Medal for All Time! 149 Feedbacks
February 7, 2008
0

found this helpful
Walmart sells window film in the auto section. It works great. Just cut it to fit your inside window measurements, and you spray windex on your window. Put on the film wipe out. Rub bubbles going down the film with a squeegee or credit card. Wipe away the windex that you'll see come out from underneath,. and you have instant darkening.
Can be removed later when you want it off. Most film are either silver mirror reflectant on the outside view or bronze in color. You can even see out in the day but no one can see back back inside. Works great. Can also apply layer to layer if you want. cost from $5 to $20 depending of the area size you are covering.the mirrored reflection on the outside helps reduce heat against your window as well which cuts down on AC bill.
I saw your from Texas. We use to live in Florida and used it on our windows to help with AC bills give privacy and block out light. It also works great on car windows.
By kandle (Guest Post)
February 7, 2008
0

found this helpful
Tape tin foil to your window. I did it and had no problem sleeping the days away.

February 7, 2008
0

found this helpful
Try not to use foil, you could be labeled as a meth user.
By Kelly (Guest Post)
February 8, 2008
0

found this helpful
Hi - I just saw LTD Commodities had some blackout curtains on sale. The curtain panels and shades are each $12.95 - not as cheap as an eye mask, but I can't say I've seen curtains cheaper recently!

February 8, 2008
0

found this helpful
I live next to a highway and in front of a school that has floodlights on all night. I found the same problem with the block-out drapes until I bought some inexpensive tension rods and hung the drapes inside the window frame. Works great. I used velcro tapes to attach the drapes to the window frame sides so they wouldn't move and some more velcro to pin back the drapes when I want to let in light and air.
Good luck. Until I hit on this idea, I was losing two to four hours sleep daily.
By (Guest Post)
February 8, 2008
0

found this helpful
I had this same problem. When my son painted my house a hunter green with terra cota trim, really pretty, he painted my window panes the color of the house. It blends in with the house and unless you look hard it looks like just part of the house. The room is dark. No more problem.
Read More

Answers