Elaine
Bronze Post Medal for All Time! 172 Posts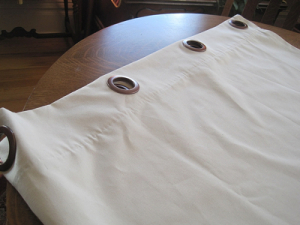 If you need new long drapes for your living room and want the trendy curtains with the grommets at the top, this is a very thrifty way of doing it. This photo only shows one of the panels. I bought two drop cloths for $10 each, using one for each panel.
They measure 6 feet by 9 feet. They are a nice heavy canvas type fabric and are hemmed, but I would measure them anyway because sometimes they are irregular. I made mine 84 inches in length and they are 69 inches wide after hemming the side. You could leave the sides as they come out of the package, but I chose to put a hem in mine.
If you don't sew, you can use fabric glue or you can use the iron on tape for your hems. The grommets I bought at Walmart and they were $7.00 for each package and you need 1 package for each panel. They are easy to insert and the instructions to do them are clear. They come with a template and you draw around it to know how large to cut the circle for the grommet. You just have to space them evenly at the top.
I made these for my daughter so she would have a panel on either side of her sliding doors. She is using bamboo shades if she wants privacy at night. One suggestion if you want a shade a little deeper, Home Depot has the drop cloths too, but they are a darker beige, actually very pretty, but cost more. I made these for a total of $34 and they are much nicer and larger than if I would have bought them.
Approximate Time: 5 hours.
Supplies:
2 canvas drop cloths
2 packages grommets from Walmart
thread if sewing
glue or iron tape if not sewing
tape measure
washable marker
Instructions:
Lay out your canvas drop cloth. Decide if you want to hem the sides and do that first if you do. Do not make a very deep side hem so that you can easily attach the grommets.
Then turn the top header down 4 inches as instructed on the directions. Decide how far down you want to put the grommets in from the top of the header. I put mine in about 3/4 of an inch from the top of the grommet. Insert grommets per instructions.
Then measure down from the top of the hole to the length you want your curtain to be. Allow at least 3 inches and make a double hem. If you can make the hem deeper, I would do that. So in other words, if you need an 84 inch curtain, add at least 3 inches to the length and make a 1-1/2 inch double hem, but more desirable would be to add 6 inches so that you have a 3 inch double hem.
Sew, glue, or use hemming tape and you are done! The hardest part is the measuring, but after that it is a breeze!
By Elaine from Belle Plaine, IA
Read More

Comments

Does anyone have instructions on making curtains with big grommets? Specifically the proper way to put in the grommets.

Nicky from Canada

Answers
By Alex (Guest Post)
April 4, 2006
0

found this helpful
I am getting ready to make my own shower curtain (couldn't find the length or width that I have) and finally found the right grommet at the local fabric/sewing store. I already had the tool but they sold that there also.
By Pat (Guest Post)
April 5, 2006
0

found this helpful
Sorry, I don't know about making them but when my daughter moved into a friends house temporarily, she needed curtains that would keep out the sun. While shopping, I found some suede-like shower curtains and some decorative hooks ( not the ring kind but they just hook over the rod) She bought these and was very happy with them as long as she was there.
By Donna (Guest Post)
January 12, 2009
0

found this helpful
Buy a Grommet Kit. It comes with instructions.
Answer

this Question

Is a light weight material such as polyester OK to use to make grommet curtains?
Answers

March 17, 2017
0

found this helpful
Why do you want curtains? If for the look, you can use anything. If for privacy, choose something that can't be seen through, if for warmth, something thick, if for darkening, use a sunblock material.
Basically as long as the fabric will do what you need it to do, you can use anything.

Judy
Gold Post Medal for All Time! 677 Posts
March 17, 2017
0

found this helpful
You may use any material you wish. However, if you are using lightweight or medium weight fabric it is advised to put interfacing on the top where the grommets are to stiffen the material and make the material between the grommets hang properly.
Answer

this Question