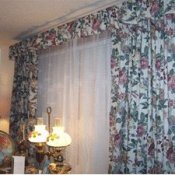 It will be 9 years next month since we moved into our house. There were absolutely no drapes in the house. So I had to find a frugal way of either buying drapes or making them myself. My husband and I first started shopping for drapes at several stores. I looked at the price tags and was astonished and knew right away that it would have cost us a lot of money to do the entire house. We price shopped at a number of stores, and still the same thing, just too expensive. Then we tried some thrift shops such as the Salvation Army and the Goodwill, and didn't find anything to our liking. The drapes were either too long, too short or too narrow for our windows and I would have had to alter them so they would fit the windows anyway.
I either read this frugal tip in a magazine or heard it on TV about making drapes out of flat bed sheets. I thought to myself, "Why not give it a try". I purchased two flat queen sized sheets from Sears because I fell in love with the large flower pattern. The flat twin size sheets were either purchased from K-Mart or Walmart. I also had to purchase some drapery rods for the kitchen, bathroom and three bedrooms.
I didn't use a sewing pattern, just plan old ingenuity and the many years of sewing experience helped me out tremendously. I wanted to make floor length drapes for my living room windows. So I ran the curtain rod through the top casing on the sheet and hung it up to my window. Then stepped back and took a long hard look at what needed to be done. The sheet was extremely long so I measured as to how much I should cut off at the bottom. I cut both sheets the same length and sewed the bottom hems on my sewing machine. With the fabric that was left over, I made a separate valance. There was absolutely no material wasted. I did pretty much the same for the bedroom drapes, but sewed a valance at the top and still had enough fabric left over and made two tie backs and sewed plastic "0" rings on each tie back. I made a pair of drapes and a matching shower curtain for my bathroom, and for the master bedroom made the drapes and a matching duvet cover for our comforter.
I'm so frugal, that I didn't want to spend the extra money for another flat sheet so I made a pair of drapes out of the left over fabric that I used on the kitchen window.
They are so very easy to launder, and never need dry cleaning. Just wash, dry and press with your iron. I even bought four pairs of sheer drapes in a few garage sales that I used for my living room and bedroom windows.
Now you're probably wondering what it cost me to do the entire house. Would you believe if I told you about $109.00 - $115.00.
By Marge W. from Sanborn, NY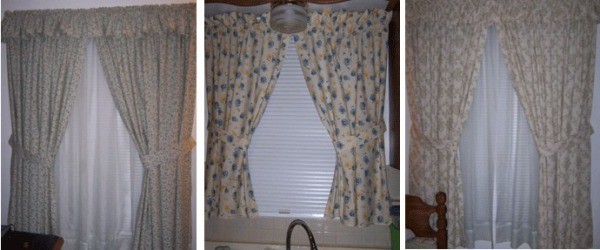 April 16, 2010
0

found this helpful
I could use an easy, thrifty way to make pretty curtains from bed sheets. Any suggestions?

By Clinda1947 from Tulare, CA

Answers:
Making Curtains Out Of Sheets
There's really not much to it. You'll need to cut along the ends of the top hem on the sheet so you can get a curtain rod through. If you have matching pillow cases you could make some tie backs out of those.

For a little fancier top you can sew a line across the top hem about an inch from the top. You'll want to still leave room to fit a curtain rod. Doing that will give the curtains a ruffle look on top and make them look more like curtains and less like a sheet. (04/11/2009)

By crunchberry
Making Curtains Out Of Sheets
I buy clamp on rings at our local discount store and just clip them on and hang them up. I like them because it's easy to move the curtains aside. (04/12/2009)

By kladybug
Making Curtains Out Of Sheets
I buy "spring rods" at any store that sells curtain supplies (like Walmart). These are curtain rods that fit inside your window-sills with no nails or hardware needed. They stay up with tension. There are 2 kinds: The ones that twist to tighten and loosen, or the kind that you slide open and shut then use a butter knife or a screwdriver to tighten the screw. Both types have an internal spring and this is how they stay up. You will first need to measure your inside window dimensions, then look for the size that will most closely fit your window. They usually only cost around $3 - $8.

For Bedsheet curtains: You can follow any of the other suggestions written here (they are all great) OR for a simpler version with no sewing or hardware (and this style can be moved from window to window, or back to bed-sheets again if you move). For this style you will need a sheet that looks the same on the front as it does on the back:

Just take the bed sheet and place it over the spring-rod (inside the window-sill) and bring the sheet from the back of the rod then fold it over the top of the curtain rod and towards you. This will form a ruffle or a "valance" of sorts on the inside of the window. Now, arrange the ruffle until it's the correct height and fits the window exactly. Lastly arrange the ruffle so it's neat and tidy and the gathers sit evenly.

If you don't want to see the ruffle, then fold it so it's on the outside of the window. Be sure to carefully arrange the gathers evenly on the spring-rod where the fabric folds over it.

More No-Sew Curtains:

I made "No-Sew"; valance-curtains for my daughter. She didn't need privacy because she had mini-blinds, so we made a valance with attached curtains. It looked like the fancy kind you see in magazines. You can use bed sheets or lengths of fabric.

On the left and right top-side of the window I hung 2 (2 or 3 tiered) wire plate hangers (from the dollar store). These plate-hangers are used instead of more expensive curtain hardware and are to gather and wrap your fabric around. Then using rubber bands, I attached the fabric to the corners forming a "flower" or a "Rose" with fabric and a rubber band (you make these "flowers" like you would make rings when tie-dying). Then wrap the excess fabric around and over the front of the 2 plate hangers, be careful to make sure both (left and right) sides match each other exactly and cover the plate hangers as you wrap the fabric around them.

Now stuff this valance lightly with either crumpled-up white tissue paper or crumple up light colored plastic bags to fluff it up. You will now have a fancy valance-top. Lastly leave a yard or more of the fabric to hang off of each side of the window. If you are using fabric and don't want to hem the ends, you can make "Bishop Sleeves" style curtains by using a rubber-bands or matching ribbon. Stuff the Bishop-Sleeves with more tissue paper.

Lastly if you want, you can tuck several large silk flowers and leaves into the rubber bands or ribbons. We used silk flowers that matched her bed sheets and also wrapped a bit of ivy around the gathers. These curtains turned out beautifully and looked very professional. I wish I had a picture. (04/12/2009)

By Cyinda
June 19, 2007
0

found this helpful
I was wondering if anyone has ever made curtains out of sheets. I was thinking that I could buy some twin size flat sheets of the color of choice at Wal-Mart and use them, they already have a pocket sewn in, I could put in a curtain rod and tie back. Has anyone ever done this? And if so how did you like the way they looked. Or do any of you have a better way?

Thanks,
Becky
Answers:
Making Curtains Out Of Sheets
Dear Becky,
You are right, that you can buy the twin flats and put the rod through one end. I have made many curtains this way matching them with the comforters and cushions, etc. If you want a header (gather) above the rod, sew one line of stitching, 1 and 1/2 inches above the hemline of the top of the sheet. The hemline is where the top of the sheet is folded down about 4 or 5 inches to make a finished edge. The hemline and your line of stitching will make a pocket to put your curtain rod through, giving you a ruffle above the rod.
(03/22/2005)

By Anonymous
Making Curtains Out Of Sheets
I used a sheet for a curtain for a double window in the guest bedroom to create privacy in our new home 4 years ago and it is still there. I used a flat king sized sheet I already had, draping it over the curtain rod already on the window to figure out where I wanted to create a false valance without having to cut the sheet. When I had the valance area deep enough, I measured carefully to establish where I wanted to create the rod pocket for hanging. Measure and pin or chalk carefully so the rod pocket is the same distance/depth all across the fabric of the sheet. Then it was simply a matter of sewing a straight line across the fabric to create the rod pocket. The upper area of the sheet had a deep "hem" with a decorative ribbon touch so it was super easy to create a really nice look. I did need to be careful which side of the sheet I originally "hung" across the rod so that I could take advantage of this pretty detail. And when I do find the right drapery for this room, it won't be any problem removing the stitching and returning the sheet to its intended purpose. This method of covering does not allow for tiebacks but it works for what I needed. The rule of thumb for any type of window drapery or curtain is that it should be 2-1/2 times the width of the window opening to allow for fullness, but this doesn't meet that standard ~ however, it does not looked stretched or skin tight and drapes fairly nicely. Works for me. (03/23/2005)

By Ronsan
Making Curtains Out Of Sheets
I used them a lot. The strange thing is that the cheaper sheets work better--they seem to have more body. Darker fashion colors don't look so much like sheets when hanging (raspberry instead of pale pink, navy instead of powder blue) and don't wash the sheets before you hang them--they appear stiffer and again have more body. (03/23/2005)

By cjgeo
Making Curtains Out Of Sheets
My mom has done this for years, and everyone compliments her taste in decorating her beautiful house. There are so many things you can do to dress up the curtains (add lace or other edge decoration, make valances, attach lace, etc.), or you can leave them plain. My mom has also sold these curtains cheaply when she tired of them, and no one realized what they actually were! The variety of colors and patterns make sheets excellent for making curtains, and you can determine what kind of material and what thread count you want by what style of curtain you are going to make. (03/23/2005)

By terdralynn
Making Curtains Out Of Sheets
Heavens yes! I think my son doesn't know there's any other way to acquire curtains. I've been doing it all his life and he's 40!
They will work just the way you described. If you want other sizes/styles, sheets are still an excellent way to get a large amount of fabric at a most reasonable cost.
Nancy in Missouri (03/23/2005)

By ngpreffitt
Making Curtains Out Of Sheets
I have deep purple paisley sheet curtains made from 2 kings on the sliding doors from bedroom to patio. I tie them back with raffia bow and tucked an accent color silk flower into the bow. Total cost-$10 plus the cost of rod and hardware. (03/23/2005)

By Linda.
Making Curtains Out Of Sheets
I had used a flat sheet to make curtains for my son's room. It was stripped so it was easy to cut. I purchased the cheapest flat white sheet at Walmart for the lining to help give it weight. The problem was that the Walmart sheet was 8" shortert and it was not as wide. I did not realize this until after I had cut everything and sewed two sides. In the end, it came out great and my son's room looked great. (03/23/2005)

By Mrs. Jones
Making Curtains Out Of Sheets
I've done this lots times. Try using a solid sheet for the curtain and a decorative sheet for the valance and tie backs. No one will ever know that it's sheets. You can also use sheets to make very inexpensive table cloths. (03/23/2005)

By klr2080
Making Curtains Out Of Sheets
Also - there very washable! (03/24/2005)

By Lisa
Making Curtains Out Of Sheets
This works great! I have also made pleated drapes from sheets, for a more formal look. One caution: Some patterns will be upside-down of you use the top edge pocket to hang the sheets. I tried this in my son's bedroom, but the dinosaurs were all standing on their heads. You can still use the sheets if you want, but will have to sew your own casing in the other end. (03/24/2005)

By Karen
Making Curtains Out Of Sheets
I am at college and we are not allowed to do anything permanent to our rooms, so my mom came up with an ingenious little way to hang curtains. At Bed Bath & Beyond, buy a silver expandable curtain rod and 3 silver command hooks. Place one hook at either end of the window and a third right in the middle. At Wal-Mart, get a queen bedsheet, and cut it right in half. Tie the two halves together with a large, decorative knot , and place the knot in the middle hook. Hook the ends sheets in at the left and right hooks, and arrange the middle as you want. The ends will hang down on the left and right and you can twist the middle around the rod or let it drape. It looks gorgeous and it is easily removed! (03/28/2005)

By Guest
Making Curtains Out Of Sheets
Actually, yes... I have seen this done. My mother did it in their room years ago. She had bought a bedding set and knew finding curtains to coordinate would be impossible and did exactly as you suggested. The really cool thing about using sheets is that they are machine wash and dry. SO easy to keep looking fresh and clean.
When they decided to change the decor in their room, Mum did it again with the sheets but with a bit of a twist. She had got vertical blinds for the room and to "warm" up the look of the windows, she made a curtain for each side of it that she never planned to actually close (no need, with blinds in place). So, for these "cheater" curtains, she did the same sort of thing at the top and had a REALLY easy finish for the bottom. She folded up the bottom of the sheet that draped too long and, instead of hemming it, she turned it inside and bunched it with an elastic band. NO SEW! This allowed for a cute balloon look on each side of the window that softened the look of blinds alone...and was dead easy to put back up and rebunch and puff...no worries about shrinkage, etc. (03/29/2005)

By Sam
Making Curtains Out Of Sheets
I had country curtains made out of sheet yrs ago. worked real well. I use table cloth as my window treatment or fabric . Works great you can fine them marked down at the end of season sale. Or buy them at yardsales. I like thinking out side of the box, and think what else can I use this for.

By Lynn04
Making Curtains Out Of Sheets
I used sheets as liners for some unlined linen drapes. The colors matched perfectly and no one could tell that they were not purchased together. Good luck, you have many options to try!
Roberta (04/03/2005)

By Roberta
Making Curtains Out Of Sheets
I have made curtains a lot out of sheets, you can really make your own gesighn. You already have your hem, just sew your fuffle at the top your desired width (04/15/2005)

By Kathy
Making Curtains Out Of Sheets
I've made lots of curtains out of sheets but don't stop there. Furniture throws, crocheted rugs, and pillows are some other things. I use sheets so much that my family sends me all their old ones via UPS! Here's a handy formula for calculating the cutting length, Patty, take the finished length(where you want the top and bottom to be on the window) + three times the header depth + two times the rod pocket depth + 8 in.(for a 4 in. double-hem; it looks nice and adds weight but any size double-hem would work) + 1 in. for a gathering allowance. I hope this helps. (04/15/2005)

By gizturbo1
Making Curtains Out Of Sheets
My dad did that before. We had a space that we wanted curtains to separate the computer room from the living room. We got navy blue sheets and did it ourselves. You couldn't even tell the difference.
(06/05/2005)

By Melissa
Making Curtains Out Of Sheets
We've done this before....and it works out quite well. For smaller windows or just a more custom fit you can cut off the bottom and use iron-on hem tape. It is great.
Good Luck. (06/22/2005)

By Maria
Making Curtains Out Of Sheets
Duvet covers work well two! I bought too matching duvet covers and made one set into bedroom curtains. (07/02/2005)

By Annie
Making Curtains Out Of Sheets
I haven't personally done this, but my mother-in-law made curtains for most of the windows in their house this way! Just a pointer, to give more privacy it's good to use a double layer of sheet material when making curtains. Also, dark curtains yield themselves to better room darkening. Good luck! (05/04/2006)

By Jennifer
Making Curtains Out Of Sheets
I have done this also. I have also used sheets for shower curtains and vice versa. With all the fabric and sheer fabric shower curtains they are great for window treatments. The holes are already there you just need to decide how you want to "hook" them to the curtain rods. I have also gone to discount stores like Family Dollar Store, Factory to U, and TJ Maxx and purchased drapes for as little as $5.00 - cheaper than sheets and less work. Good luck (06/05/2006)

By Tricia
Making Curtains Out Of Sheets
What about using a hole punch and buying some shower curtain holders (nice ones) and hanging that instead of sewing? (06/06/2007)

By JAMIE
Making Curtains Out Of Sheets
Super easy way to coordinate your curtains with the rest of your room. Ready made curtains are very expensive and I have recently actually walked miles looking for them when I suddenly realized in a local department store linen department I was looking at a sheet that was exactly what I wanted in a curtain. Can hardly wait to get to my machine and put in the few necessary stitches. (06/19/2007)

By Janet B.