I just read a question regarding 'Removing Old Contact Paper from Windows'. While I don't have an answer, the article caused me to have a question of my own.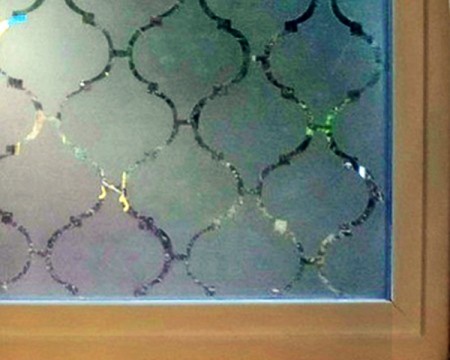 In the picture, the window appears to be frosted glass. Am I to understand the glass is not frosted and that the frosted effect is a result of contact paper used on the window?
It may be obvious that this is true, but I am asking because I was not aware that such a type of contact paper for windows existed.
Are there other TF members who have had experience with this paper? How easy is it to apply? How realistic does it appear? Is it non yellowing?
I'm asking all these questions because I very much like the effect shown in the picture and can think of several places I would like to use the paper.
April 26, 2018
0

found this helpful
i do not know if you saw the picture on the Internet or if you saw it in person but contact is just that, "paper" that has a sticky backing and is put on whatever you wish to cover. But contact paper comes in many different colors and designs as well as clear and plain. Maybe the nicest thing about contact paper is the low cost and that it is sold in so many stores.
It is possible you watched this video on YouTube (from ThriftyFun):
There are a lot of videos and suggestions on using contact paper so if you decide you want to try something just Google contact paper ideas/projects and lots of sites will come up.
Some people prefer another product (Peel & Stick Freeze Window Film) but it is much more expensive.
April 27, 2018
0

found this helpful
Here is a similar craft that we have posted, using Contact paper.
www.thriftyfun.com/Privacy-Window-Using-Contact-Paper...
I have a different sort of cover on my garage door window, using a translucent window film. This type is not sticky but adheres with water. That sample you showed could be either type.
April 29, 2018
0

found this helpful
Contact paper will loose its sticky and will turn yellow over time, especially if exposed to sunlight over long periods. You could have real frosted glass, or there are kits that you can buy to frost or etch your own glass.
April 30, 2018
0

found this helpful
It's time to clear the air. That's my way of saying 'I should have made my question more readable in the first place'.
I know what contact paper is. There was a 'contact paper craze' when it first came on the market. Everybody was covering everything except the cat with it, everything from refrigerators to caskets.
I think I used a roll for some project about 50 years ago. I found contouring the paper over 3D surfaces a pain and felt it was best suited for flat, smooth surfaces.
Now, about the picture. That is not my picture nor my window. The picture was taken from the other post I was telling you about, 'Removing Old Contact Paper from Windows'.
What I did not know was, is this a picture posted by the questioner and she knows it to be contact paper, or maybe it's a picture supplied by our editors and could be contact paper or actual frosted glass. The reason for my question is that if it actually is contact paper, it is very realistic looking and would have fooled me.
I appreciate all the information and the links to even more information. I think my main concerns have been addressed, they being, would this paper be indiscernible from frosted glass (at least from some distance), and is it likely to yellow over time.
I don't know that I am ready to tackle etching glass at this time. I will look into finding this type contact paper and using it for small indoor projects not likely to be exposed to a lot of sunlight.
Thanks All!