My parents' church is having a Church Homecoming in July. I have been asked to make or find someone to make 30 wrist corsages. I would like to make them and save the church some money. Can anyone give me some easy steps in making wrist corsages?

Thank You,
Velvet from Belleville, MI
Ad
---
Recent Answers
Here are the recent answer to this question.

By Melissa05/29/2009
Here are some super easy directions on making an easy wrist corsage:
http://www.ehow.com/how_4824907_easy-wrist-corsage.html

I made these for my daughter's homecoming and they turned out great!

03/24/2009
I make and also sell the supplies for making wrist corsages. If anyone is in need of this, please feel free to visit my shop or email me. I'm located at the HWY 90 flea market booth Q-01 on 90 and W Military. My website is: www.senoritasonline.com

By lon (Guest Post)09/25/2008
I have found the wristlets at A C Moore's art stores

By (Guest Post)05/29/2008
I recently went to Michaels to buy a wristlet to make a wrist corsage and they no longer sell the wristlets, so save your time and travel to Michaels. I went to Walmart and bought elastic that you would put in waistbands for clothing and a package of floss bobbins to mount the flowers on (you'll only use one floss bobbin, but they come in a pack for $1.33). I simply used hot glue and silk flowers and some ribbon and the whole thing cost me under $8.00. It was for my son's girlfriend's prom.

By ANGIE (Guest Post)01/11/2008
Can someone tell me how to put it on a wristlet?

By Bridget (Guest Post)09/29/2007
I have made my daughter some wrist corsages for homecoming/prom, and I go to the local flower shop to get the base for my wrist corsage. Its cheap and works perfectly. They are called wristlets.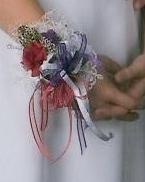 By hlmott (Guest Post)05/19/2006
I made corsages for my son's date and the dates of several of his friends. It's real easy. I just went to www.michaels.com, typed in corsage in the search. It will give you several instruction sheets. You can follow theirs exactly or get creative and make your own originals. Good luck!

By Tab Martin (Guest Post)05/18/2006
To save time and money try using the stretchy hair bungies. Adding a few artifical flowers and baby's breathe to these make a great keepsake. They come in many colors and are usually in packs of 50. Remember to get the big ones to fit everyone's wrist. (or even better, if you can find the fabric hair scrunchies on sale at your local Dollar store)

By Donna [2]05/18/2006
I have made two wrist corsages for my daughter for formal dances. The tip I would give is to buy the base to make the corsage on at a store like Micheal's or some other craft or sewing store and then go from there.
Answer This Question
Add your voice to the conversation. Click here to answer this question.