I need info on preserving mistletoe and magnolia leaves for making wreaths and other Christmas items.

Answers
By Scott J. (Guest Post)
September 14, 2004
0

found this helpful
I'm not sure if it will work with Mistletoe and Mangolia leaves, but it's probably worth a try: I use to know a lady that preserved eucolyptus branches for swags by cutting fresh ends and then soaking the ends in either glycerine or anti-freeze for a few days.
By Thelma (Guest Post)
October 5, 2004
0

found this helpful
I am not sure this will work, but I have bought cat litter and used it on leaves and small flowers. It dries them out and they are pretty. Just cut them lay in a tray, cover with litter, and then layer again if needed until you have amount you want done.
I have also read in my MICROWAVE INSTRUCTION BOOK, it can be done in it, but never tried it.....I want to preserve red, peppers I have harvested from my garden, so I am gonna try the cat litter method......Good luck tmelton (at) wayxcable (dot) com
By Claire S. (Guest Post)
November 21, 2004
0

found this helpful
i was told to dip them in future floor wax.
By Midge (Guest Post)
February 6, 2008
0

found this helpful
Did any of the suggestions work? I am trying to preserve fresh mistletoe now myself and found you had already tried.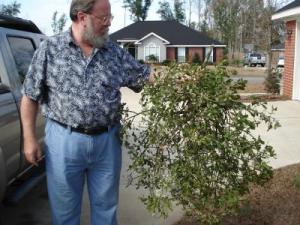 By Charles M. (Guest Post)
December 14, 2008
0

found this helpful
I was told by a lot of people to dip the base of them in glycerin.
December 28, 2019
0

found this helpful
I recently lost my mother December 13th she was in the hospital before Thanksgiving so I didn't get to spend Thanksgiving with her for Christmas cuz she passed Before Christmas a few days ago sitting out on my front porch at my mom's house talking to my sister about hi Mom a big Branch fell from one of the tallest trees for Mom's front yard it happened to be a mistletoe it was still bright green and fresh I think of it as a sign for my mom sending a thousand kisses from heaven I want to keep this how can I preserve it she's somebody let me know someone suggested I cut pieces off and store them in the freezer??? Does anybody know if that will work what can I do I want to keep this forever it was the biggest piece of mistletoe it was a huge branch

November 17, 2022
0

found this helpful
no one cents its odd or do I need to register or something to see reply? So go to the natural food store, a local owned one preferably. Then go to the bulk area and look where their organic massage oils and shampoos and peanut oil and suck in bulk. They will have very glycerin I talk 50 50 distilled or rain water and the glycerin soak slightly eating not to much you really just need to dip and then douse them laying on a plate and then cover it ore and take a plate and set weight on top of what ever your trying to preserve, I just make huge pot of it and fill it with the mistletoe and made a basket out of chicken wire and push it into the solution and I set nothing as weightI use wire on each side and just hook them tight onto something on the ground pull them tight and wait three days adding a little but shouldn't need to.
Wipe off gently I use light air from a compressor and paint brush or a clean swifter. let dry and air out should be soft and as it was but better be careful its like fresh it snaps still
Answer

this Question
I am making a large magnolia leaf wreath. Is there a spray sealant I can use to put on the leaves to keep them from turning brown? The wreath will be hung up high in the church's sanctuary all through Advent.
By Agnes B
Answers

November 30, 2011
1

found this helpful
Go To MarthaStewart.com or FaveCrafts.com They Both Have Everything you need to know! Have Fun Crafting & Happy Holidays! : )
Answer

this Question