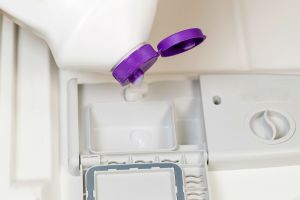 Dishwasher liquid, powder and tabs can be effective helpers when cleaning or doing the laundry. This is a guide about cleaning with dishwashing detergent.
Ad
---
Solutions: Cleaning With Dishwashing Detergent
Read and rate the best solutions below by giving them a "thumbs up".
In this day and age of more products to clean everything; stains, whiteners, brighteners, etc., who can afford it? I remembered a tip given to me from a friend years ago.
We are nurses and had to wear white. Bleaching your whites leaves them dingy and yellow after awhile. She recommended Cascade dishwashing detergent - the plain ole white powder stuff. Put your clothes in the hottest water they can stand, add 1/2 to 1 cup of the Cascade powder, and let soak for an hour. The enzymes break down the stains and whiten up the whites.
I recently had a grease/oil stain on a white jacket. I poured some of the white Cascade gel on it, rubbed it, and let it set for 5-10 minutes. The stain came right out! Other cleaning agents that you would normally buy for that were not working.
There you go, no need to run out and get 14 products to do your laundry. Look under the kitchen sink.
By Annlee from Newport, NY
Give a "thumbs up" to the solution that worked the best! Do you have a better solution? Click here to share it!
Questions
Here are questions related to Cleaning With Dishwashing Detergent.
I found out my maid washes the dish-cloths and tea towels with dishwashing detergent rather than washing powder. She was very offended when I brought it up with her.
Can anyone give me advice on whether dishwashing detergent is OK to use on fabric products like this or not? Everything always seems very clean.
Thanks.
By Janedo from HCMC, Vietnam
Ad
---
---
Best Answers

By cfar200708/18/2012
I am a massage therapist and laundry soap was not reliably getting the oil out of the sheets. I tried dishwasher detergent and it works perfectly. It is also much cheaper than laundry soap (why?). I use it for all my laundry now. I have read some say that it is too harsh for fabric. I have not had that problem. Even with delicate fabrics.
---
Best Answers

08/13/2010
Truly, in my life experience, she seems to know what's best as a professional and is watching out for your best interests so please just trust her expertise. It's okay to ask her questions but it's best to ask her out of 'how and why does this work well' rather than a mind set that she might be making a mistake. It's all in how you approach the question ;-)
Can I use dish tabs on laundry?
By tamoyork [1]
Ad
---
---
Most Recent Answer

By Dinah Ackerson [3]07/27/2015
Dish washing products are very different than clothes washing products. There are significant differences in the types of chemicals used and this grossly affects the end result on your dishes and clothes.

Dish washing detergents and the newer tablets contain chemicals that break up food waste left on dishes-what does this do to cloth?
They are not designed to remove clothing stains.
Depending upon ingredients, use may result in large volumes of suds that do not break down and will certainly affect your clothes and, perhaps, the machine.
If your washer is under warrantee and is damaged by use of a product not designed for the machine, the company may void the warrantee.
Etc.