Saving Money On Dishwashing
Solutions
Share on ThriftyFunThis guide contains the following solutions. Have something to add? Please share your solution!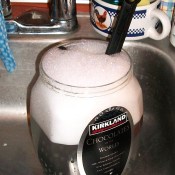 I don't have a dishwasher. And standing on bad knees and hips isn't my idea of the best way to end a day, either. So, in the kitchen, I try and work smarter not harder. While my tea or coffee is nuking, I draw a container of hot soapy water and during the day, soak my eating and cooking utensils in it.
Of course the water doesn't stay hot. But by the end of the day, I simply have to rinse what is inside. It saves a lot of time standing in front of the sink.
I hope this helps.
By Sandi/Poor But Proud from Salem, OR
When I have a saucepan that needs soaking, after scooping out the contents I fill with water, heat til hot, take off heat, squirt in a little dish detergent, and set in sink. Using a long handled dish brush, I wash each dish, rinse, and drain.
Also, when the dish detergent is almost gone, I fill it with water and use it for washing hands at the sink. It doesn't have that strong perfumey smell that some soaps have, and you use up every last little bit of detergent!
By virginnyb65 from Charles City, IA
April 22, 2005
0

found this helpful
When visiting my elderly father recently, I noticed that his dishes, glasses and everything in his kitchen were covered with a grimy film. He explained that to save money he was cutting his dishwashing liquid with water (1/4 soap and 3/4 wanter) and using much less than the recommended amount dishwasher detergent. I say this waste of money, because there is no savings if you become ill from the germs accumulating in a dirty kitchen! You don't have to use a huge amount of soap, but please use full it strength to kill germs!
Also he uses a wooden cutting board for everything and rather than cleaning it with soap, he uses only water and then oils it. This is an old-fashioned and dangerous practice. Germs get in to the wood. Oil becomes rancid when out in the air. Best to use a non-porous plastic or glass cutting surface and clean it with soap and vinegar after each use. Food poisoning is more than unpleasant -- it can often be life threatening! Why take risks?
By Mary
We all have those nylon bags that potatoes and onions come in. One day after returning from the grocery it occurred to me to cut them in squares and use them to scrub with.
Read More...
I have seen tips on using baking soda as a substitute for dish washing liquid or powder but they usually involved adding some other cleaning element as well, and I have seen the use of vinegar for many cleaning uses but I have not yet seen these two in combination.
Read More...
April 6, 2005
1

found this helpful
I love clean dishes! I use a little bleach in my dish water. Not only does it help sanitize them, the dishes actually dry faster!
Read More...
If you are doing a lot of baking (especially around the holidays) and are making several batches of muffins or mini loaves, you will find yourself having to wash and very completely dry pans in between batches.
Related Content