Saving Money on Dish Soap
Solutions
Share on ThriftyFunThis guide contains the following solutions. Have something to add? Please share your solution!
September 1, 2006
1

found this helpful
Tips for saving money on dish soap.

Fill a pump bottle halfway with dish soap and the rest of the way with water. It uses less soap, but still produces great suds.

By Robin from Washington, IA

Post your own ideas in the feedback below!
Comments
August 27, 2004
0

found this helpful
Top Comment
I keep dishwashing liquid, diluted 1:1 with water in a handsoap pump dispenser beside my kitchen sink. Your detergent goes twice as far, and you can use it to put a drop or two (use a light touch) on your sponge, or to add a measured amount to your sink when soaking or handwashing dishes.
By Doggy
August 31, 2004
0

found this helpful
Top Comment
We also dilute our dish soap, but one of the things we also do is buy the same soap for everything. Plain castille liquid soap can be used for dishes, hands, showers, laundry, cleaning surfaces, even as shampoo (but it's not my favorite for that). You can shampoo the dog and wash floors with it. Liquid castille soap is not terribly inexpensive but if you use it for everything, you avoid paying a variety of prices for a variety of items and time spent having to shop around for all the best deals on 10 different cleaners. And then you can also by it by the case and get a better deal. (Usually 4 gallon jugs.)
October 6, 2004
0

found this helpful
Top Comment
I make my own mint bath gel/shampoo from Ivory Liquid. It's like $1.86 and add some drops of wintergreen or spearmint or peppermint. Bugs aren't attracted to mint but ARE to citrus & florals!
Dilute dish soap in a spray bottle and if you aren't going to do the dishes right away, rinse and spray some on it. Makes it a little easier later to get them clean.
November 5, 2004
0

found this helpful
Top Comment
If you add some vinegar to your dish water, it helps degrease and sanitize your dishes and you can use less dish soap.
January 13, 2005
0

found this helpful
Top Comment
Challenge yourself to use only one sinkful of water when washing dishes. Start with virtually no water in the sink, add a small amount of dish soap, and then rinse all the dishes back into the sink. This way, you don't waste the soap by rinsing it down the drain. You save dish soap AND water.
Here is a way to control how much soap comes out of your dish soap container. Get a sturdy spray nozzle from an old bottle and just screw it on.
Make the adjustment as to how stong or soft you want the spray to be. You will save soap, plus it will spray out more evenly over dishes.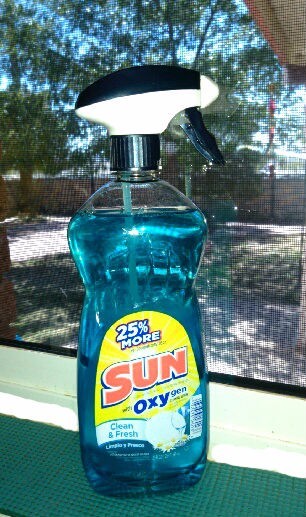 April 29, 2008
4

found this helpful
I keep a dish detergent dispenser on the sink. When I refill it, I fill it with about 1/3 water and the rest with soap. I shake a little to mix. I find it works just as well as full strength detergent. Half of the time my family uses too much anyway and the detergent is a little too thick for me. Saves quite a bit on soap.
By barbara czaczynski from Park Ridge, IL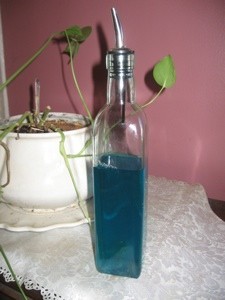 This started out as a treat for myself but has really turned into a money saver. The kitchen sink area became more "elegant" once I purchased a bottle with spout designed for use with cooking oil. I have done this for years, purchasing liquid soap, squeezing it into the bottle and then hiding the unsightly squeeze bottle under the sink for a future refill. The spout is smaller so you cannot overdo the soap. Pretty and a real $$ saver!
By Tahloolabelle from Ventura CA
I had a nice pretty hand soap pump container that I had gotten from my niece. When it was empty, I filled it with dish washing liquid soap and I leave that on top of the sink to be used for either hands or dishes.
Read More...
I have a tip to help save on dish washing liquid and to look pretty at the same time. I went to the Dollar store and bought a decorative oil dispenser. I use less liquid and it looks pretty on the sink.
Read More...
Do you remember when the ultra dish soaps came out? At that time the manufacturers said to dilute the soap, using, I believe, 2 parts soap and one part water.
I have a bottle on my counter that I add dish soap to with the water in those amounts.
Read More...
I add a few drops of essential oil to Free and Clear (hypoallergenic) dish soap to mimic the expensive all-natural soaps without the possible allergens, since even all-natural soaps can have natural ingredients I'm allergic to.
To stretch your dish detergent, use "bubbles" refills from the dollar store, the type kids use to create bubbles. The cost is about $1 for 32 ounces.
Read More...
For making your dishwashing soap last longer: Take a separate plastic bottle with a pump and fill about one third of dishwashing liquid of your choice.
Read More...
Related Content