Homemade Dish Soap Recipes
Solutions
Share on ThriftyFunThis guide contains the following solutions. Have something to add? Please share your solution!
How many of you use vinegar to augment your ordinary dish soap? The idea is simple. Find a large pump squirt bottle and fill it half and half with vinegar and water. Add in a squirt of your favorite store bought bio-degradable dish soap and use your new pump bottle mixture to wash your dishes in cold water. Yup, you read me correctly, cold water!
Save on hot water bills and also on store bought dish soap. Try it and and see for yourselves!
Source: I tried mixing a few products together and vinegar mixed with water and ordinary bio-degradable dish soap proved to be a winner. That makes me the source of this tip.
By Joseph Raglione from Laval, Quebec, Canada
I am trying to eliminate unwanted toxins and chemicals from our home. I decided to begin with products that we use and breathe in on a daily basis and go from there. Since dishes are being washed 24-7 by yours truly, it seemed like a logical thing to tackle next. Plus I was all out, I needed it.
This is easy to make and much less expensive than the all natural type products available at health food stores. Not only that, and much more importantly, it works really well! I tried making dish soap a long time ago and was very unhappy. But this recipe lathers wonderfully. I plan on getting one of those cute Mason jars with a pump, till then, my old plastic bottle will do. Hope you enjoy trying your hand at this!
Total Time: 10 minutes
Yield: About 1 1/2 cups
Source: Pinterest inspired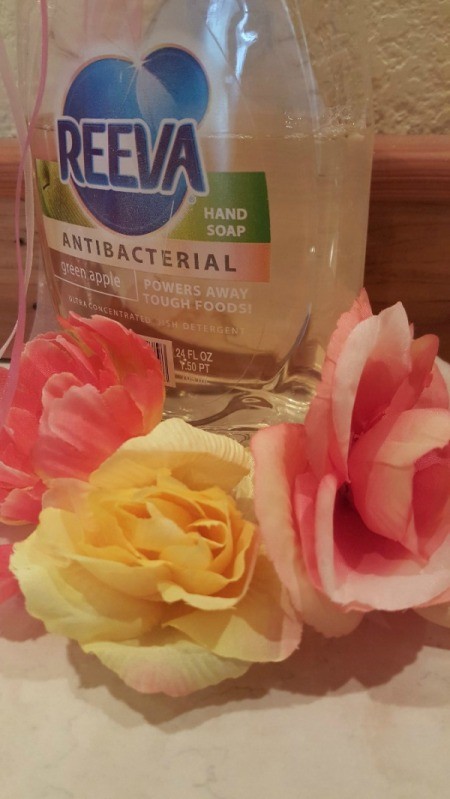 Supplies:
1 1/2 cup very hot water
1/2 cup liquid castile soap
1 Tbsp baking soda
1 Tbsp grated bar soap, I used Ivory
38 drops rosemary essential oil
cheese grater
empty container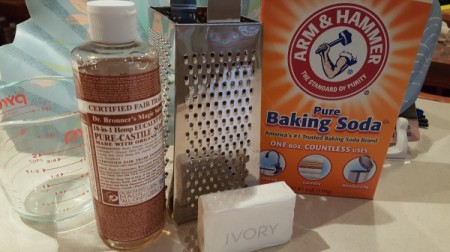 Steps:
Begin by grating your bar soap. I chose Ivory because it is pretty pure and free of dyes and artificial perfumes. Store the remaining soap in an airtight container, clearly labeled, for future batches.
In a large bowl, add your castile soap, baking soda, bar soap and oil. I added 38 drops. You may want to add less. I really enjoy the strong smell. I like the whole kitchen to smell of rosemary when I'm washing dishes. You may want to use only half the amount of drops.
Pour your hot water slowly over your mixture, whisking gently.
I ended up transferring the mixture to a small pot and gently whisking over medium heat for only about 2 minutes in order to melt the remaining soap bits.
Pour back into your bowl and allow to cool for about an hour. Using a funnel, transfer to your container.
Enjoy! Don't be fooled by how "watery" this is. It lathers very well and a little goes a long way!
After looking on many sites to find homemade hand dish detergent, I finally decided to make my own.
Read More...
Questions
Ask a QuestionHere are the questions asked by community members. Read on to see the answers provided by the ThriftyFun community or ask a new question.
January 17, 2015
0

found this helpful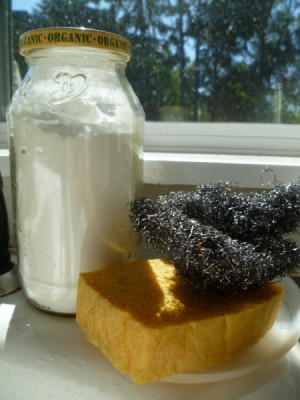 Do you have a recipe for powdered dish soap for hand washing dishes? I'm looking for a frugal dish soap that is in the form of a powder. I love DIY powdered dishwasher soap and powdered laundry soap! I live in a small apartment and storage is at a premium and having powdered soap would be very convenient.
By Vicki W.
Answers
June 30, 2018
0

found this helpful
This site (beloved Thrifty Fun) has a long thread on this very topic:
www.thriftyfun.com/.../Homemade-Dish-Soap-Recipes.html
I personally don't fuss with a recipe and prefer to use hot water, plain old baking soda (buy in bulk) and vinegar (buy in bulk) on my dishes. Usually one part baking soda to two or three parts vinegar depending on how dirty the dishes are....less concentrated is OK for non greasy meals, more concentrated if we have something bad for us (like fried) :(
I keep Dawn around if I have to use it. I only buy the original formula, in a big bottle, purchased only when there are coupons and it is on sale. Since it is multi purpose, I can be OK with tucking it under the sink. By multi purpose...I mean it is my go to for removing really bad grease, coffee, etc. stains in clothing. It has saved many an outfit for me!
Hope this helps!!!
July 1, 2018
0

found this helpful
Blue dawn is very economical because it is so concentrated and cuts grease so well. I dont think you can do better. Look for sales and use coupons.
Answer

this Question

...
June 22, 2012
0

found this helpful
I have trouble with dry skin. What can I use in my dishwashing soap to make my hands softer?
By Patricia K.
Answers
June 23, 2012
0

found this helpful
Every time your hands touch water, dry them thoroughly, then apply a dab of hand lotion. Also do this when your hands haven't got wet but still feel too dry. I have the same problem. I like Vaseline intensive care the best but I will use other kinds too. Keep a small tube of hand lotion with you when you go somewhere too.
Apply any time your hands start to feel dry.
I go through a large bottle of hand lotion in a month and the carry where you go tubes in about two weeks. A large bottle of Vaseline Intensive Care is less than $4 and it is worth it to keep your hands feeling soft and moist. Just a little extra tip: Don't pet a dog or cat when you have lotion on your hands. I did that. Yuck!
June 25, 2012
0

found this helpful
Use rubber gloves. Keep your hands out of water. Good luck
Answer

this Question

...
How do you make homemade dish soap? I know it involves baking powder but I don't know what the other ingredients are. Please let me know
By Loleini
Answers
April 15, 2013
0

found this helpful
It is not baking powder. It is baking Soda. Baking soda will help remove stains and acts as a bleach. I am not sure about making baking soda dish liquid.
But you can reduce your cost on the dish liquid you use by using baking soda or white vinegar in your dishes. If you have a build up of grease, hot water and white vinegar can help break it down. Hope this helps.
August 3, 2013
0

found this helpful
Here is a recipe I found on Google for it. For recipes requiring home made lye soap, I substitute Ivory. If things need the benefit of baking soda, I just rinse whatever it is and sprinkle a bit on there. Wait a while and then rinse if off and wash as usual. Most recipes with the dish washing detergent are for dishwashers.
Answer

this Question

...
I would like to know how to make dish washing soap.
By mgramasah from Malaysia
Answers
July 23, 2011
0

found this helpful
TSP (Tri-Sodium-Phosphate) plus hand soap remnants work very well for a powerful dish soap, that is gentle on the hands.
Collect the small remnants of hand soap and when you have two cups full, simmer them with some water in a stainless steel one gallon pot, until they are dissolved. Add cool water and a couple tablespoons of TSP. Stir well.
Fill the results into a dish-washing soap pumper and a gallon jug.
Works well for floor and wall cleaning too.
Have FUN!
DearWebby
http://webby.com/humor/blog
February 4, 2013
0

found this helpful
For dry hands-wear thin cotton gloves under rubber gloves to avoid the sweating that causes moisture and strips oils. Williams and Sonoma, a store that is found many places or has a catalog, sells cotton lined gloves for $12.99, but they last longer than regular unlined gloves that get finger punctures. they are great for dry skin.
I also put lotion and vaseline or coconut oil on top of the lotion on my hands and wear cotton gloves at night. Keep a bottle of your favorite lotion fortified with olive oil or almond oil on a shelf and frequently rub a bit on your hands throughout the day.
I also wash my hands in this lotion when they are dirty except of course for food prep or after the toilet. The lotion is good enough for these purposes except as stated. Also wear gloves for all wet work and use disposable gloves for cutting up vegetables or cooking with wet foods-all this contributes to dry hands. I buy the disposable gloves at Amazon.com. you can buy 500 or more real cheap.
Answer

this Question

...
August 24, 2013
0

found this helpful
Are you talking about "distilled white" vinegar? I would only assume you don't mean "apple cider" vinegar.
By TB
Answer

this Question

...
Related Content