Getting All the Lotion Out of a Bottle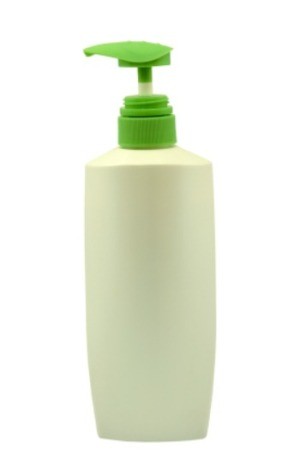 To get that last bit of lotion (or whatever) out of the bottle, heat one cup of water in a two-cup measuring cup, in the microwave for a minute or two. Then set the almost-empty bottle in the hot water and let it sit for a few minutes.
Swish it around every once in awhile, and pretty soon the lotion will be nice and liquified and easy to pour out. You can pour it into another lotion bottle, or into another smaller container with a top that you can reach the bottom of with your fingers (baby food jars are great for this!). Of course, if you put it into another container, remember to label the container with the contents!
Source: Absolute frustration and unwillingness to throw away several ounces of really good hand lotion.
By Eileen M. from Elk Grove, CA
Read More

Comments
10 More Solutions
Share on ThriftyFunThis page contains the following solutions. Have something to add? Please share your solution!

When you can't squeeze any more lotion out of a plastic tube, save what is left inside by cutting the tube so you can dip it out with your finger. I trim the tube so the top will fit over the bottom and this keeps it from drying out. It works great for me.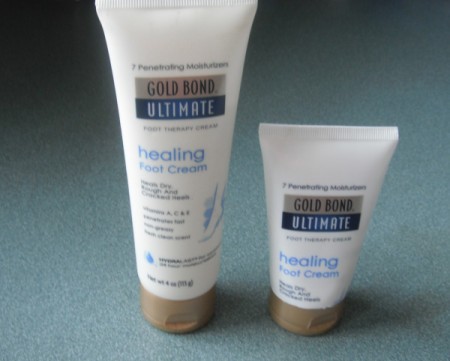 Read More...

When you get down to the last squirt from your bottle of lotion, don't throw it away. There is probably a lot of lotion still left in the bottom of the bottle.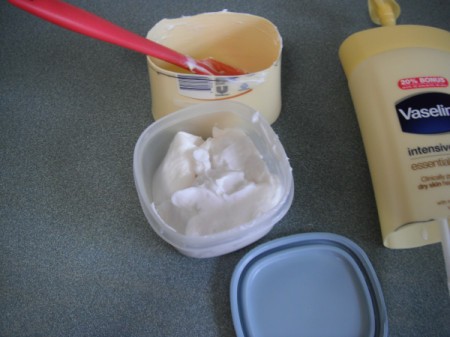 Read More...
When my hand and body lotion finishes, and I have pumped until I can't pump no more. I cut the body lotion container in half with a knife. I scoop out the lotion that left over, which is a lot.
Read More...
I have done this several times for bottles of things I have around the house, when I just can't seem to get the last bit of lotion, shampoo, conditioner, or whatever the case may be out the bottle.
Read More...
When you get down to that last spurt of lotion that pumps out, don't throw the container away. There is still a lot of good lotion left in the container. Using a case cutter, cut the bottom off and scoop the lotion out into a small container. Continue to use until it is all gone.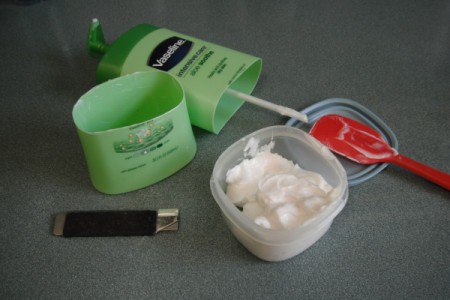 Read More...
I always store my bottles upside down, but a bit still remains. I hold the bottle by the bottom, and move it quickly in a circular motion. The centrifugal force allows all the remaining contents to drift to the bottom, enabling me to use it all.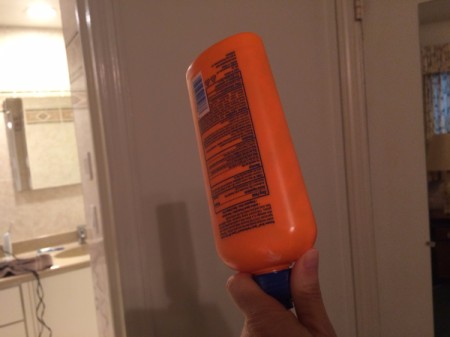 Read More...
I recently found this little spatula that gets in almost any lotion bottle you can think of. Check the link if you want to buy it. This will get all of the lotion out of the bottle.
Read More...
When my lotion becomes difficult to pump, I turn the bottle upside down and let it drain for a day or two. I can then run the pump through my fingers and get enough to do my hands again.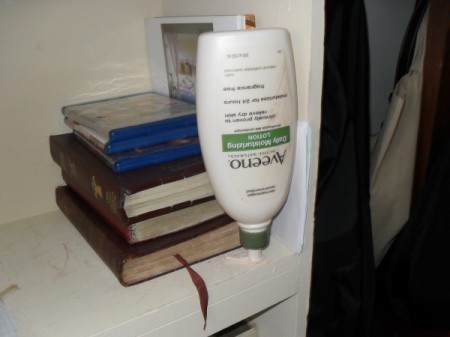 Read More...
I suggest that you collect a random assortment of flip caps. Remove the pump, select a flip cap that fits and prop the bottle upside down to drain. There won't be 1/10th of an ounce wasted.
Read More...
I went into the bathroom looking for hand lotion a few minutes ago. DH and I use baby lotion and shampoo so we don't dry up and blow away. We had a bottle of baby lotion close to the bottom which I had turned upside down. I discovered DH had cut a 'door' in the side of the bottle so we could reach in for those few remaining drops. Now that ain't thrifty, that is stingy!
Read More...
Published by ThriftyFun.
© 1997-2020 by Cumuli, Inc. All Rights Reserved.
https://www.thriftyfun.com/Getting-All-the-Lotion-Out-of-a-Bottle.html