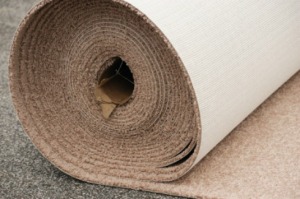 When you pull up your carpet or install new, you may have leftover padding. This is a guide about uses for carpet padding.
Ad
---
Questions
Here are questions related to Uses for Carpet Padding.
We are pulling up the carpet and padding in our house and replacing it with wood flooring. We have been wanting to put additional insulation in our attic and came up with the idea to spread the carpet padding in the attic over the existing insulation. Before we do this, I thought I'd ask if this might be a bad idea for some reason.

Peggy from Yulan, NY
Ad
---
---
Most Recent Answer

By Michelle Angie [1]01/27/2009
I have one of those huge whole house fans in my attic that goes from the ceiling in the upstairs hall up into the attic and out the house. I put all my old carpet padding over it in the winter to help seal out the drafts - It works great because the padding molds to the shape of the fan. I love the strips in the garden idea - I'll do that one!
We pulled out our carpet and carpet pad, but don't wish to take it to the land fill. We are thinking about using it for insulation, but the weight of it will depress the existing attic insulation causing it to not perform. Perhaps we can nail layers on the wall to provide sound insulation. but then we have to drywall it over.
Any better ideas of make second life out of old carpet and carpet pad?
By yanghome2000
Ad
---
---
Most Recent Answer

By Grandma J [54]04/01/2013
Regift it through Habitat shops or ad on radio. My parents loved it when friends got new carpet. They would buy it for their farm house. Since you can imagine the feet on a farm, they would not put new in. To do with it as you suggest, might result in a some fire hazard, or health hazard. If you could get it outside and steam clean it, hang it on the line to dry, and let the sun help.
Here are some uses for extra carpet padding. Post your ideas!
---
Most Recent Answer

By Camilla North [20]11/16/2004
We used to live in a house with hardwood floors--very cold in the winter. I used a bath mat beside my bed with a scrap of carpet padding underneath. It was nice to step out of bed onto a cushy rug!
Solutions: Uses for Carpet Padding
Do you have knowledge about this guide topic? Feel free to share a solution!