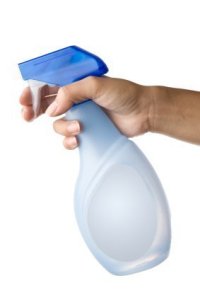 Febreze does a good job of reducing unpleasant odors. However, if you use it often it can be expensive. Save money by making your own. This page contains homemade Febreze recipes (fabric freshener).
Ad
---
Solutions: Homemade Febreze Recipes (Fabric Freshener)
Read and rate the best solutions below by giving them a "thumbs up".
I have two dogs, three children, and a husband and sometimes in our muggy maritime weather our home can get a little musty smelling. Febreze does not cut it. I find that it will freshen but the smell only lasts a few hours and with our very humid environment, Febreze does not dry. So I came up with this great home-made Febreze. It really works. I use it in my vehicles as well. All you need are some few simple products that you should already have in your home.
Ingredients:
1 part baking soda
1 part fabric softener (Gain has a great smell)
2 parts warm water
Directions:
Mix those three ingredients and there you go, your own home-made Febreze. The fresh smell lasts a long time, plus it is a bit of a money saver on your wallet, especially with three kids and two dogs. Enjoy!
By SPTRAVIS from Halifax, Nova Scotia
Materials
spray bottle
2 Tbsp. Purex crystals
2 Tbsp. rubbing alcohol
Directions
Mix with enough hot water to fill spray bottle. Shake bottle well and wait till crystals dissolve. This makes your home smell wonderful.
By Scarlett from Murray, KY
Febreze can cost up to 8.00 a bottle. Try this homemade fabric refresher. It works great on pet smells too. Just use an empty spray bottle, add a cup of water, 1 tsp baking soda, and one tablespoon of fabric softener. Shake well. Spray clothes, furniture, and carpets. It works wonders. I love the stuff.
One cup warm water
One tsp. baking soda
One (or two) tbsp fabric softener of your choice
Mix in spray bottle and spray to your hearts content.
Delightful!
Source: Money saving life hacks
By Sally J. [1]
Here is how to make Faux Febreze:
Faux Febreze
1 1/2-4 tablespoons ultra downy clean breeze fabric softener
25 ounces water
32 ounces spray bottle, new and clean
Put Downy and water in bottle and spray on furniture, carpeting, pillows, shower curtains...etc.
By PICO
Give a "thumbs up" to the solution that worked the best! Do you have a better solution? Click here to share it!
Questions
Here are questions related to Homemade Febreze Recipes (Fabric Freshener).
How do you make homemade Febreze?
By Angella
AnswerWas this interesting? Yes No
Ad
---
---
Best Answer
By animalmcburger 1 16 02/16/20120 people found this helpful
Don't. Febreze just masks the smell despite what their amazing animations depict. You know what I mean when you have that one item, that despite being sprayed a million times, still smells. Invest in a steam cleaner. A portable one. Maybe 30 or 40 bucks. It won't leave your home smelling like flowers (candles or plug ins are a good solution) but it'll destroy the odours and most importantly, it'll actually clean plus sanitize as a bonus.

They're great for cleaning furniture as they penetrate deep down. You'll save a bundle on dry cleaning on it's own. I mean, you will have to actually dry clean items once in a while but I can wear a suit 7 or 8 times before I take it in because I steam the pants/jacket once I get home so it's fresh before I even stick it back in the closet.

Remember to keep the actually steam cleaner itself clean too. The water from your tap will leave calcium build-up and eventually start to smell. CLR once in a while will deal with that problem nicely.
Does anyone have a recipe for homemade Febreze?
By Judy from Ontario, Canada
AnswerWas this interesting? Yes No
Ad
---
---
Best Answer
I have a sample of Febreze; how can I make it myself?
By Mary G.
AnswerWas this interesting? Yes No
---
Most Recent Answer
I have a small laundry shop business and I use only Downy for making clothes smell good, but the problem is the smell of the clothes lasts only 2 to 3 hours.
By Gretch from Philippines, Dipolog City Zambo del Norte
Archives
Thrifty Fun has been around so long that many of our pages have been reset several times. Archives are older versions of the page and the comments that were provided then.

Make your own fabric freshener by pouring 4 fluid ounces of concentrated fabric softener into a spray bottle and dilute it with warm water. Wait for the solution to cool and then spray curtain, cloths, sofas and many other things to make them smell nice and fresh.
By Miranda C.
Eliminates Upholstery Static
This mixture also works great in eliminating static in my pickup. The seats are upholstered and you get a shock every time you get out. Just spray it on the seats every once in a while. I have to do it about twice during the summer months and every month during the winter. Also works for static cling in your clothes and like you say, it really smells nice.

By Jayne
Use to Freshen Bed Linens
I put some Downey mixed with water in a spray bottle and use to freshen my bed linens every morning as I make the beds.

By Renee
Spray for Fresh Scent
I use this tip all the time. I put a cap full of any laundry fabric softener in a spray bottle and spray away. Not only does this only make things smell like what you like but it saves money too.

By Soulegal
I love using Febreze Fabric Freshener but have found it to be quite expensive when used constantly. So, I decided to make my own Fabric Freshener and it is less costly.

You will need:
Spray Bottle (I use an empty Febreze one)
Liquid Fabric Softener
Take Fabric softener and fill it 3/4 full. Then add the rest with water and shake a bit. You now have Fabric Freshener that is as good if not better then the original Febreze. The scent also lasts much longer and is a great efficient way of always having this on hand.
Spray away and be happy.
Carolyn from E Northport, NY
Concerned About Pet and Human Chemical Safety
It amazes me that people buy this type of product. Febreze is chock full of chemicals. In fact, so full of chems that it is known to cause household birds to DIE. Given that fact, do you think it is that good for humans? Same thing with Teflon/non stick surfaces, folks! (gases are released and has caused birds to die)
Being married to a chemically sensitive husband, we have had to forego with the vast majority of chemicals in our lives. Things with scents, including those plug in devices, fabric softener, etc, all have pthalates which interfere with the body's hormones.
I would think twice before spraying this product around just to make things smell nice or as a cover up. Those who have suggested baking soda are on the right track. If you need scent, add some essential oils. Think about guests entering your homes. We avoid places that are sprayed with anything.
By Lois Ann from New York
Febreze is Not Harmful to Pets
Lois Ann: Not that I'm a big user of febreze (I found this entry while looking for a way to control static on my sofa) but I can't stand to see people repeat Urban Legends as fact. Febreze is NOT harmful to pets. Spend two minutes researching things before you repeat these stories.
As found all over the internet: http://www.snopes.com/toxins/febreze.htm
The ASPCA's National Animal Poison Control Center agrees. A staff veterinarian I spoke with said the Center has not been able to confirm any cases of Febreze causing the death or serious injury of pets. The Center has issued the following statement:
Veterinary toxicologists at the ASPCA National Animal Poison Center are conducting an on-going investigation into claims that use of Febreze in the home caused the death of several pets. All information reviewed to date suggests that there is no evidence that Febreze represents any risk to pets when used according to label instructions. Presently, the center considers the product safe to use in households with pets. As with any cleaning product, the center recommends that birds be removed from the room until the product application has dried and the area has been ventilated. Please call 1-800-345-4735 if you have any questions or have a pet that you suspect is experiencing problems or visit us at www.napcc.aspca.org
ASPCA/NAPCC Letter Regarding Febreze
The Center also told me that while zinc chloride (one of the ingredients in Febreze) can be toxic in large amounts, it comprises less than 1% of the formulation of the product and is not considered to be a hazard, contrary to allegations in the email warnings. Procter & Gamble says it began producing an improved Febreze formula in December 1998 which does not contain the chemical.
By Vincent
Magical Air Freshener and Dewrinkler Spray
Of the many different recipes for homemade fabric/air freshener I have tried in the past, this is what I have come up with as my own recipe. I don't use very much fabric softener because most commercial grade fabric softeners (Bounce, Snuggle, Downy, etc..) contain chemicals that have been found to cause cancer, nervous system disorders, and brain damage, as well as reduce the effectiveness of flame resistant materials. So, be safe and avoid exposure to harmful chemicals when possible.
1 16oz fine mist sprayer (an old febreze/downy wrinkle releaser bottle will do)
2 Tbsp. of white vinegar (cheap and available at grocery store)
2 Tbsp. of your favorite fabric softener (preferably a natural/organic softener which can be hard to find locally, but can be ordered online)
6 to 10 drops of your favorite essential/scented oil (you can also use any scented extract available such as vanilla or almond)
Fill the remainder of the 16oz container with distilled water (cheap and available at grocery store. You could also boil some tap water and let it cool a bit before handling, but please don't use impure water straight from the tap)
Shake and spray to eliminate undesirable odors or release wrinkles
NOTE: If you are concerned about chemicals from using fabric softener, you could leave fabric softener out of the recipe and use a little more white vinegar and scented oil/extract. There shouldn't be much of a vinegar smell at all and if there is it will be gone when dried. White vinegar works very well against odors by absorbing them and nuetralizing them instead of just covering them up. It's also a safe and effective alternative to using fabric softener in your washing machine, helping to release wrinkles, clean and brighten clothes, as well as making your clothes last longer instead of chemically destroying them. Additionally, vinegar kills 82% of mold spores on contact.
By Die Hard
RE: Homemade Febreze won't work
You cannot make febreze without cyclodextrin nor does it clean or remove anything. It masks odor only through a two part process by reducing the volatility of odor molecules so they cannot be smelled. Spraying fabric softener, etc, will not accomplish the same thing but will cause a build up of gunk in your house, and make fabric harder to clean properly. Ditto for oils, etc. Febreze is not a cleaner, even the makers don't make this claim.