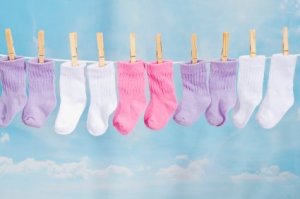 Baby socks are very small and easy to lose track of in the laundry. Keeping you baby socks together will making putting your baby's clothes away much easier after the wash is done. This is a guide about keeping baby socks together in the wash.
Ad
---
Solutions: Keeping Baby Socks Together in the Wash
Read and rate the best solutions below by giving them a "thumbs up".
After having a baby, I quickly learned how easily baby socks can get lost in the wash. Even if my son's tiny socks made it through the full laundry cycle, I was finding myself spending considerable time matching the socks with their mates. That's when it occurred to me! I saw a safety pin sitting on my table and decided to try safety pinning the socks together before they got thrown into the dirty laundry!
This has proven to be the best time saving trick I've ever implemented! So much so that I have even started safety pinning my own socks before they go into the wash! I highly recommend you give this one a try - you won't regret it and will quickly realize how much time you were unnecessarily spending matching socks.
By brsimons from Milwaukee, WI
Give a "thumbs up" to the solution that worked the best! Do you have a better solution? Click here to share it!
Archives
Thrifty Fun has been around so long that many of our pages have been reset several times. Archives are older versions of the page and the comments that were provided then.
To save time and keep socks from losing their mates, I use safety pins to keep them together before tossing in the laundry basket. After they are laundered, from the drier they can go directly in the drawer with the pins or you can remove the pins and fold one sock into the other. I've stopped losing socks since I started doing this.
By BK from Milpitas, CA
Matching socks used to be a problem, especially since there were several pair of the same color; solid blacks, blues, etc. Often when mismatched over time, one will show wear more than another. To solve the problem, I started using a safety pin to pin the matching pair together at the toe as soon as they are taken off at the end of the day and dropped into the laundry hamper. If this is started when the pair is new, they will never be a need to find a loose sock again.
Need safety pins - use the ones that come with the dry cleaning.
By Bill from Greensboro NC
---
RE: Keeping the Socks in Pairs
Another idea is to place each person's socks in their own lingerie bag. That way at least everyone has all their socks together and can be easily paired up. (06/05/2006)
By Hmsklmom
RE: Keeping the Socks in Pairs
Something that we are using, the rings around the plastic milk jugs, those work too! Safer for us since we have little ones helping me with the laundry! (08/21/2006)
By mobo
RE: Keeping the Socks in Pairs
What worked for our family (5 of us) is that each used different colored (or types) of pins. My husband used (still uses) something called "sock locks" which are not pins, but a circular plastic you push the socks through. There are little spokes which keep the socks in place. One son used silver safety pins, one used gold pins and the other son and I used baby diaper pins. Blue heads for him and any other color for me. Socks went into the hamper, washer and dryer with the pins on. When the pins came out, each kid had a large magnet as his "pin cushion." All I can tell you is that if we ever lost a sock after we started the system, it was lost as a pair! Great method for us. (08/21/2006)
By ccarnow
RE: Keeping the Socks in Pairs
With 5 people in my household, socks are a headache. I just buy each person a different style/brand of socks and purchase a dozen or more pairs. For example, all the socks with a gray bottom are my youngest son's, my older son's have blue lettering, mine have pink, my daughter likes "bootie" style, etc. Don't even match socks, just throw them in the sock drawer! (08/22/2006)
By busymom
Use a safety pin to keep socks together while doing laundry. It's so worth the time to safety pin them together right when you put them in the dirty clothes hamper.
By Brandi from Gray, GA
---
RE: Safety Pin Dirty Socks Together
Buy a small nylon-net, zippered laundry bag from Bed, Bath and Beyond. You won't have to worry about losing a sock (or other small items). I use this method for washing my expensive bicycle articles and it keeps the agitator from 'beating' the clothing. The nylon bag takes the beating :) (04/17/2008)
By Cajun
RE: Safety Pin Dirty Socks Together
I use washing bags that I get from the Dollar Store. They're cloth bags with a zipper on top. The cloth has holes in it like a mesh fabric. I got three in a package for a dollar.
I also use these bags separately; one for bras; one for panties; one for stockings; and if I have an embellished T shirt or sweater with any kind of beading on it, I turn the garment inside out and put it in one of these bags and wash it. Everything holds its shape and works great!
Also, I don't put any of the above garments in the dryer. I read they last longer if you hang them up and air dry them. Thanks for the hint. Smoochie :) (08/28/2008)
By metroplex
I use safety pins to keep socks together when washing. No more losing one sock. I also put a color stripe on sock so I know whose is whose.
By Sherry from Onset, MA
---
RE: Safety Pin Socks Together Before Washing
That is so clever! I'm always losing one. (07/20/2009)
By damaged05170
RE: Safety Pin Socks Together Before Washing
I have been doing this for years. My Sister thought is weird, but then I read about a man who staples his socks together. I don't know how he keeps them from getting snagged, but his wife said she didn't care; he did his own laundry! (07/21/2009)
By middlekid
Tips to help keep socks together.
Having raised 4 daughters I always had tons of single socks to pair up. Many remained mysteriously single. Remedy to this day: always safety pin socks together before going into the hamper. Problem solved!
By sar4girls
---
RE: Safety Pin Socks Together Before Washing
My daughter lives with me. We have socks that are alike. Same brand. I pin my socks at the top and her socks at the toe. It has worked for us. Whoever does the laundry knows the owner of the socks. Great idea, thanks (01/14/2010)
By Judith1951
I had a full-time job, and didn't have time to sort socks when I did the laundry. I bought different size pins and had my daughter and my husband pin their socks together when they took them off. They were laundered with the pin in, and never got mixed up with any other socks. They took the pin out when they wore them and kept the pin for them when they took them off again.
By Jeannette from Cumberland, MD
---
RE: Safety Pin Socks Together Before Washing
I've tried that and the noise it makes in the dryer isn't worth the small convenience. (05/19/2010)
RE: Safety Pin Socks Together Before Washing
I used to do this with baby socks since I had a washer that ate them. I had large diaper pins which I used. I put all my dirty baby socks on one pin and kept spare pins for extra loads. I did this for school socks, too. (05/21/2010)
By MartyD