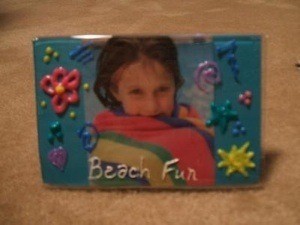 Approximate Time: About an hour
Supplies:
acrylic photo frame (size of your choice)
photo to fit frame
dimensional t-shirt paints
card stock
scissors
craft glue
Instructions:
For a mat border, cut a piece of card stock the size of the frame. Center and glue the photo to the card stock. Before you being painting, practice by using a pencil to draw designs and print lettering on scrap paper.
Slip the photo into the frame. Be sure your painted design does not cover too much of the photo. Remember, dimensional paints will be thicker than pencil lines.
Position edge of nozzle on frame surface and slowly squeeze the paint, creating your design. Draw flowers, stars, hearts, and squiggles. When finished, set aside to allow paint to dry completely.
By Rachel's Mom from Wilkesboro, NC
By Rachel's Mom
Feedback Forum
Feedback about this article is posted here. Want to contribute? Click above to post feedback.

By seeduckiedew10/25/2012
This is a great idea, Thank you for sharing! For those that don't feel they are good at trying to free-hand paint on the frame (even with practicing before hand there are some of us that just mess it up no matter how we try not too!).

Slide a piece of scrap paper in the frame, trim the paper to the size of the frame. Remove the scrap paper, center your picture on the scrap paper, trace around the picture on the scrap paper, remove the picture and set it aside, find design's you like and with (maybe from a coloring book or magazine etc.) a pencil. Trace them onto the scrap paper being sure not to trace any on the space that you out-lined for the photo, (after tracing the designs you like, if you go over the lines with a marker it will help you see the lines better once the scrap paper is back in the frame, or even outlining the design's with the same color marker you want them to be painted will help you see if you like the colors and designs you have chosen).

rSlide the scrap paper back into the frame, paint on the frame by following the lines of the design's you traced onto the scrap paper. When the paint is dry, remove the scrap paper and replace it with the photo you have fit to the cardstock and frame and you have a frame to be proud of!
Post Feedback
Add your voice to the conversation. Click here to share feedback.