Dishes cleaned in a dishwasher can develop an unsightly buildup of white film. This is a guide about removing white film from dishes.
Solutions
Read and rate the best solutions below by giving them a "thumbs up".
The government started recommending a reduction in phosphorus in detergent back in the '70's and many dish washing detergent companies lowered the amount of phosphorus in their products over the decades since. Same for laundry detergent. Phosphorus runoff causes algae blooms, most common in the Great Lakes. The EPA and various other green groups and individuals dislike algae blooms because it sometimes kills the fish that need the oxygen the algae uses up.
Eventually various State government felt the need to act, but without all the information, and banned phosphorus from various products. The companies that make dish washing and laundry detergent, rather than make different mixtures for different states, simply removed it.
Whammo...white film on your glasses and gritty sand like particulates. Phosphorus is what prevents that from happening.
Unfortunately, it was easier to target the consumer than farmers and industries that leach phosphorus into the runoff all the time. Phosphorous is a major component of most fertilizers. So while they are spreading it on the ground by the ton, the government went after us by the spoonful.
Alternatively, municipal water treatment systems could have been retrofitted to remove phosphorous just like they remove a host of other chemicals we don't like to go into the water but again, it's just easier for the government and pressure groups to ban something than to think about alternate solutions.
As far as a solution, go buy a box of trisodium phosphate from Home Depot and add some to your detergents.
By CTNative
By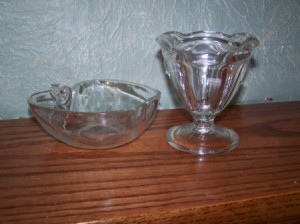 It was either throw out my apple shaped dish, and several others if truth be known, or figure out how to get that ugly white film off of them. Elbow grease is not my favorite way of doing anything so desperation took over.
I read everything I could and citric acid kept coming up. Well Fruit Fresh is basically citric acid and I happened to have some so I gave it a try. I put around 2 tablespoons in 4 cups of cold water and immersed my apple dish in it, 5 minutes later I checked it. I couldn't believe my eyes it was sparkling clear. No elbow grease needed. I dried it and put it in the cupboard looking like new. You must try it to believe and save your elbows!
By Ann from Loup City, NE
By
Share Your Feedback: Once you try any of the above solutions, be sure to come back and give a "thumbs up" to the one that worked the best for you. Do you have a better solution? Click "Share a Solution" above!
Questions
Here are questions related to Removing White Film From Dishes.
Does anyone know of a way to remove the milky haze (stain) that accumulates on glass's after being washed in the dishwasher repeatedly? It scrapes of with a finger nail, so the glass is not etched. Is there a home remedy, or a product I could buy? Please help.
By
---
Most Recent Answer

By SterlingSilver01/27/2009
Oooooooh I loved this one and it worked so well... I had a problem once where a plate blocked the soap dispenser in the dishwasher. The dishes came out completely dull, cloudy, and with a nasty texture, not to mention the ones that had food particles and other junk on them. I read that soaking the dishes in your sink in warm vinegar for 1 hour would do the trick. Well, obviously I didn't have enough vinegar to submerge all my dishes, so I improvised. I filled a tall pot with warm tap water all the way to the top, added about 2 cups room-temperature vinegar and submerged the glasses in it for one hour. It worked well, but I reused the water for the next batch of dishes, kept them in for 30 minutes and worked just as well. Then all my cutlery for 30 minutes with the same water and it did wonders. After each batch I hand-washed the dishes and set them out to dry. They are now sparkling clean. I heard baking-soda does the same (haven't tried it).
All of my clear glass drinking glasses have a film on them from the dishwasher. I have changed detergent from Finish to Cascade, but no help. What else can be done besides hand-washing?
Thanks.
By Nolasandy
By
---
Most Recent Answer

By cj.dahlien03/11/2013
Try using white vinegar in rinse cycle.

I use (for safety reasons) plastic cups, toothbrush holders, etc., in the bathroom. When I put these articles in the dishwasher, they come out with an ugly coating. Some plastics are more prone to this problem. Any suggestions for keeping the plastic crystal clear?
By Sylvia from Great Neck, NY
By
---
Most Recent Answer

By louel5311/08/2011
Is it a hard water film or a greasy film? If it is hard water, try a cup of vinegar in the final rinse. Also, try different soaps. Some are very prone to leaving a film, and may react differently in different types of water. If it is a greasy film, it may be coming from other dishes that are in the dishwasher at the same time, something like a plate with a lot of bacon grease on it, for example.
I hand wash my dishes and there is a film on my glass bowls, but not on glasses. I have been using Dawn. Is there a solution to getting rid of this film?
By Geri M.
By
What causes white residue on dishes after washing in a Kitchen Aide dishwasher? It does not wash off; I must use SOS or a scratcher to remove it. (I am using Cascade packets.)
By Patty A.
By
---
Most Recent Answer

By louel5311/28/2011
I agree with the previous poster; it sounds like hard water residue. Use vinegar to get rid of it. I used to put a cup of vinegar in the last rinse. You could also try different detergents. There may be a different kind that works better.
I use Cascade packs. I also use Jet Dry rinse agent in the rinse receptacle. My dishes have a white film on them. How do I get rid of the film?
By Toni M
By
---
Most Recent Answer

By rosanne.vincentmiller03/24/2013
I had the same problem with the white film. I was told to get a water softner. The small town where I live put in a new water system and I was told they had to turn the main water softner off. I never did get a water softner, as I don't have well water. As soon as they turned it on my dishes started coming out crystal clean.

Everytime I run the dishwasher to clean my dishes, they always come out filmy with etching? We've tried several different dishwater tabs, but nothing helps. Why is this and are my glasses ruined now?
By Trish from Northfield, MN
By
---
Most Recent Answer

By jody08/09/2011
Search for CitriClean of Florida. They make a powder that you add to each wash cycle. You need to use only 1 tablespoon of the cheapest store brand detergent plus 1-2 tablespoons of CitriClean. So your cost per wash does not increase! All natural product that contains no phosphate.
I have been using Palmolive dishwasher liquid in my dishwasher. I have noticed that my dishes are coming out with a white film all over them. I contacted our local water company. They told me that the problem is not with the water. The problem is with the phosphates being removed from the dishwasher soaps.
I have checked the different brands of dishwasher soaps, both powders and liquids, and they all seem to have the phosphates removed. Since the phosphates have been removed, what can I do to get the dishes clean and free from the white film when the dishes come out of the dishwasher? Thanks for your help.
By Janet from Joplin, MO
By
---
Most Recent Answer

By Suntydt11/22/2011
My mom had the problem with white residue on her glasses. She tried the vinegar trick but it didn't work. She found a product that did the trick. It was a Finish product called "Quantum". It looks like a square yin yang with a red ball in the center of it. She has only had to use it three times in the past two months. Use them as needed I guess. Looks like you use one and it cleans things up for a few weeks until you need another.
Archives
Thrifty Fun has been around so long that many of our pages have been reset several times. Archives are older versions of the page and the feedback that was provided then.
My daughter did not let me know that we were out of dishwasher soap and proceeded to use the liquid Jet Dry as soap. Every dish had a chalky film on it. The plastics washed clean after a few washes, but the glass glasses are still chalky looking after several weeks of use. I thought of trying to clean them with vinegar, but wasn't sure if that would help. Anyone ever deal with something like this?
Tawnda
---
RE: Cleaning Chalky Film Off Glasses
I would think white vinegar would be the way to go. You could drench a rag with some white vinegar and try rubbing the glass and see if it removes the film. If that works you could try soaking them with a ratio of 1:3 vinegar and water for a couple hours, then take them out and clean with rag and it should remove the film. (05/08/2004)
By Anne H.
RE: Cleaning Chalky Film Off Glasses
Yes, vinegar will work. Run your dished though a complete cycle and add vinegar to the water when the machine fills.You can even add the vinegar several times throughout this cycle This should take care of the film on the dishes! Sandy (05/10/2004)
By Sandy
RE: Cleaning Chalky Film Off Glasses
Try soaking your glasses in white household vinegar. I would first run a load in the dishwasher with 2 cups vinegar and no soap. If this doesn't work, you will probably need to soak them for a few hours. This has always worked for me. Good Luck (05/11/2004)
By J Walker
How do you get white film off glasses from the dishwasher? It's a new machine and the glasses look foggy.
Linda from Saratoga
---
RE: White Film on Glasses
Try the Mr. Clean sponge, that thing takes off everything. I had a burnt tile in my kitchen that looked like a coffee stain for years. I used every chemical there was to remove it and finally gave up. One day I tried the Mr. Clean sponge and it removed the entire spot. (12/06/2006)
By Anna
RE: White Film on Glasses
The same thing happens with my dishes. I've been told that its because we don't have a water softener. I've tried lots of different things to remedy this, but I find that adding 1 cup of white vinegar to the rinse cycle keeps the glasses clear. I also don't have to use jet dry anymore because the vinegar does the trick, so it saves me money too! (12/07/2006)
By Melanie
RE: White Film on Glasses
Yes, use white vinegar. When you hear the water beginning to fill for the finale rinse quickly, open the door and add 2 cups of white vinegar. It will do a wonderful job for you. Later rinses can probably get by with using 1 cup, but that first one has a bigger job. (12/07/2006)
By Grandma Margie
RE: White Film on Glasses
I have a 15 year old dishwasher that does the white film on glasses every now and then. It's the dishwasher powder you use. Watch certain brands. When I stay away from certain brands of dishwasher powders, my old Whirlpool dishwasher does great. (12/08/2006)
By Glinda
RE: White Film on Glasses
I agree to use vinegar, when our softener is low on salt the dishes get a film on them. Just put some vinegar in a shallow dish and roll the glasses in the vinegar. It will come off right away. I put the used vinegar in an empty bottle under my sink, I have used it over and over many times. (12/08/2006)
By PICO
RE: White Film on Glasses
Vinegar doesn't work for me. I've tried full-strength vinegar on a rag, and then a solution of 1:3 vinegar:water, soaking the glasses. I put the solution in a pitcher, put the glass inside the pitcher, and put some solution inside the glass. I've tried bleach and Soft Scrub. I'm getting ready to toss the glasses. (01/17/2008)
By Robin
RE: White Film on Glasses
I fill my sink with 50% CLR and 50% water. I put all my drinking glasses in there and it takes the white film right off. Then I put them back in my dishwasher to get the CLR off of them. (02/08/2008)
By Susan
RE: White Film on Glasses
I purchased some wine glasses at an auction, half of which had a white film that just would not come off. I tried CLR, Windex, warmed White Vinegar, bathroom cleaners, everything! Finally, just as I had decided that these glasses could not be saved, I noticed my glass cook top cleaner among my cleaning supplies. I applied to both inside and outside of glasses, let it dry to a haze, then polished off with a soft cotton cloth. It worked like a charm! (05/27/2008)
By Dene-Stone Pathway
RE: White Film on Glasses
The answer is glass magic. You can get it at Hy Vee by the dishwasher soap. You pour it in the bottom of the dishwasher before you start it. I have thrown away glass, but when it happened again, I tried this and it worked! (10/24/2008)
By KRIS
RE: White Film on Glasses
Thank you Dene-Stone Pathway! You gave me the only suggestion I have found that removes the film on my glassware. The glass cook top cleaner works like a charm. The glasses look like new! Thanks! (01/25/2009)
By Betty
I am using the borax and washing soda dishwasher soap mixture as well as white vinegar in the rinse aid holder. My dishes are still coming out with a white film on them. I have tried the light wash, the normal wash, and the pots and pans wash settings on my dishwasher. Nothing is helping. Is there anything else that I can do or use to get cleaner dishes? Thanks.
Cathy from Grand Rapids, MI
---
RE: White Film On Dishes
Fill rinse cup with Jet Dry instead of the vinegar. It works for me. (09/15/2008)
By Lee
RE: White Film On Dishes
Are you up to date on putting the dishwasher salt in your dishwasher? A little thing like that may make a difference. (09/16/2008)
By cett
RE: White Film On Dishes
We put a "filter" under our sink to filter the water that goes to the ice maker, dishwasher, and the water at the sink. These filters can be purchased at Lowes or Walmart, or hardware stores. The filter has helped with the "white film" on drinking glasses, and other clear items. So I believe that the dark colored items, and patterned dishes are better, too.
Also, if you use the convenient drinking "powders" that contain Splenda, you will have a "cloudy" look to your drinking glasses. I sent an e-mail to a particular company, (we drink lemonade all the time) questioning the "cloudy" look. They sent me several coupons to purchase some more of their product, and apologized for the "cloudy" look to the glasses. They are aware of their product causing clear glasses, and pitchers to become cloudy, but evidently there isn't anything they can do about it. (09/16/2008)
RE: White Film On Dishes
I sometimes dump 4-6 cups or more of white vinegar right into the bottom of the dishwasher before a normal wash. I use dishwasher soap, too. It seems to take a large amount of vinegar once in a while to clean all the gunk out of the dishwasher. Give it a try. Vinegar is cheap and this method always works for me. (09/16/2008)
By loved1
RE: White Film On Dishes
Several months ago I purchased my second dishwasher and I asked the salesman how to keep the dishes from becoming clouded and he said to put a bowl of vinegar in the bottom of the dishwasher and put it through a regular cycle with no dishes in it and do this once a month. So far no cloudiness. (09/16/2008)
By Annette
RE: White Film On Dishes
I don't know what the borax and washing soda mix is, so I don't know what that is trying to accomplish.
I have found that different types of soap work better in some water than in others, so my first suggestion would be to try a variety of detergents.
My second thought on this is that the vinegar and washing soda may be canceling each other out, as soda is a base and vinegar an acid, and they combine to form salt water. Also if you are using a lot of soda in comparison to the vinegar you may be neutralizing the vinegar so it can't do the job it might do.
If I were you, I would go back to a regular detergent, and try using vinegar in the rinse cycle. You may not be getting enough vinegar in the water to make a difference. I used to toss in about a cup when I had this problem in one place that I lived.
I suspect that the film is a hard water film on your dishes. The poster that suggested a filter may have the long term solution, but in the meantime, try the vinegar, as it is an acid which should dissolve the hard water lime deposit on the dishes.
If several cups of vinegar don't do the trick you may have to go to something like CLR to clean out the gunk in the dishwasher first. It is a much stronger acid, but maybe that is what you need to get rid of buildup. (09/17/2008)
By louel53
RE: White Film On Dishes
I have tried a similar mixture, borax and baking soda, with a vinegar rinse in lieu of dishwasher detergent, but came up with the same results. Cloudy dishes. Dishwasher detergent contains phosphates, so that is why I tried a home version, trying to be kinder to the environment. So far I have not found a combo that leaves the dishes without a film. Sigh, so I am back to Electrosol, it works great for dishes, but not so great for the earth. Trish in CT (09/25/2008)
By GirlNumber5
How do I get my glasses to come out of the dishwasher clear instead of with this milky looking film on them? You can't feel the film or taste it, but it makes my glasses look terrible.
How do I clean my dishwasher? My dishes have a film on them.