There is a black bug with tiny red spots eating the devil out of my Rose of Sharon seed pods, still on the bush! Any idea what these things are and what to do about them?
Thanks
Rachel
Ad
---
By SAMANTHA PELCH 2 7 10/27/2004 Flag
try making a spray from dishwashing liquid and water, and spray on there, if that doesn't help, try vegetable oil ( canola oil etc) and cayenne pepper.
By Renee (Guest Post) 10/29/2004 Flag
Hi, Sounds like you have aphids on your Rose of Sharon, a good product to use is Immunox. Read the label and follow as directed. I have lots of Rose of Sharons and the have a tendency to get aphids alot.
By Jon (Guest Post) 08/31/2005 Flag
Did you ever discover what the bug was and how to control. I think I have the same thing. They lay eggs in the flower and as the flower acts as a coccon-- they turn the flower into an ugly black tube. Help
06/13/2008 Flag
I have a strange looking bug, spider, whatever on my Rose of Sharon tree. can anyone identify it. The pic looks like the coloring is black and gold but where you see dark it is a purple color. Sorry for the fuzziness the bug is really tiny and my camera not that good.
how can I rid myself of this strange creature.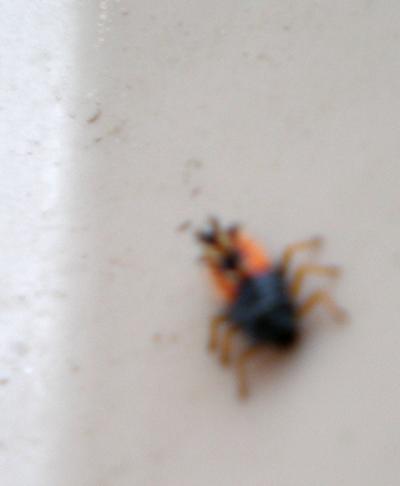 By Jenniferrmata (Guest Post) 07/08/2008 Flag
How do you repair the branch after the bug has made a home in it. The branch is still alive but it is falling, I've tied it up. Will it self mend or is there a glue out there.