I have a local friend who farms and she is interested in branching out into growing everlastings, but she is looking for plants that produce unusual, distinctive seed pods. She is not looking for seeds so much as the names and recommendations of plants to try. She makes arrangements and wreaths and so forth mostly for the fall and Christmas season. Thank you.

Hardiness Zone: 7a

Anne from Manahawkin, NJ
By AnnePaola
Ad
---
Recent Answers
Here are the recent answer to this question.

By Nightsong [35]04/26/2011
Water lilly seed pods are neat. When upside down, the bottom looks to me like a Fairy's dancing skirt. The top has little impressions in them that sometime have the round seeds in them. I have seen Okcra pods painted to look like angels or Santa Clause with the tapering paint painted to look like his beard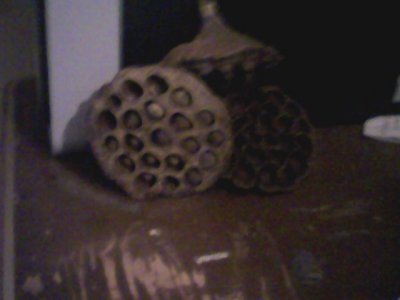 By DeBushe [18]08/24/2010
Love-in-a-mist or Nigella. It produced really weird pods. Caution, it is very invasive. The seeds wind up every where.

By Anne Paola (Guest Post)03/19/2008
Thank you to all who took the time to respond. I got at least 5 new ideas for my friend.

By Sarah Leach [10]03/19/2008
Money plants, chinese lanterns, teasels, milkweed, Althea, and yucca off the top of my head!

By Mary Lou [14]03/18/2008
Money plants produce disks that hold the seeds and go translucent when dried.

By joan pecsek [88]03/18/2008
How about cotton plants? They are pretty with or without the cotton. Remove the cotton and it looks like a 5-point star. By the way, the ridges on okra turn razor sharp when it dries. Handle carefully.

By Beth [5]03/18/2008
Chinese Lanterns are awesome, but here in zone 5, they can be invasive. Echinacea has neat cones after it dies for the winter. Okra is pretty dried- I've even seen it painted gold or silver for arrangements. Honesty, or Money Plant, has pretty silver coin-shaped seeds. Those are a few I can think of right now. Hope it gets you started!
Answer This Question
Add your voice to the conversation. Click here to answer this question.