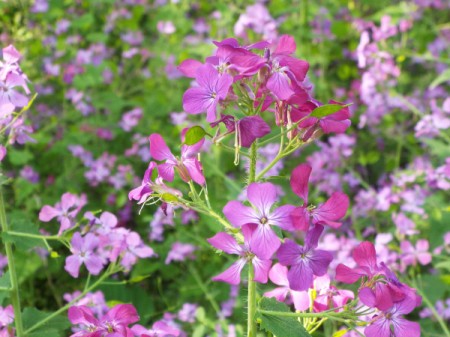 Photo Description
There is an old abandoned cemetery very near my home. For most of the year, it resembles any piece of land overgrown with weeds. A mass of thickets to insure undisturbed slumber for those resting there.
The old timers would have cherished this little necropolis. It produces an abundant supply of poke. At this time of year, many young and very tender poke leaves are to be had, just for the picking. Poke salad was one of the main ingredients to be added to the annual 'spring tonic' pot. This 'mess of greens' was said to be good for most anything that ailed you. It had the power to put a spring in your step, and was guaranteed to give you a 'good cleaning out'.
At this same time of year, another annual event occurs, the blooming of the lunaria. The tiny graveyard is very alive with brilliant color. From any angle, the eye is almost overwhelmed with lunaria en masse.
Lunaria, often called 'honesty' or 'money plant' would certainly be considered a weed when growing under the conditions we see here. None the less, this 'weed' appears most magnificent as she pays homage to the sleeping forgotten with her most glorious annual display.