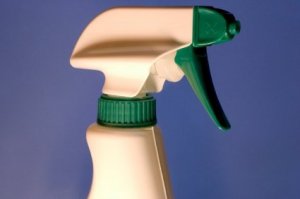 Kitchen fires, candles and other occurrences can leave smoke residue on your walls. This is a guide about cleaning smoke off walls.
Ad
---
Questions
Here are questions related to Cleaning Smoke Off Walls.
Hello, Can some one help me? I have a smoke stained wall. Is there any thing that can get it out? Thanks raven46588
Ad
---
---
Most Recent Answer

By Scarlet R.06/21/2015
I've lived in an apartment that's painted *cheap landlord flat off-white* for the last 10 yrs. Under state law, my landlord (a non-profit organization) is supposed to paint every 5 yrs or between tenants, whichever comes first. I was told I was *on the list* in 2010, and after pestering the manager for 6 mos when she kept rescheduling and no one ever showed up, I gave up.

I do smoke, and because I was injured in an auto accident 2 yrs into my tenancy and became permanently disabled, I'm home most of the time instead of being out from 7:30am-4:30pm at work/commuting and being in bed by 10:30pm to get up at 6am, so I smoke more than I used to, mostly in my apartment as I've got limited mobility and don't go out much. No exterior apartment doors here; they open into the common hallway. Also no exterior doors (save for alarmed fire doors) at my end of the building, so it's a football field to get to the lobby doors and back. Quite frankly, I wouldn't make that hike even if I were able to do so without increased pain, weakness, and destabilization, because it's a small building of 24 apartments and most of the neighbors are gossiping fools who squat out front and the single bench is always taken.

One of my kids visited from out of state in 2011 after an absence of several yrs, and he was astonished at how yellowed the walls had become. He said the yellowing is really weird because it never happened anywhere else we'd lived in the past. I said maybe it was because everywhere else was much larger, I always painted satin or semi-gloss, and literally took a sponge mop to the walls if they began looking the least bit dingy, which they didn't that often. Flat paint is impossible to clean. Even the woodwork and doors are painted flat. I've tried cleaning it, and all it does is smear the smoke film around and make it look worse. I haven't got the strength or flexibility to spend hrs at a time climbing up and down a stepstool and scrubbing my hands off until it's all gone away. I've got nerve damage that gave me 2 numb fingers in addition to shooting pains in my legs, so I'm done scrubbing after 10 min or so because it exacerbates the nerve problems.

However, I've been told by a tenant who moved in 2 yrs before I did that the previous tenant in my apartment, an elderly man in a wheelchair, chain-smoked like a fiend, and the walls were smoke-stained brown, not yellow-y, when he moved out, after only a couple of yrs. Less than a yr after moving in, I noted there were some grease splatters bleeding through the paint in the kitchen, so I'm wondering if they ever primed at all, and if a lot of the yellowing is because his old, darker smoke stains are bleeding through a few coats of paint.

I'm definitely bringing up that issue, plus the fact that the landlord broke the lease and the law by failing to re-paint, when I move. I'm not having them take my whole security deposit for painting over smoke (it's in the lease that smoking is permitted). The prior tenant also caused a lot of damage (scrapes, gouges) to the fridge, range, all lower cabinets, woodwork around the doors, and the steel entrance door, which I noted on my move-in inspection about 5 managers ago. Maintenance couldn't be bothered to spackle/wood putty on the painted parts, and gave me a song and dance that there were no replacement cabinet doors available, and they couldn't put in all new cabinets because the building was only 3 yrs old then. They also glued impractical champagne-colored plush carpet directly to the slab with no pad (the other apartments have padded backing grey commercial carpet). After just 2 yrs it was quite matted down and scruffy in high-traffic areas and I was told it would be replaced; that never happened, either. For the 1st 2 wks I lived without any interior doors - they're hollow-core and the guy bashed holes in all 6 of them with the wheelchair - because for some reason they didn't fit properly and they kept having to put them in and take them out to plane them down and force them to fit, and stupidly kept re-painting the edges before checking if they did fit.

At any rate, since grease spots bled through in the kitchen within months of being painted, would that indicate the heavily smoke-stained walls were improperly treated - or not treated at all - before maintenance painted between tenants? And would that also hasten discoloration of the walls from the stains the previous smoker left behind 10 yrs ago, even though the current tenant (me) is also a smoker?

Oh, and I'm also wondering about the suggestion to use oil-based Kilz (I used latex Kilz the one time I had to paint a brown accent wall). Doesn't that mean you then have to use oil-based paint over it, because latex won't stick to oil?
I recently had a house fire, what is the best way to clean heavy smoke damage on my walls, ceiling and hardwood floors?

Virginia Owens
Ad
---
---
Most Recent Answer

By Sylvia (Guest Post)04/04/2008
I need some help on repairing our house from a fire and we are just settling with the insurance company but alot of the money is being held and the house has sat for about 16 months with nothing done until Jan of 2007 we have gutted all the rooms where the fire started and need to seal walls to paint and clean everything alot is being thrown away pls any help would be appreciated and where can I buy product to seal and clean and can carpet be cleaned after a fire it was just installed brand new before the fire?

Thank You and God Bless
Sylvia
Is there an easy to clean candle smoke from walls and ceilings?
By Carol
---
Most Recent Answer

By Frugal Sunnie [11]01/14/2012
A solution of half vinegar, half water will clean the soot (and nicotine, other stainings) from your walls, and has the bonus value of freshening the air as well. Be sure to wash the ceilings too.
I have tried without success to remove smoke stains from a white electric range. When using the broiler and when the stove is turned on for self-cleaning, smoke comes up through the oven onto the white backside of the range. Nothing I've used so far including Soft Scrub will remove it. I'd appreciate any suggestions.
By fritzlouise from Ft. Myers, FL
---
Most Recent Answer

By Sharon Cross [12]09/18/2009
I'm wondering if oven cleaner would remove the stain. Also try Mr. Clean Magic Eraser. Rubbing really hard when using it!
How do I clean smoke from walls after a kitchen fire?
By rabbit [1]
---
Most Recent Answer

By likekinds [104]06/05/2015
I can tell you how I would do it. First, I would get a fan large enough to keep the area well ventilated, place it where it is most effective and turn it on. Next, I would fill a large, clean, empty spray bottle with household ammonia. Add nothing to the ammonia, certainly not bleach. Any type of cleanser added would just cause you to have to rinse and would not improve the effectiveness of the ammonia.

With plenty of clean rags handy, start spraying the ammonia at the bottom most area of smoke damage. You will quickly learn just how much to spray and how many seconds to wait before wiping. It needs to stay on the wall 2-3 seconds, but not long enough to run down the wall.

From this point, work your way up the wall, either rinsing your rag in clear water often or switching to an unused one. How much ammonia, time and labor is involved depends on the amount of damage.


How do you get smoke stains off the walls from the fireplace?
By Jenny
---
Most Recent Answer
By Sandi/Poor But Proud [422]03/13/2010
TSP is Tri Sodium Phosphate. It's amazing for cleaning years of smoking off the walls, so it will work for this. Good Luck!
I am cleaning walls that have been smoke covered. I left a pan on the stovetop and smoked out the house. I would like to know what to use to clean smoke off?
By Louise
Solutions: Cleaning Smoke Off Walls
Do you have knowledge about this guide topic? Feel free to share a solution!
Archives
Thrifty Fun has been around so long that many of our pages have been reset several times. Archives are older versions of the page and the feedback that was provided then.
I am helping clean a 50 year old house that has severe smoke stains from a fireplace. The painted ceiling and walls of the living room are covered in a combination of dust, smoke from the fireplace, and soot. We are currently trying to get it off with sugar soap, but it doesn't seem to be working. The stains have been there for a while as the walls and ceiling haven't been cleaned for a number of years. If anyone has any low cost hints, it would be much appreciated.
Pegs
---
RE: Cleaning Fireplace Smoke Stains off Walls and Ceiling
Tri sodium phosphate otherwise known as TSP can be purchased at any hardware store and should remove smoke stains from your walls. Be sure to wear rubber gloves when applying TSP as this is very caustic.
sewingmamma (07/15/2005)
By sewingmamma
RE: Cleaning Fireplace Smoke Stains off Walls and Ceiling
Use Krud Kleaner available at Home Depot. Easy and effective. Will also clean oil spills on driveways, etc. (07/16/2005)
By ED
RE: Cleaning Fireplace Smoke Stains off Walls and Ceiling
TSP does not work on fireplace smoke stains on painted walls. I tried many options, but found that vinegar worked the best. All of them required a lot of elbow grease. Be prepared for sore shoulders no matter what product you use. Painting is faster. (01/17/2009)
By Mel