Here is an easy to make, beaded dreamcacher.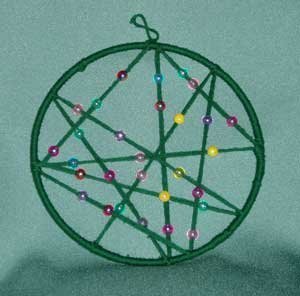 Supplies:
8 inch diameter hoop
25 yards cotton yarn
1 package beads large enough to string the cotton yarn through
1 needle
Directions:
Thread yarn through needle, placing it halfway between the ends.
Tie the 2 ends of yarn together so you have a double strand of yarn.
Use a slipknot to tie the knotted end of the yarn to the hoop. (Don't worry about the stray end of the knot - it'll be taken care of at the end.)
Thread 3-4 beads, pull yarn tight, and knot on the opposite side of the hoop.
Repeat step 3 ten times, or until the dreamcatcher's web pattern is pleasing to you.
Do NOT cut the yarn after the final knot!
Wrap the remaining yarn around the hoop until it is covered.
Knot securely, then knot again 2 - 6 inches from the final knot. Cut off ends and hang your dream catcher over your bed to catch your dreams!
Ad
---
Feedback Forum
Feedback about this article is posted here. Want to contribute? Click above to post feedback.

By Colleen06/05/2006
I have done a dream-catcher with beads on every "loop" i guess you would call it.. they look really neat. especially when you make them tight, and can fit in a lot of them

By CDB (Guest Post)08/16/2005
Thanks for the nice feedback. Let me know how it works for you.

By Ruth Kennedy [6]08/04/2005
Thanks for the instructions....been wanting to do one but it looked so complicated but I think I can do this one :0)
Post Feedback
Add your voice to the conversation. Click here to share feedback.