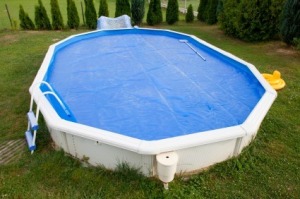 The pool water can appear cloudy even after adding the proper chemicals. This guide is about cloudy water in an above ground pool.
Ad
---
Questions
Here are questions related to Cloudy Water in an Above Ground Pool.
I am writing because I have an above ground pool (18x48) and I put in shock, chlorine and algaecide all at the same time. I have always done this except this time I added the algaecide. Now that I have put the algaecide in with the rest of the stuff my pool is cloudy. 2 days have passed and it's still a little cloudy now, but it has bubbles and foam like water. What is wrong? Please help me.

Thanks,
Karen from Miami, FL
AnswerWas this interesting? Yes No
Ad
---
---
Most Recent Answer
By kim boude 05/26/20130 people found this helpful
Same problem as everyone else. Cloudy water after hundreds of dollars in chemicals and following directions. It is not horribly bad but just a cloudy sheen in the water. Need HELP!
---
We have a 24 foot above ground pool. We have put lots of chemicals in it, but is still very cloudy and milky. All testing is showing up fine. What can we do?
By Karen
AnswerWas this interesting? Yes No
Ad
---
---
Most Recent Answer
By G.G. 08/04/20120 people found this helpful
Hey Karen,

I own a pool company named Acumen Integrated LLC. I reviewed your post and seems to me your pool is giving you quite a headache! I understand chemicalization and balancing can be stressful and expensive. Here are a few suggestions I recommend:

First, assuming you have a sand filter, backwash and rinse. Check the filter pump basket and empty out and debris. Keep an eye on the basket for cracks, and the gasket is in good condition.
Second, test the pool with a strip that tests Hardness, Free and Total Chlorine, Alkalinity, Ph, and Cynuric Acid.
(The comment you made about the pool surface stain could be from the imbalance of your Hardness, which can be aggressive. Stains could be from a low reading. Therefore, you need Calcium Chloride, I suggest a Metal Sequestering Agent.)
Third, I recommend buying Phosfloc. It combines the small particles and dirt and drops everything to the bottom of the surface. You just Vacuum after 24 hours on Waste. Your Ph level must be balanced before using this product.

The steps you took were great, weather and foliage might have added to your pool problems. I hope this post helps! Good Luck!

Gina Groglio
acumenintegrated AT gmail.com
---
I just opened my pool and my swimming pool water is cloudy. It is well water and rain water mixed. How do I get it crystal clear so I can at least see the bottom of the pool?
By Pat
AnswerWas this interesting? Yes No
---
Most Recent Answer
By russelldeborah79 07/18/20130 people found this helpful
Swimming pool water is cloudy. I have done all the chemicals and tried baking soda all to still have cloudy water.
---
We filled our above ground pool yesterday and it was crystal clear. It rained last night so we put the cover on the top. When we took off the cover today the water was not clear anymore. What could have happened?
By Gloria
My above ground pool is cloudy and I don't know what to do. I used Clorox, borax, and baking soda instead of pool chemicals at the opening of my pool this year. It does not seem to be working for me. Is it safe to swim and should I put the chemicals in now? Please help I'm not sure what to do. Thanks.
By Terri H. from Four Oaks, NC
We opened our pool and it was cloudy. We have shocked and clarified and it is still cloudy. Please help.
By Charlene J.
What do I put in the pool to take out the cloudy appearance? I put all the stuff in, but it is still cloudy.
By Sally
Solutions: Cloudy Water in an Above Ground Pool
Do you have knowledge about this guide topic? Feel free to share a solution!
Archives
Thrifty Fun has been around so long that many of our pages have been reset several times. Archives are older versions of the page and the comments that were provided then.
We have above ground pool, the money pit. We are having a problem with the water being cloudy. If anyone can give us a suggestion we will be happy!

Thanks,
Kaylee in Georgia

Answers:
RE: Cloudy Water in An Above Ground Pool
06/15/2005
I had the same problem in my in-ground pool. Get some of that blue liquid water clarifier stuff and use it. Any pool supply store has it and it works. Just make sure your ph and chlorine levels are correct prior to using it. Good luck
By Reel-crazy (Guest Post)
RE: Cloudy Water in An Above Ground Pool
06/16/2005
PH is probably the problem, then the clairifier will keep it crystal clear. If the ph is not correct, it can cause MAJOR ear infections!
By Mary. (Guest Post)
Baking Soda
06/16/2005
They had an article here in our paper to put a box of baking soda in the day before you use the pool and the water will be very clean. I would let it run to circulate it good. But this was in with the regular things you use in the pool also.
By Dgrams
RE: Cloudy Water in An Above Ground Pool
06/23/2005
Leslie's Pools is a great place to start. They test your water for free. I've got a lot of sound advice from them. My 15' round pool has been so easy to keep up.

I use 2oz. chloribrite every other day, fresh n clear every two weeks, power powder plus every week, flush my sand filter system weekly and add fresh water, run my filter 4 hours am and 4 hours pm for a total of 8 hours daily. I run a baracada sweeper every two weeks or more in the summer as we use our pool more often. I keep in covered at all times with a heating blanket. It heats nicely and keeps debris out. As my neighbors have not landscaped yet.

My instructions are for my 15 round. I have no idea what you have. I find if you have routine of distributing of chemicals you find little or no complications. I did get some algae this spring but with Leslie's Copper algaecide it cleared in a day. I tried the baking soda first no good. Also I got some calcium build up. I went on vacation and didn't flush my system. So that what happened, calcium build up. Keeping up. That's the key. Good luck with your pool. They also have a website lesliespool.com

Happy Summer!

By Jennifer CA