Baylor is a 3 year old half Pomeranian and half Australian Shepherd. The woman we got him from raises Pomeranians and had a female Australian Shepherd house pet with only 3 legs. One of her male Poms apparently fell in love with her and the union resulted in the cutest, smartest puppies I've ever seen!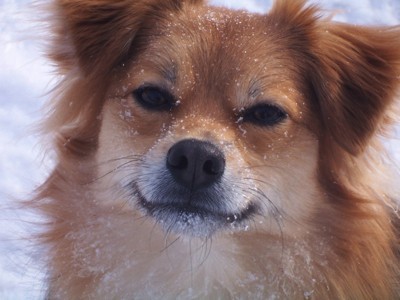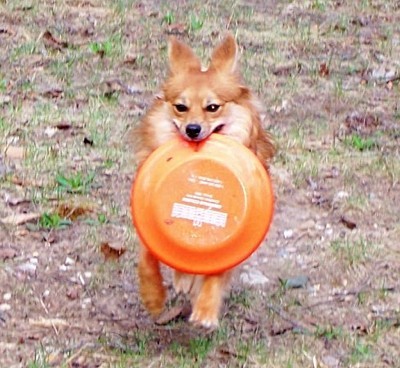 My husband got Baylor from his sister for his birthday 3 years ago. She was out with her husband bailing hay and noticed some puppies in the yard next door. Once we saw Baylor we couldn't leave him behind. He was a little ball of fur and only 7 or 8 weeks old. He had to make the trip from Ohio to Michigan and slept on my shoulder all the way.
He loves to play frisbee and herd our cats. Baylor is the smartest dog I have ever known. He is so easy to train and seems to know what I want before I say anything sometimes.
By Mary
Ad
---
By AvaElizabeth 5 53 08/23/20100 people found this helpful
That is the cutest face ever. He looks like he's smiling at you. Cherish him.
By Pati Mishler 49 59 08/23/20100 people found this helpful
He is so adorable, such a cutie.
By Julia 147 1,074 08/23/20100 people found this helpful
Poms are (as a rule) highly intelligent and make great companions. They do seem to understand just what you want them to do better than many other breeds. I've never known an Australian Shepherd, but most shepherds (German, English etc) are all very smart.

Baylor is adorable. Who wouldn't fall in love with that precious little face? He just "shines" with happiness. Time flies. Enjoy every minute you have with him. Memories last a lifetime.

Thank you for sharing him with us.

Pookarina
By Leigh 18 63 09/13/20100 people found this helpful
Cats can be "herded"? LOL, how cute!
By hearthugs 1 07/02/20130 people found this helpful
Baylor looks just like our Charity!!!