Canning Homemade Soup
Canning your favorite homemade soups is a great alternative to buying commercial varieties. This is a guide about canning homemade soup.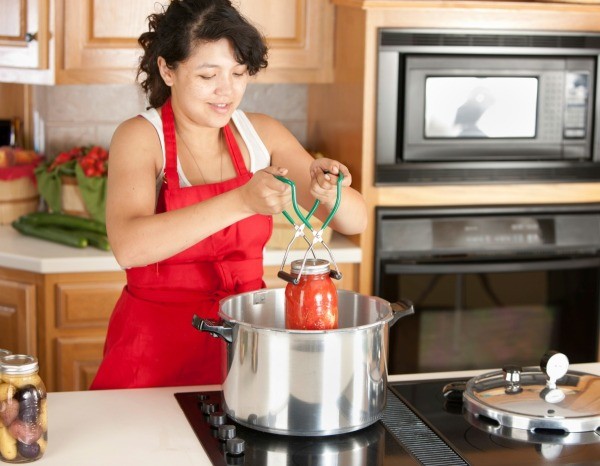 Filter

: All Articles
Sort

: Relevance
What kind of preservatives would I use when canning vegetable soup in jars? How long can I keep them before they spoil? I am using all natural straight from the ground vegetables for this soup.
By Lavoris from Little Rock, AR
December 21, 2009
0

found this helpful
Best Answer
As the other feedback says,you need a pressure cooker but you will also need to add a teaspoon of salt to each jar of soup. That is a preservative in its self. Look up Ball.com and ask for their blue book. It tells you what you need to know about canning. Be especially careful about sterilizing your jars and rings, for they can carry germs that will cause your soup etc to spoil. I've canned Moose meat with gravy and it's the best I've ever eaten.
December 2, 2009
0

found this helpful
You don't need to add preservatives to your soup. Process the jars in a canning pressure cooker and make sure they have a tight seal. I suggest that you do a Google search to find a canning website and read how long their shelf-life would be.
December 3, 2009
0

found this helpful
It is critical that vegetables - or vegetables and meat - be canned in a pressure cooker (not just boiling water). The CDC says "A pressure cooker must be used to can vegetables at home because it can reach temperatures above boiling, which is necessary to kill botulism spores. Instructions on safe home canning can be obtained from county extension services or from the US Department of Agriculture." http://extension.usu.edu/files/publ ... ion/FN_Food_Preservation_2009-04.pdf
December 4, 2009
0

found this helpful
Find Ball.com, they have a "Blue Book" with instructions for all sorts of canning! It is great. And you really need to use a pressure cooker. Have fun, good luck.
I'm single and made a large pot of soup. I wanted to save some. I put the hot soup in a jar with a tight lid. It cooled and the lid popped in good seal. How long can I keep in refrigerator or not and be safe?
By Ray
February 26, 2015
0

found this helpful
From your letter, it appears that you did not properly can the soup but, rather, just put it in a jar. Whether the lid "popped" or not, the soup is not safely canned. Depending upon the ingredients, the soup may last a few days to a week in your refridgerator. Why not just freeze?
What kind of soup using tomatoes can be canned "without" using a pressure canner?
By Betsy from Waynesville, NC
August 15, 2014
0

found this helpful
All soups require pressure canning.
Can I can homemade soup with cabbage in it?
By Kathy S from PDC, WI
August 30, 2011
0

found this helpful
Yes, you can. My grandmother's vegetable soup includes cabbage and for as long as I can remember, she canned it every year.
August 30, 2011
0

found this helpful
I always add cabbage to my veggie soup even when I make my WW version without any meat. It really adds a lot to it. If I don't have a head of cabbage I just buy a small bag of shredded cabbage (cole slaw) and add some of that.
I made bean soup and canned it. Later the lids started to pop. How can I keep this from happening?
By Linda from Maryland
September 22, 2010
0

found this helpful
The popping lids mean your jars are sealed.
September 22, 2010
0

found this helpful
If you have already canned them and they have sat on the shelf for a while then bacteria has formed. Dispose of the canned bean soup immediately. If you just canned them and the lids pop that means it is sealed. Test it by pushing down on the lid. If it moves something is wrong and do not eat it. If it is down and unmoveable it is ok. Be sure you have canned them properly since some foods require a pressure canner. Hope this helps.
Does anyone have anyone have any canning recipes or site(s) that have canning recipes on them? When I do a search it's just too much to look through. I am specifically looking for stew and soup recipes.

Thank you,
Mindy from Oregon
September 21, 2006
0

found this helpful
Hi Mindy,
I use the site the previous person posted.
I had heard when canning homemade soup you just need to cook it like you are going to serve it, then fill the jars and turn them upside down. Does this work to create a proper seal?
By Heather from West Liberty, KY
July 17, 2010
0

found this helpful
Heather,
I wouldn't do or trust it. Read the archived information below. I have a book about canning from Ball (Ball Blue Book of Preserving). It has very detailed information about how to can/preserve different things. You don't want to mess around with this, whoever consumes the food could get deathly ill!
© 1997-2016 by Cumuli, Inc. All Rights Reserved. Published by
ThriftyFun
.
Page
generated on July 26, 2016 at 4:08:12 PM on 10.0.0.56 in 441 msecs. Use of this web site constitutes acceptance of ThriftyFun's
Disclaimer
and
Privacy Policy
. If you have any problems or suggestions feel free to
Contact Us
.