Lint from the dryer can be used for a few things around the house and for fire starter. This is a guide about uses for dryer lint.
Ad
---
Solutions: Uses for Dryer Lint
Read and rate the best solutions below by giving them a "thumbs up".
Don't throw away your dryer lint! In the winter birds love it to line their nest with. Also, if you burn wood, it makes a great fire starter. I stuff ours in toilet paper tubes and light the end. Works every time.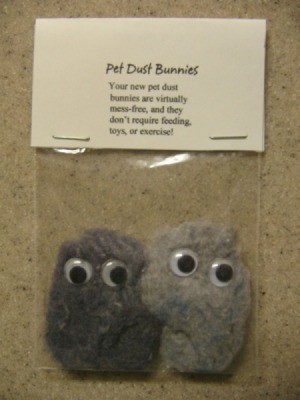 Here's a fun, very easy craft idea - might be something you'd like to put in Easter baskets this year as a gag gift, lol. Simply take some dryer lint and shape it however you want (kinda small). Then do the same with a second piece of dryer lint.
Hot glue some google eyes somewhere on both of them, stick them in a small zip baggie (which you can get at craft stores) and add a topper labeled "Pet Dust Bunnies". (I just printed the words on regular white cardstock.)
Underneath "Pet Dust Bunnies", type the following words: "Your new pet dust bunnies are virtually mess-free, and they don't require food, toys, or exercise!"
Fold the card over the top of the zip bag and give to someone special! Guaranteed conversation starter!
By Stacey from Orem, UT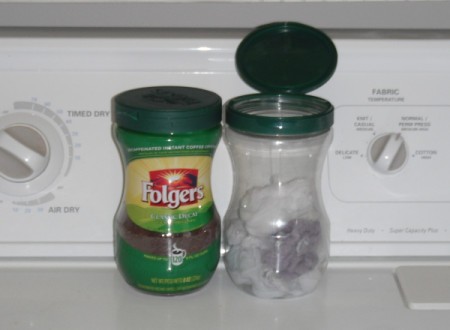 After finishing up my Folgers Decaf instant coffee, I looked at the container and thought it would be perfect for holding dryer lint. I gave it a try and found that it works great. It takes up just a little space and the flip top lid is so convenient.
I leave the lid open until all the laundry is done. Then I snap it shut. When it gets full, which is taking weeks, I'll empty it into the trash or save the lint for the birds to use in their nests this spring.
I use dryer lint in a cardboard egg carton and drizzle old candle wax from scented candles that have lost their fragrance. It works best from the jar candles on a candle warmer. Once it has cooled, I cut the sections of egg cradles to separate and put in a ziplock to keep dry. Just light the corner of the cardboard when placed under your tinder. Works great for charcoal BBQ's too!
Source: I combined several tips.
By Tony B [2]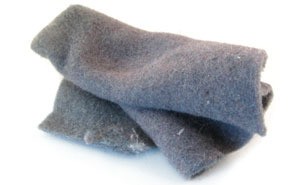 Uses for dryer lint. Post your ideas!
Hang Dry Instead
Dryer lint is an expensive commodity. It represents the life being worn from your clothes by the action and heat of the dryer. I know that's why I won't dry anything of mine any more. I get it out and hang it up to dry or put it on the line.
By Joe
Stuffing Toys
A great tip I found by accident using dryer lint is stuffing for small dolls and teddy bears. I was making my girls small bears and ran out of stuffing. I needed to finish them and it was too late to go to the store so I was searching my laundry room for some extra and came across my bag of "lint". I quickly grabbed it and stuffed away. The bears smell great and are soft and washable.
By Melissa
Nesting Material for Birds
To "help" the birds build a nice warm nest this spring to hatch their babies, toss some lint from your dryer lint screen onto the branches of your trees. They'll sing their gratitude as they use it for nesting material!
By LS from Michigan
Worms Or Compost
Dryer lint can make great food for worms! Toss it into your local friendly worm farm or into a compost heap and it'll be turned into lovely healthy soil for your garden! You can also use it to stuff home-made cushions, or stuffed toys, if your worm farm isn't in existence yet!
By Ricky
Insulation
Since we live in a very old, drafty farmhouse, I noticed there are little nooks and crannies that let cold air in the house. I have been using the lint from the dryer as a "draft dodger". I make sure it is not near anything electrical. It has worked great!
By Michelle
Make Paper
This may sound a little corny but you can use it to make paper. There is a way to do it involving hot water, glue, a screen and a heavy pressing object. It's been awhile since I've done it. Check your local library for a few books on it to get it right. We did something with dandelions in elementary school to do it but I did it at home with dryer lint until my mom got tired of all the places my "paper" was drying dripping on her floor.
By Katzprizim
Dryer Lint Clay
Ingredients
Here's recipes for making clay out of dryer lint.
1 1/2 cups lint from the dryer
1 cup water
1/2 cup flour
2 drops wintergreen mint flavoring
Old newspaper
Paint
Directions
Place the lint in a saucepan and cover it with the water. When the lint is saturated, add the flour and stir until it is smooth. Add the drops of wintergreen oil flavoring. Cook the mixture, stirring constantly, until it forms peaks and holds together. Pour it onto newspaper to cool. Shape and model figures, or cover a form with it, such as a balloon. Allow to dry for 3 to 5 days, then paint and decorate as required.
Dryer Lint Clay a Success
My experimentation with dryer lint clay was a success! I made a wonderful bowl out of it. When I removed the mixture from the stove, I poured it onto an overturned glass bowl that had 2 sheets of tissue paper over it (the big ones, like the ones used in wrapping presents). I then used my batter spatula to spread it around the base of the bowl. It was thick enough that it spread like gooey cake frosting, but it didn't run at all.
It took days to dry, but the texture is wonderful, and since that dryer load must have had something dark in it, the bowl is like a deep denim/ navy gray color with white flecks (although I suspect those are clumps of flour - I can't stress enough to make sure you don't just dump it all in the pot at one time - like I did!) And don't try to use a whisk or you'll be picking strands of fiber (and hair) out of it! Heheheh, What fun! AND depending on what you've been drying, the colors will change!
By Nancy
Artwork
I remember a beautiful picture made from lint at a Ripley's Believe It Or Not Museum. I always wanted to try to make a picture after that.
By Sandy
Mix 1/2 cup of flour with 1 cup of Sta-Flo liquid starch, then add to dryer lint as needed to form shapes on a piece of plywood. Continue adding various shapes and colors, mixing with the Sta-Flo recipe as needed for the right texture. Allow to dry thoroughly, spray with sealer.
Sounds corny, but if you use your imagination you can make an impressive piece of art. Others will admire your work and not know what it is made from if you do it right.
By KAREN
Fire Starter
You can put this lint to use if you have a wood stove. The soft batts of lint ignite quickly and help set kindling ablaze.
By Joesgirl
The "fluff" in your dryer lint screen makes great fireplace tinder. You can ball it up and use to start fires quickly
By Doggy
A friend showed me how to melt used candles/wax in a coffee can in a pan of simmering water. Stuff the lint into cardboard egg cartons. Carefully, pour the melted wax over the lint. Let dry then use a couple of the "lint/wax eggs" as fire starters in the fireplace. We have used these for 3-4 years .They work just fine.
By Vi
Don't throw away your dryer lint if you have a fireplace or go camping. Fill toilet paper or paper towel tubes with dryer lint and newspaper. Close the ends and you have a great fire starter!
By Melissa Z.
I make the filling for quilts, stuff toys, and my favorite fire starters. For the fire starters, I use the cardboard egg cartons, use wick, wax and lint, melt the wax, put lint in the egg carton, with the wick under it, then pour the wax over it. Use 1 to start for fire.
By Cindy
Be careful when you burn dryer lint. How it burns will depend VERY much on what the lint is made out of! Anything man made will melt, smoke, smell like burning plastic, and put out fumes you don't want to be around. Cotton, wool, or linen dryer lint, on the other hand, is fine. If you have a question, take some outside in your driveway and burn it. If it turns into little hard beads, don't put it in your fireplace.
By Kathy K.
When my daughter was younger, she made hundreds of miniature stuffed animals, dolls, personalized pillows, and so forth, using fabric scraps. Even with the fabric free, of course, cotton batting or fiber-fill would have cost money to stuff her creations. So, she stuffed them with dryer lint!
It sounds odd, but realize that the lint caught in the dryer has just been thoroughly washed in the washer. It's clean, soft, and free. For a while, she sewed so many dolls that she even had our family's friends collecting their dryer lint for her. She repaid their favor with little stuffed mice and other novelty dolls, which they loved.
So, don't discard it. Use it! I had a stuffed tiger when I was small, whose original stuffing looked like dryer lint, whether it actually was or not. We got the idea from that.
By Sterghe from Pennsylvania
Since dryer lint is mostly organic material, it is great for the compost pile.

By April from NW Missouri
Materials:
6 cups dryer lint
4 cups cold or warm water
1 1/2 cup non-self-rising wheat flour
6 drops oil of cloves
Old newspaper
pan
HOW TO:
Put lint and water in a large saucepan. Stir to dampen all of the lint.
Add flour and stir to prevent lumps.
Add oil of cloves.
Cook over low heat while stirring constantly, until mixture holds together and forms peaks.
Pour out and cool on several thickness of newspaper.
Makes about 8 cups of modeling clay. You may shape over objects or press into a mold or use the same as you would use paper-maché pulp. It takes 3 to 5 days to dry to a very hard surface.
When wet, it is easily worked. Store unused portion in an airtight container. It will keep for several days.
By Kathleen
Give a "thumbs up" to the solution that worked the best! Do you have a better solution? Click here to share it!
Archives
Thrifty Fun has been around so long that many of our pages have been reset several times. Archives are older versions of the page and the feedback that was provided then.
If you use fabric softener, is it safe to use the dryer lint to put out for the birds to line their nest? Would it be dangerous for the baby birds? I know you are not suppose to rub the sheets on your animals.
By Lapras from TX
---
RE: Dryer Lint for Bird Nests
I do not know if it is safe, but I have seen it locally in nests---then saw they were getting it under my porch, where the duct exits the house. It is good to save for firestarters, along with pinecones, paper junk mail, etc, to use in winter to get the fire going. (04/07/2009)
RE: Dryer Lint for Bird Nests
You can avoid using artificial fabric softener by using vinegar instead and putting dryer balls in your dryer. I picked mine up at the dollar store. I get a little static after drying fleece blankets but a little shake gets it out. Then it is safe to put your dryer lint out for the birds, and they love it. (04/11/2009)
By msspider
RE: Dryer Lint for Bird Nests
It is safe. I use the plastic onion sacks and put dryer lint, snake skins (we have reptile pets), dog fur, yarn, etc. in them and hang from trees for the birds in our area. We use softener sheets in our dryer, but they do not affect the birds per our state DEM website. (04/11/2009)
By njdespres
I cannot remember where I read about it, but this is a great way to recycle your dryer lint.
It's cold outside! Save your dryer lint and stuff it in your birdhouses. This will help to keep the birdies warm and cozy in the winter and spring. :)
By Gooby from Straughn, IN
---
RE: Dryer Lint for Bird Nests
It's best to leave it somewhere where they can build their nest inside the birdhouse themselves otherwise they might not use the house because of the human scent on the dryer lint. If the lint is out in the open in a dry spot the human scent will go away much more quickly. (12/18/2009)
By Deeli