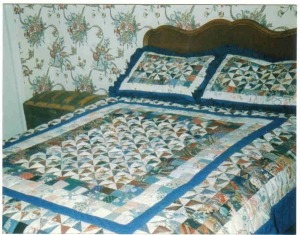 Fabric samples, especially upholstery and drapery, are excellent for use in crafting. This is a guide about crafts using fabric samples.
Ad
---
Solutions: Crafts Using Fabric Samples
Read and rate the best solutions below by giving them a "thumbs up".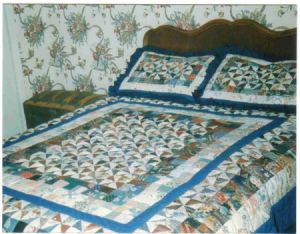 When I worked at a wallpaper store, periodically they would toss out outdated books and I would save the fabric samples. Eventually, I had enough to make a quilt and then bought enough of the navy fabric to finish it. I was lucky because my mother's quilt group at church quilted this for me for nothing. Nowadays, you can have someone machine quilt it for you. This particular block is called "Pinwheel"
Collect many scraps to do this quilt with a nice balance between light and dark. You can find many instructions online for assembling the quilt into a pinwheel block. After that, you just have to make enough to fit your particular bed and add some plain fabric for borders.
By Elaine from Belle Plaine, IA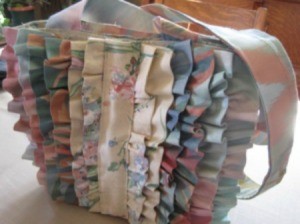 I made this purse from drapery samples. Using a basic pattern from a sewing pattern book, I cut out and interfaced a tote bag. I also cut the lining at the same time. Before sewing it together, I made ruffles out of strips that are sewn right side together and then turned and gathered, using a long stitch on your machine. You could also serge the ruffles, thus eliminating turning them and the extra thickness.
I then layered the ruffles, starting with the edge in the center, sew that one, then do the second one and repeat on the other side.
Then I cut one strip to cover the raw edges in the middle that is flat. Add handles after sewing the seams on the tote and add lining, With my lining I put a pocket all around inside the perimeter before I sewed the lining in place.
Keep one side or the bottom open large enough to turn it. You can use fabric that you don't particularly like or is outdated because you only see a small bit of the pattern in the ruffles. I think this looks rather springy.
By Elaine from IA
Give a "thumbs up" to the solution that worked the best! Do you have a better solution? Click here to share it!
Questions
Here are questions related to Crafts Using Fabric Samples.
I was given a bag full of fabrics of different types and there are some nice cuts (small ones) of tapestry samples. I would like to know if there is a nice way to use or upcyle them? Thanks.
By Marie from Melbourne - Australia
AnswerWas this interesting? Yes No
Ad
---
---
Most Recent Answer
By Texanna L. 02/25/20130 people found this helpful
Make purses, large patchwork or small evening bag types! Add embellishments and fun decorating!
---
Hello,

I have just picked up some free treasures at a yard sale: upholstery samples. They are various sizes; most are about the size of your average sofa pillow. The lady says she has as many as I can use at her decorating store.

My daughter and I plan to use them as a fundraiser for the local food bank. We are looking for unusual ideas of things to make out of them (Things that don't require many more supplies).
Obviousy they would make nice pillow tops or placemates.
Any seamstress/crafty people out there have some other ideas?

Thanks,
Cindy in PA
AnswerWas this interesting? Yes No
Ad
---
---
Most Recent Answer
By Toodles [2] 09/02/20110 people found this helpful
They were the perfect size for armchair covers. I folded them lengthwise then ran a seam up the one short side. I then folded it flat to form a triangle at one end and ran a stitch across the triangle part about 3 inches down. Turn it back out and there you have it, a perfect cover to keep the arms of your sofa and chairs nice and clean.
PS- this can also be done with placemats from the dollarstore
---
Yes, this has been asked before, but I thought I'd ask again and see if anyone has a few new ideas. I picked up a couple of bags of upholstery fabric samples at our local thrift store. They were a steal at $2 and $3 dollars a bag. Now I'd like to get sewing. I've made tote bags, placemats, armchair covers, a bedside caddy, and an armchair caddy. Anyone have any other ideas or websites that might be of interest?
By Toodles
AnswerWas this interesting? Yes No
---
Most Recent Answer
---
What crafts can be done with upholstery material samples? Any ideas would be appreciated, as I hate to throw them away.

Trina from Washington
AnswerWas this interesting? Yes No
---
Most Recent Answer
By Deryl McGuire [1] 01/04/20110 people found this helpful
You can use them to make beautiful pillows.
---