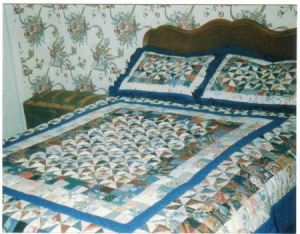 When I worked at a wallpaper store, periodically they would toss out outdated books and I would save the fabric samples. Eventually, I had enough to make a quilt and then bought enough of the navy fabric to finish it. I was lucky because my mother's quilt group at church quilted this for me for nothing. Nowadays, you can have someone machine quilt it for you. This particular block is called "Pinwheel"
Collect many scraps to do this quilt with a nice balance between light and dark. You can find many instructions online for assembling the quilt into a pinwheel block. After that, you just have to make enough to fit your particular bed and add some plain fabric for borders.
By Elaine from Belle Plaine, IA
October 21, 2012
0

found this helpful
Hi Elaine,
I hope this finds you, and all here well. I used to work in a retirement home. A friend of mine told me about doing this 30 some years ago, when my daughter was a baby. She gave me some books of the fabric, and this dear resident in the home, put it together in a quilt for my daughter. It is gorgeous still.
Thank you for sharing this wonderful idea.
Take care.
Peace & Love,
Karen
Read More Comments
I was given a bag full of fabrics of different types and there are some nice cuts (small ones) of tapestry samples. I would like to know if there is a nice way to use or upcyle them? Thanks.
By Marie from Melbourne - Australia
June 15, 2010
0

found this helpful
You could make throw pillows or make small pillows and fill with pine needles or potpourri for little sachets. You could also make a quilt or cut them in strips and make a rag wreath. If you google rag wreath there are lots of articles on how to make one. You basically tie them around a coat hanger or wire and they are so pretty.
June 16, 2010
0

found this helpful
Make a beautiful tablecloth! Just attach them using no-sew tape and iron together. Then attach pretty ribbon down the seams. If there are some fabrics that are longer than others...it doesn't matter as you're going for a random look anyway. Just lay it out to how you think it looks best. Have fun with it.
June 17, 2010
0

found this helpful
The table cloth idea sounds fun. You can make a matching apron too if you have leftovers. And/or curtains. Matching in the fact that they are both patchwork projects. ;)
June 17, 2010
0

found this helpful
This may be hard to describe, but take a picture frame that can hold samples/smallish pieces of your tapestries. Either use as is or embroider over the pattern or parts of the pattern (simple or complex (Google embroidery or crazy quilt for ideas/instructions). Cut mat board or cardboard faced with solid fabric to go around the tapestries. Put backing of cardboard or staple to hold this all together. I think that odd numbers like 3 look good together, but two rows of 4 could work or whatever fits your wall (or a great gift for someone who could use a punch-up in a room). Have fun. Good luck.
Read More Answers
Yes, this has been asked before, but I thought I'd ask again and see if anyone has a few new ideas. I picked up a couple of bags of upholstery fabric samples at our local thrift store. They were a steal at $2 and $3 dollars a bag. Now I'd like to get sewing. I've made tote bags, placemats, armchair covers, a bedside caddy, and an armchair caddy. Anyone have any other ideas or websites that might be of interest?
By Toodles
September 2, 2011
0

found this helpful
How about purses or coin purses? Or use the scraps to make covers for journals? You could probably Google to find info on how to do these things.
September 8, 2011
0

found this helpful
Tea Wallets! Do a Google search and you should find a tutorial. Very cool use of small pieces of fabric. I'm gonna make some for Christmas!
Here's one I found: http://blog.chr wallet-tutorial/
December 5, 2014
0

found this helpful
Stitched Book Marks can be made of scrap easily. Just cut the length and width you need. Make a small beaded tail with a dangle at the end or ribbon. Then, with either the same fabric or a coordinated fabric, stitch the two back to back design side out leaving a space to insert the ribbon and stitch it up.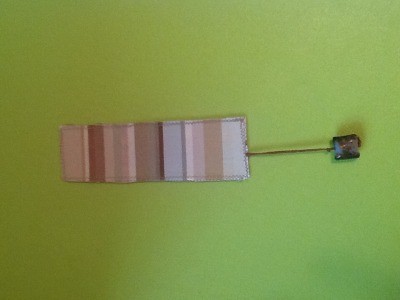 December 5, 2014
0

found this helpful
Beautiful handbags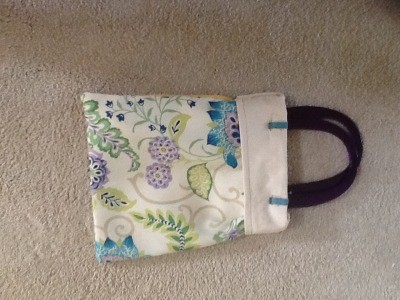 Read More Answers
Hello,

I have just picked up some free treasures at a yard sale: upholstery samples. They are various sizes; most are about the size of your average sofa pillow. The lady says she has as many as I can use at her decorating store.

My daughter and I plan to use them as a fundraiser for the local food bank. We are looking for unusual ideas of things to make out of them (Things that don't require many more supplies).
Obviousy they would make nice pillow tops or placemates.
Any seamstress/crafty people out there have some other ideas?

Thanks,
Cindy in PA
October 6, 2004
0

found this helpful
I used a cd as a pattern & cut circles from several pieces of the swatches to use as "mug rugs". Some of it is really quite thick so I cut larger size circles to use on the table as hot mats.
I love some of the deep reds that I have gotten so cut some into beautiful hearts.
I made some woven hearts that I have potpouri in that hangs from drawer pulls.
Carefully cut diagonal 1' or 3/4' strips almost to the edge of one heart. Of the 2nd heart cut the same width strips but all the way across and in the opposite direction.
Weave the loose strips into the heart that is still intact but has the strips cut. There might be a few of the pieces that frustrate you because they are small and need pieced back together at the top where the curves are & the "cleavage" of the heart.
Then stitch the pieces together. It might help to stitch as you go. Add a nice cord for a handle.
I covered a box with a swatch once. I used coordinating fabric of the same texture to be able to have enough but it worked!
I lined the inside of a footstool that has a hinged lid to store a few things inside.
Make pot holders of it. Use recycled bed pad for lining. Or recycled thermal underwear tops or leggings, either one.
October 17, 2004
0

found this helpful
I happen to work in a furniture store and have saved 4-5 buckets of discontinued swatches so far. The swatches are great for when I need to practice on the sewing machine since I'm just learning. I've also been quilting. For the first quilt I just cut off the edges and peiced them together in squares. Next one I tried to get a little more creative and did a mixture of large squares and small ones and a thick border around it. Since furniture grade swatches are heavier than normal quilting fabric I use the basic blankets from Wal-mart or K-mart for the back, not something very thick. I used the light-weight batting the first time and realized you don't really need to use it so I don't now. My Dad drives a semi-truck over the road all week long and he said it keeps him nice and warm while he's away from home, even when it's cold outside. I read the other posts and think they are all great ideas, I really like the idea of pot holders. Also I'm trying to find info on the rag rugs to see if these can be used for that too! Happy crafting! :) Amy
By guest (Guest Post)
March 26, 2008
1

found this helpful
Last year our church women were given three big boxes of the samples to make things for our bazaar. We put our heads together and made small purse (one of the men collects wood scraps, so he made the handles. We also made handy totes to be mounted on the front of walkers for our nursing home residents. Thanks for the other ideas.
By guest (Guest Post)
August 5, 2008
0

found this helpful
You can make Christmas stockings, pillows, placemats, etc.
Read More Answers
June 13, 2010
0

found this helpful
I have a question for all your crafters. I went to a wallpaper store yesterday to get a couple of discontinued wallpaper books. My niece loves to make different size decorative envelopes with the sample papers.

While I was the there, the salesman asked me if I sew, I said yes. So he also gave me 3 fabric sample books. Now here we go. Anyone have any suggestions as to how I can use the fabric samples and other uses for the wallpaper samples.

Thanks for all your suggestions. I am looking forward to your ideas. Have a blessed and wonderful Holiday Season.

By Linda
Answers:
Ideas to Using Fabric Samples
You must have missed this idea on Thriftyfun:
thriftyfun.com (12/21/2009)

By MCW
Ideas to Using Fabric Samples
I don't know how big your sample size are, but they remind me of "charm packs" which are sold in 5 inch squares. Here are a few ideas:
craftapple.wordpress.com (12/27/2009)

By Kaelle
Ideas to Using Fabric Samples
I had a fabric sample book that I cut into squares to make quilts that I donated to our local homeless shelter and our women's center. (01/01/2010)

By LeslieJK
December 21, 2009
0

found this helpful
I also have many boxes full of gorgeous fabric and upholstery samples. Any ideas what to do with these other than the obvious, like quilts, pillows, and sachets?

Freebyrdz from Ontario, Canada
Answers:
Ideas to Using Fabric Samples
How about purses? You can make simple ones and if you don't have enough fabric, you can do some piecing by coordinating your fabrics. Maybe add some trim too. (01/27/2008)

By Elaine
Ideas to Using Fabric Samples
Photo mats, on back of shelves, cover switch plates or outlets, paper doll dresses, book covers, there's a few. (01/27/2008)

By Teresa
Ideas to Using Fabric Samples
Use your fabric to make shopping bags, to keep in your car for groceries. (01/27/2008)

By Dolly
Ideas to Using Fabric Samples
Make small bag type purses-makeup bags, evening bags, etc. Sew pieces together to make crazy quilt fabric and use that for bigger bags. (01/27/2008)

By Lois
Ideas to Using Fabric Samples
How about contacting the local high school home economics classes? I'd think the teacher and students would have lots of ideas for all that fabric. (01/27/2008)

By Jantoo
Ideas to Using Fabric Samples
Make cloth books for children. Glue pictures from Christmas cards, birthday cards, magazines, etc, to a "page" of fabric and pink the edges. Sew a topstitched seam down the center of the book or punch a couple of holes and run some yarn through the holes. (01/27/2008)

By Thrifty Me
Ideas to Using Fabric Samples
Look on Flickr for ideas or even peruse Etsy, they will have loads of ideas. (01/27/2008)

Ideas to Using Fabric Samples
If the pieces are big enough you can use some to make a padded top for a footstool, cover plain waste basket, glue to old suitcase, empty oatmeal boxes, coffee cans or hat boxes to make storage/decorator pieces. Use for backgrounds in frames for pictures, jewelery or floral displays. Doll house carpets, rugs, drapes, etc. Good luck. (01/27/2008)

Ideas to Using Fabric Samples
I saw an idea on HGTV last night. They made a square frame and covered it with fabric and used as a wall hanging on a bare wall. (01/28/2008)
Ideas to Using Fabric Samples
Here are my ideas:
Try making:
eyeglass cases
sun-visors covers with pockets for sunglasses and regular glasses, make sure that they go in the side not the top or bottom as they will only fall out
valance trim for the top curtain to cover flaws
arm chair covers
tote bags
santitary napkin purse
cover an old wooden box and make it into a lovely treasure chest for a bride to be and fill it with some goodies
draft pillows - protect from drafts under doors
travel pillows
curtain tie backs
Enjoy them.
(01/31/2008)
Ideas to Using Fabric Samples
I was given a large number of fabric samples from a furniture store that had paper around the edges on the back. I sewed them together in a crazy quilt style and made a curtain for a super long window (10 feet long). I've also made "one of a kind" stockings for family as gifts and I've used some as wrapping paper for small gifts. My next idea is to make a crazy quilt rug. (07/15/2008)

By jenntaker
Ideas to Using Fabric Samples
I too have loads of gorgeous fabric books I rescued from the garbage. I thought about using some for making napkins as Christmas gifts, an easy "green" idea. Have fun. (10/17/2008)

By Mary
Ideas to Using Fabric Samples
My aunt makes pillows out of them and she has a friend who makes hats out of them. They are reversible bowl style winter hats that she makes. I have a ton of them and I am going to make large beach bags for all of my friends.
(02/23/2009)

By Beth