I'm having trouble with my 9 year old GSD/Husky mix. I think that's what she is. She's always been shy around strangers especially men. This past year she has barked almost viciously at men who enter the house or people who knock on the door. She has even barked at me a few times until she realized who I was. She's always been fine with my kids until last weekend.
A friend of mine who is a big guy came over and took a reptile I gave him. He approached the gated kitchen and my dog barked at him and he just stood there and offered his hand, but she didn't come closer. He never went into the kitchen or touched her. This was the worst I've seen her react. With different people she will behave differently. Sometimes she barks a little, sometimes a lot. I think it must be their demeanor.
For one week now my dog has been "grabbing" my 16 year old sons legs. He has autism, has never really had anything to do with the dogs, but will sometimes talk to them. My son is also a pretty big kid. In my presence I watched her approach him as if she was going to bite him and when I called her name she stopped.
With us "girls" she is just fine. I just don't understand why she is suddenly biting my son. The first time it happened he was getting a cookie like he has done so many times before and she grabbed his rear end. Today she broke the skin when he pulled away. I got her a mesh muzzle and plan on getting her to the vet ASAP. She is minimally trained; I did what I could with her. It took me 6 months to leash train her because the whole time she was trying to knock me down.
I have established dominance, but my son has never given her food, treats or anything, that's my mistake. Is it too late to fix and since she bites him. do I dare? Given his disability, he really has no desire to touch her or have her lick or touch him.
By Jackie from Buffalo, NY
To celebrate the new year we are giving away $200 in Amazon gift cards for people who answer questions on ThriftyFun in January! Click here to find out more...
Add your voice! Click below to answer. ThriftyFun is powered by your wisdom!
To celebrate the new year we are giving away $200 in Amazon gift cards for people who answer questions on ThriftyFun in January! Click here to find out more...
Add your voice! Click below to answer. ThriftyFun is powered by your wisdom!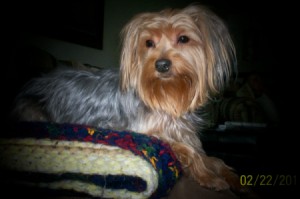 We have an 18 month old Yorkie. She has become very aggressive and bites when she has something she shouldn't have and at times when you try to pick her up. It is getting worse. She had professional obedience training as a pup, and I still reinforce that training, but to no avail. She still will not mind off leash. We are at our wits end here. Any suggestions would be appreciated.
Related Content
(article continues below)
By glo from Rockford, IL
July 13, 2011
0

found this helpful
Have you had your dog to the vet lately? He may be sick and not want to be bothered and that is why he is being so aggressive. You might want to call a vet for advice (cheaper) before taking him in.
July 13, 2011
0

found this helpful
My 4 year old male dachshund still does this and he has been to obedience training also. He's real possessive of his things. He's worse when he gets out of his routine like when we go visit relatives out of town. Sometimes a "swat" with my house shoe will get him to stop his bad behavior is I can catch him; he runs under the bed when he knows I'm unhappy at him. I've more or less got him figured out and know when to give him his space and leave him alone. Pets are like people in the sense that when they are tired they want to be left alone. Your dog is still young and he may get much better if he knows you mean business. I'd try "swatting" him lightly to startle him and see if that helps. It helps with my dog.
July 13, 2011
0

found this helpful
Thanks tx betty for your thoughts. I was always told not to hit or swat the dog but I think it is time. she is not possessive of her things; it is when she gets other peoples things that she gets nasty if we try to retrieve it. Socks, tissue, etc. As someone mentioned the vet; last summer she had stomach problems and has been on a special food from the vet;this summer she is fine except for the aggression, that is. Even as a pup, when we said no, she got angry and worse. She is an angel at the groomer and at the vet. How about that. I think it is my household and how they treat her (spoil her) Time will tell; household will soon be changing.
July 18, 2011
0

found this helpful
Go to the National Geographic channel and watch Cesar Milan Aka Dog Whisperer . I watch him all the time even if it's a rerun.I have a Shih Zsu and a Schnauser Terrier mix. And they have issues and by watching Cesar I've learned a lot about behavior issues. A lot of their aggression was because of me. You have to become a pack leader because right now your dog is the pack leader. That doesn't mean you have to hit them. Just watch his shows a few times and see for yourself if he makes sense. To me he makes a lot of sense and I have much better dogs because I use his techniques. Give it a try !1 pam in Mo.
September 30, 2011
0

found this helpful
I appreciate everyone's comments. ty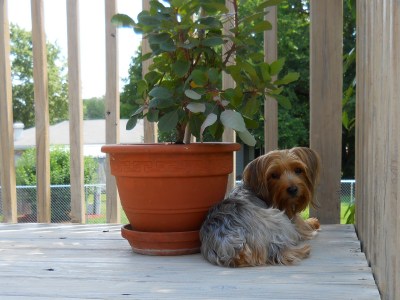 My German Shepherd is 2 months old. She is so aggressive all the time, she bites me and when I punish her she attacks me. I can't really control her. She does not obey me at all. What should I do?

By Shirin from Tehran, Iran
Answers:
Training an Aggressive Dog
A puppy should never be "punished" for biting. A puppy should be trained and disciplined to learn the difference between biting and chewing as a puppy is still teething and doesn't know the difference. It's okay to say "ouch" very loudly and turn away from the puppy for a few seconds (ignoring them for a few seconds hurts their feelings and makes them think twice as they really don't want to alienate you.)
Ultimately, you the pet parent, need to learn the difference between puppy gnawing, puppy chewing, and true aggression. Seriously, would you "punish" a baby for chomping down on your finger?

Babies and puppies and kittens never need to be "punished", but will always grow and benefit from being "disciplined". The two root words (punish and discipline) are not equal synonyms. Punishment involves shame and too often, pain. Discipline involves teaching and instruction in a purely constructive manner.

Be kind and patient. Please. AKC (American Kennel Club) "Puppy" and later "Obedience Classes" (these are not restricted to pure breeds or dogs intended for competition) are your best bet for confident ownership and confident dog growth. Please check into these classes at a local chapter/branch of the AKC in your area.

Edited update from Cindy. I just reread you post and realized you are not from America and most likely don't have access to a "local" AKC! My apologies. None-the-less, since you have internet access, please look into sites that explain "American Obedience Classes for dogs" I think it will offer you great insight. Honestly, dogs really just want to please their humans and the kinder you are while letting them know you are "the parent", the better and better they will be your best friend forever! Good luck and best wishes! (12/28/2010)

By KansasCindy
Training an Aggressive Dog
Your dog is still just a baby. I doubt she's really being aggressive, she is still just a puppy that need to learn to behave. When my dog was a puppy, she would jump at us and bite us. When we'd try to grab her to make her stop, she thought we were playing and would bounce on us, grab us with her paws, and bite us more! This is how they play with other puppies.

There are a lot of resources here in the Thrifty Fun archives. The one under this column is titled 'training an aggressive dog', you might want to do a search on training a puppy. Good luck, I think you'll love your puppy when she learns what is expected of her. (12/28/2010)

By lyonpridej
Training an Aggressive Dog
Is your shepherd puppy from a registered breeder? Ask their advise because no canine control council member wants their kennel "prefix" to receive adverse complaints about their animals and will assist you with this problem this is my beautiful boy "eigenschaft heartbreaker" check him out on google good luck with your new puppy. (12/30/2010)

By FARSTAR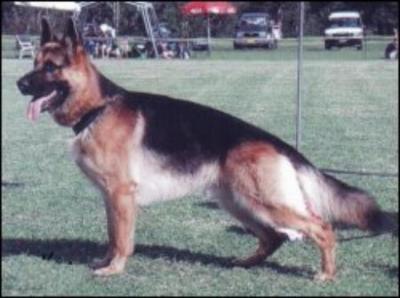 Training an Aggressive Dog
I have found that positive feedback for good actions and ignoring bad actions has worked with my animals.
Your dog is still a puppy and hasn't learned to communicate with you. When Tikko does something aggressive or something I do not approve of, I growl. When she does something positive, she receives a pat, belly rub and the word good. Consistency will work. She is our 16th pet, and our third "last" dog. (01/07/2011)

By tikko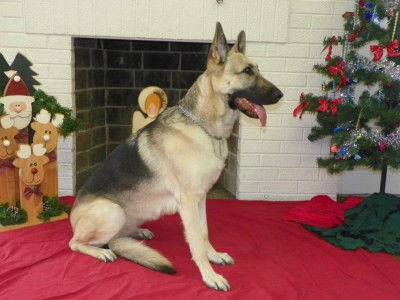 I have a 9 month old male Lab/Pit mix. I've had him since he was 4 weeks old. He has, in the last few months, been getting progressively more and more hard to handle. I had him fixed when he was 3 months old, which I now think was a big mistake doing it that young.
When he was about 6 months, he started barking at people and not just people coming up to where he was, but just anything, any random noise or anyone he didn't know, which for our life style isn't very acceptable. I want him to be protective, just not over protective.

That I could have lived with, until he recently started being aggressive towards my friends or just random people walking on the street when they would come near us or our stuff. He even tried snapping at two of my friends he didn't like!

Also, he used to be really good with other dogs, but now he's starting to pick on certain dogs too, like if they come where his bed is, or near his food, or even me or my boyfriend sometimes. He tried to kill another dog when she came near our bed. I was telling the other dog to go away and get away from us, when he just grabbed her by the neck and swung her around like a rag doll.

I've literally tried everything I can think of. When he tried killing the other dog I hit him, and when he's really really aggressive, I hit him (not hard or anything) and I realize this isn't the best method, but also when you're in the situation it's hard not to be upset/heated. I've tried firm "nos", flicking on the nose, ear "squeaking" which is what moms do to their baby pups when they mess up, they bite their ear only hard enough until the pup squeaks so they know they messed up.

I've tried putting him on his back and standing over him to show dominance. I've tried distracting him when I know something that might upset him comes around. I've tried putting him in time out, which works for a short period, but he always freaks out again.

He's definitely been properly socialized with other dogs and people, so that's definitely not the issue. I think that it might be that we were negatively disciplining him with hitting, which taught him aggression.

I'm absolutely under no circumstance willing to even consider putting him down or getting rid of him. I think that I made this problem and am willing to do whatever it takes to fix it. I can't afford a dog trainer, so that's 100% out of the question. So I pretty much just need lots and lots of tips on how to adjust this behavior.

By Jalka from SD
Answers:
Training an Aggressive Dog
No hitting. You are right in thinking that is where the anger in him developed. He needs exercise. Lots and lots of it. That serves 2 purposes. One is bonding and it is downright fun for both of you. (11/23/2010)

By muttmom
Training an Aggressive Dog
Some dogs as they mature, just get aggressive and there is for no reason for it. Sometime they are asserting their own dominance and not protectiveness. You have a long road ahead because he is still young. If you can't get him under control and he does bite someone then you will have to make choices.
In the meantime you should start aggressive obedience training on the leash and always keep him at a heel on your left side when walking outside. When anyone or thing approaches make him sit and stay that way until the the coast is clear.If you have to hold on to him by his collar to keep him sitting until he learns to sit by himself then that is the route you take. You have more control of a sitting dog than a standing one. This will be hard in the beginning but he will come around because you are the leader of his pack and you will make him do this. There is no need to hit him.

Firmness in your voice and following through with training always works. Bringing treats to give to him after he sits and heels is good also. He should be able to sit and stay indoors off leash when you tell him. I also keep a spray bottle of water close by in the house for my dog (Boxer/Pitbull). She sometimes gets aggressive over her toys and food with the other dogs. When the growling starts I do a little yelling and sometimes spray her with water and this stops the bad behavior because I'm boss. When I say sit, no matter where we are, all three of my dogs sit. It does take patience and it is not easy. Good Luck! (11/23/2010)

By xintexas
Training an Aggressive Dog
You sound like a responsible owner trying to do the right thing in the interest of all concerned but unfortunately any pit-bull cross can be a handful and puppy should never have left his mum/litter mates until eight weeks of age. And what ever was the Veterinarian thinking to de-sex a three month old puppy. Be aware that you are libel if he injures another animal or human. Never, ever hit a Dog they will retaliate in the only way they know. Good luck. (11/23/2010)

By FARSTAR
Training an Aggressive Dog
I have used the information on this website when I had inter-dog issues with my dog. They have free web lessons also lesson on video that you can order.
http://leerburg.com/aggresiv.htm (11/23/2010)

By merlene
Training an Aggressive Dog
You have a big problem, the dog could seriously injure or kill another animal, or even a human (child). That is what is not acceptable! You could try to use a squirt bottle, filled with water, and squirt him when he misbehaves, but it will most likely not be effective on a dog like that. I think the cross of Pitbull is the problem, and you have to face it. These are unpredictable dogs. check the statistics online. Unfortunate but true. (11/24/2010)

By Thaanne
Training an Aggressive Dog
Watch dog whisperer, he is really great with dogs. (11/24/2010)