Training an Aggressive Yorkie?
We have an 18 month old Yorkie. She has become very aggressive and bites when she has something she shouldn't have and at times when you try to pick her up. It is getting worse. She had professional obedience training as a pup, and I still reinforce that training, but to no avail. She still will not mind off leash. We are at our wits end here. Any suggestions would be appreciated.
By glo from Rockford, IL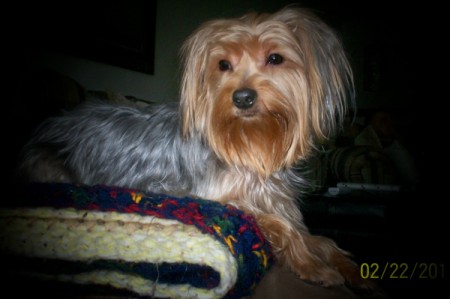 Add your voice! Click below to answer. ThriftyFun is powered by your wisdom!
July 13, 2011
0

found this helpful
Best Answer
My 4 year old male dachshund still does this and he has been to obedience training also. He's real possessive of his things. He's worse when he gets out of his routine like when we go visit relatives out of town. Sometimes a "swat" with my house shoe will get him to stop his bad behavior is I can catch him; he runs under the bed when he knows I'm unhappy at him. I've more or less got him figured out and know when to give him his space and leave him alone. Pets are like people in the sense that when they are tired they want to be left alone. Your dog is still young and he may get much better if he knows you mean business. I'd try "swatting" him lightly to startle him and see if that helps. It helps with my dog.
March 3, 2019
0

found this helpful
You are so WRONG by swatting your 'family' pet. This only makes him afraid of everything you represent. Did you 'swat' your kids?
Use the "Loved Dog" training method. Act lovingly, patiently and positively.
Reinforce, treat, repetitive positive actions when he does it right.. Yes, he'll fail sometimes; but his unfailing love for you when you act with positive reinforcement will bring the right results.
July 18, 2011
1

found this helpful
Best Answer
Go to the National Geographic channel and watch Cesar Milan Aka Dog Whisperer . I watch him all the time even if it's a rerun.I have a Shih Zsu and a Schnauser Terrier mix. And they have issues and by watching Cesar I've learned a lot about behavior issues. A lot of their aggression was because of me. You have to become a pack leader because right now your dog is the pack leader. That doesn't mean you have to hit them. Just watch his shows a few times and see for yourself if he makes sense. To me he makes a lot of sense and I have much better dogs because I use his techniques. Give it a try !1 pam in Mo.
March 3, 2019
0

found this helpful
Thank you for your Cesar's Way suggestion. I found it helpful; but the most helpful was reading & listening to "Loved Dog" & "30 Days to a Well Mannered Dog". I was more successful with loving & positive reinforcement when my dogs did it right; than scolding or shouting when they misbehaved.
Dogs want to please, serve and love. Man's Best Friend might fail once in a while; but repeating loving, nuturing positive actions gets the best result. Keep rewarding by happy words ("Good Job"; Poopy Place, etc). Saying "good girl" for every action can confuse.
Love them as they love you!
July 13, 2011
0

found this helpful
Have you had your dog to the vet lately? He may be sick and not want to be bothered and that is why he is being so aggressive. You might want to call a vet for advice (cheaper) before taking him in.
July 13, 2011
0

found this helpful
Thanks tx betty for your thoughts. I was always told not to hit or swat the dog but I think it is time. she is not possessive of her things; it is when she gets other peoples things that she gets nasty if we try to retrieve it. Socks, tissue, etc. As someone mentioned the vet; last summer she had stomach problems and has been on a special food from the vet;this summer she is fine except for the aggression, that is.
Even as a pup, when we said no, she got angry and worse. She is an angel at the groomer and at the vet. How about that. I think it is my household and how they treat her (spoil her) Time will tell; household will soon be changing.
September 30, 2011
0

found this helpful
I appreciate everyone's comments. ty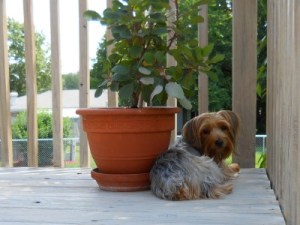 Add your voice! Click below to answer. ThriftyFun is powered by your wisdom!
Advertisement
Published by ThriftyFun.
© 1997-2020 by Cumuli, Inc. All Rights Reserved.
https://www.thriftyfun.com/tf39626357.tip.html