Training an Aggressive Puppy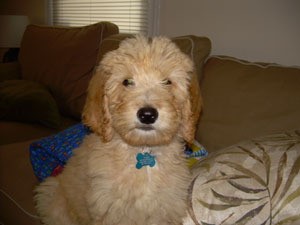 I have a 16 week old male Labradoodle. His biting problems have gotten out of control, and I don't know what to do. He bites arms, fingers, toes...my arms are so scratched up and he draws blood often. Every time I try to discipline him, he thinks I'm playing with him. I've tried:
- grabbing his snout, shaking it saying no
- just saying "no" or "stop" sternly
- grabbing him and turning him over on his back, or picking him up like a baby
- using a spray bottle...he ends up pawing at the water or drinking it!
- caging him
- using a toy as a distraction
Either my techniques make the biting worse, or they are just a very short distraction. I can't get anything to work for a long period of time...and I can not take any more abuse to my arms and fingers.
Help!
Answers
Read More

Answers
6 More Questions
Ask a QuestionHere are the questions asked by community members. Read on to see the answers provided by the ThriftyFun community or ask a new question.
We are fostering 2 Pitts, one male and one female, that are 6 weeks old. During play time together, they seem to be getting more aggressive with each other. Is this a trait that this bred has or is this normal behavior for puppies?
By Doug from Soquel, CA
Read More

Answers
I have a 3 1/2 year old Jack Russell-male, an 8 month old male Jack Russell, a 10 month old male Pit Bull, and a female miniature Pomeranian, that's a year and 8 months old. They are all in the same house.
My female has recently gone into heat and the Pit Bull has attacked the older Jack Russell. But ever since I got the Bull, the Jack Russell has bullied the Pit Bull. He growls when they go to eat or leaves his treats in the floor daring him to take it.
I have since moved the Pit Bull out of the home. I have placed him in a dog lot at my mom's. I just need to know how to handle this situation, I love both of these males they're like my children.
My husband passed away August 13, 2009 he raised the Jack Russell with a firm hand. Since then the Jack Russell has became even more possessive of me. I need help. I love both dogs and I miss the Pit Bull, but I have become afraid of him.
By Tresa from Cherokee, NC
Answers
February 22, 2010
0

found this helpful
You are dealing with a case of k-9 jealousy! The older pet is trying to establish his Alpha dog role and won't tolerate (on his own terms)anyone getting in his way or getting close to you.He will protect you at all costs.You have to make sure each pet has their own space and separate feeding dishes. When he acts up you may try giving him a time out (just as you would a child).Put him in a create, until he calms down.It may take numerous times of doing so before he catches on- but he will finally make the connection bad behavior means time away from the group. Another thing you can try is getting the younger pets out and playing with them -while he watches and slowly incorporate him into your group. By doing so will show him that you are in command and that if he wants to join he will have to accept the others.
Read More

Answers
My 11 month old Labradoodle has been jumping up recently and biting my lower and upper arms and clothes. This is extremely painful and frustrating. He has been doing this for two months. I tried saying no in a firm voice and getting him to lie down as soon as he jumps, but the minute we get going he starts biting at the leash and my hands again. I have also tried standing on his leash, holding his mouth, yelping, and ignoring him. None of these seem to work at all :( The only way I can deter him is to get him to sit then give him a toy so that he will be focused on something else, but I don't always have one on me.
Thanks for the suggestions.
By Mary K.
Read More

Answers
My husband and I have a Boxer puppy named Nena. She's three and a half months old and is very aggressive. We are currently living with my parents and my seven year old sister while our house is being completed.
Nena is an extremely sweet lovable dog. Everyone that sees her falls in love with her. She's not usually aggressive, but lately my seven year old sister has been playing with her very roughly making Nena aggressive with us. She bites everything and everyone in sight.
My parents have a nine year old Corgi and Nena just loves to bite her stubby tail and get on her back. We're very concerned about her behavior as I am eight months pregnant. We do not want her to be this aggressive with our soon to be JR. Please somebody help us! My husband is at his breaking point and wants to sell her:( I adore my little Nena and just want to train her to be a good dog. Please somebody help!
By manda
Read More

Answers
I have 2, 8 month old, puppies who are sisters. We rescued them from a pound, but while I walk them they always show very aggressive behaviour towards other dogs we see. I tell them shush and try to carry on walking to show I am not concerned with the other dogs, but they are big and strong and find myself dragged about. I am trying halti leads which helps me control them, but not their aggression. It is always the same one that starts it. Please help.
By Tina
Answer

this Question
This is a page about working with an aggressive pit bull puppy. The most important thing in dealing with an aggressive puppy is to find a good trainer and be very consistent in your training. Socialization in a safe and controlled environment is often beneficial too. The earlier you address these concerns, the better!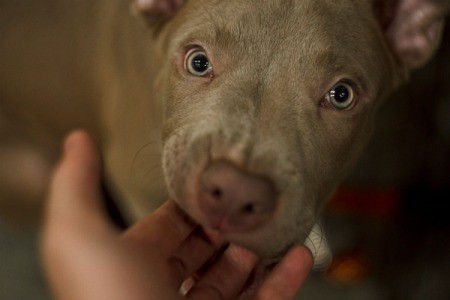 Advertisement
Published by ThriftyFun.
© 1997-2020 by Cumuli, Inc. All Rights Reserved.
https://www.thriftyfun.com/Training-an-Aggressive-Puppy.html