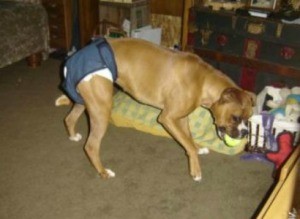 Buying dog diapers can be very pricey and then it can also be difficult to get the right size. This is a guide about homemade dog diapers.
Ad
---
Questions
Here are questions related to Homemade Dog Diapers.
My puppy went into heat last week and it has been very heavy and I was wondering if anyone has tried to make a homemade diaper or something to prevent their pet from staining everything they sit on? Do you have any ideas that could help me?

Corri from TN
Ad
---
---
Most Recent Answer

By anita04/10/2010
This can work great for smaller dogs. My dog is under 20 lbs. and I used an infant onzie. Cut a hole for the tail and use 1/2 a panty liner during discharge. I've tried other things but they always seemed to slip off. This doesn't.
My loving Cairnoodle, 10+yrs, with barely a tail, 20 lbs, 14" from shoulders to base of tail, shakes, scratches and gets out of doggy diapers. I have ordered DoRites with attached suspenders, but that gets really pricey since I have to use them every night. She is very embarrassed because she is very well potty trained, but watching the stricken look on her dear face when I remove the stairs so she cannot sleep with me as she has done since she was puppy is almost more than I can bear. The mattress is waterproof, but changing bed linens/waterproof cover 1-2 times per night has got to stop! I am 72 and that is hard work so late at night plus I am not getting the rest I need at my age. She is on meds for UTI, but doc says at her age, she may remain incontinent. A onesie might work, but since my own babies are now middle aged, I have forgotten what size I would need to buy. I would appreciate any suggestions.
By Linda C
Ad
---
---
Most Recent Answer

By sahakiandianne [1]01/25/2015
I had a dog 14 years old and incontinence happened during the day and night and asked the vet for medicine for the incontinence worked very well.
I have a dog that is mixed Lab, she weighs about 80 lbs. I use the adult Depends on her when she is in heat, and they just are still too big, they keep falling down off from her back. I can't seem to find anything to make them stay up. Any suggestions on what to do or anything else I can try to use on her? The smaller ones just don't seem to fit on her right.
By Ellen
---
Most Recent Answer

By Stev G.12/22/2013
I have a small dog so I used a random unmatched thick black tube sock, cut off the foot part (so it's only the tube) and then cut holes for the legs and tail. The extra length that's left over should be under the tail so don't cut the holes until it's on the waist up high enough so it won't fall off on it's own then fold & tuck the extra under the tummy into the band, that way you'll have the "pad" and it's adjustable. Since you have a larger dog, I'd say get a pair of child's long john's pants/sweatpants,cut out for the tail and then u can use panty liners or what have you. if that's not an option use a shower cap/plastic bag (just cut off handles and then u can tape the waist) an old bini would prob even work too. Just some ideas.
Does anyone know how to make a diaper for a female dog in heat. She's a really little Chihuahua.

Donna from Springfield, MO
---
Most Recent Answer

By Linda H.01/04/2014
I bought doggie diapers for our 2 dogs from Amazon.com, it was only $10 for washable dog diapers(for 2), wonderful!
I have a male and a female, the male use to wear a wrap but it was causing friction and made him sore in the private area, so my female and him wear a full on washable diaper, pull the tail through, Velcro it, done!
Solutions: Homemade Dog Diapers
Do you have knowledge about this guide topic? Feel free to share a solution!
Archives
Thrifty Fun has been around so long that many of our pages have been reset several times. Archives are older versions of the page and the comments that were provided then.
Does anyone know how to make a diaper for a female dog in heat. She's a really little Chihuahua.
Donna from Springfield, MO
---
RE: Homemade Diaper for a Female Dog
Our miniature Dachshund had the same problem. We went to Petsmart (any pet supply store will work) and purchased an actual dog diaper. I think we paid around $5 for it. It's made out of different material so you're able to wash it. I didn't know if you already knew about Petsmart so I thought I would help.
Good luck!
Janet from GA (07/13/2006)
By maddiesmom
RE: Homemade Diaper for a Female Dog
You could buy a toy doll's diaper and make up a tie to go around her body. Or put her in a doll's tight fitting onesie and stuff the diaper inside. (07/15/2006)
By LITTLE SUZY
RE: Homemade Diaper for a Female Dog
I once saw someone take a pair of men's underwear and place on the dog (Great Dane) and put her tail through the "hole". (07/15/2006)
By teddygirl
RE: Homemade Diaper for a Female Dog
If you do not intend to breed your dog, then sterilisation might be an option to solve this problem long term. It worked for my little girl and I don't have to worry about visitors having her on their lap as she no longer comes on heat.
As for the pants/nappies they can work for some dogs, but just be careful as these little dogs can worm their way out of them and become tangled. It is best to remove them if you are not going to be around. (07/17/2006)
By K from Oz
RE: Homemade Diaper for a Female Dog
We have a female Chihuahua and know exactly what your talking about. I made a fabric doggie pant for her in the shape of a T. Its probably 3 inches wide and 9inches long. I cut a hole for the tail and used Velcro on both ends to fasten around her stomach. It's fast and easy to use and machine washable. The liner I use is a pantyliner cut in half. I leave a stack of them by the door so when she goes out I remove the pants and when she comes in put the pant on with a fresh liner. It works like a charm. They stick in the pants and are easily replaced. No more mess. (07/18/2006)
By Judy
RE: Homemade Diaper for a Female Dog
What about the disposables made for premies? Would they be too large? Just a thought? I have not had experiences like this with a dog, but did construct a diaper years ago for my guinea pig who I let run up and down the hallway and did not want any accidents. Best of luck! (07/18/2006)
By T
RE: Homemade Diaper for a Female Dog
I used a premie Pampers. Just checked where tail would go and then cut out for tail to come though, put on little doggie and you have a diaper. (07/19/2006)
By Gramie3
RE: Homemade Diaper for a Female Dog
I found that pull-ups the smallest size works the best for my 40lb dog. I have tried the doggie panties; small boys underwear with/feminine pad and still the pull-up was the best choice. It fits better all around because of the elastic. (04/04/2007)
By NJ.
RE: Homemade Diaper for a Female Dog
I also have a Chihuahua and I found the smallest size of the disposable pullups called "Smimmers", for children still in diapers to wear while swimming fit my little one. I also bought some little fancy panties that fit her. You just have to cut a hole for their tail. (05/14/2007)
By Kathy
RE: Homemade Diaper for a Female Dog
I have a tiny Pomeranian mix that just got done with her first heat. What I did was take some old sweat pants (or just some breathable material) and got a needle and thread and made them fit her. Another thing you could do if you aren't that crafty is, get small little kid underwear and cut a hole for your dogs tail. As for the blood I just put a lightdays pad in there and changed the pad for her every little while. (05/20/2007)
By Rachel
RE: Homemade Diaper for a Female Dog
I went to the second-hand store and bought some cloth swimming diapers for babies. I cut a hole out for her tail and lined them with a pantyliner. It worked great! (07/30/2007)
By Angela
RE: Homemade Diaper for a Female Dog
If you have problems with the diapers falling off (as I did). I ended up using a old newborn onesie from my daughter, and put a lite pad in it and it seemed to work pretty good. If not maybe you can somehow construct a pair of suspenders to hold up the diaper. Good luck. (02/01/2008)
By Stacy
RE: Homemade Diaper for a Female Dog
I found an alternative way to make dog diapers here http://doggiediapers.blogspot.com/ (08/27/2008)
By Jim