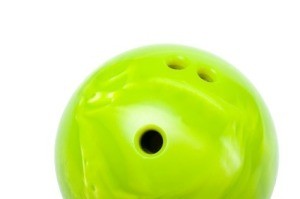 You can create some decorative, unique crafts by working with an old bowling ball. This is a guide about crafts using bowling balls.
Ad
---
Solutions: Crafts Using Bowling Balls
Read and rate the best solutions below by giving them a "thumbs up".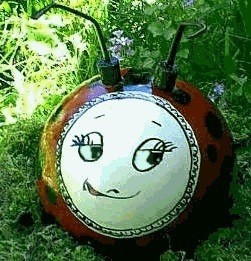 This is a bowling ball I painted to look like a ladybug. I used eyeglass frame, handles for the antenna, pushed them into corks and glued it to the top of her head. Her back looks really cute but you can't see it in this photo.
I used outside varnish so I can pop it up under a plant. I put a copper pipe in the ground and sat in on that, using one of the holes in the bowling ball, That is to keep it off the ground. A friend of mine made the eyes move. They really do not move in real life. LOL
By Eve from Gulf Coast
Recycle those old bowling balls. Spray them with primer and then spray paint them any color you choose. Use them as garden globes. The size is a little off but they are not so breakable as the glass globes. Your will just have to buy a stand. This was my idea after breaking so many of those garden globes.
By Linda O from Highland Lakes, NJ
Give a "thumbs up" to the solution that worked the best! Do you have a better solution? Click here to share it!
Questions
Here are questions related to Crafts Using Bowling Balls.
I'm decorating old bowling balls with old mirror parts. What is the best way to break an old thick mirror and the best way to attach it to the bowling ball? Thanks.

Hardiness Zone: 7b

Bonnie from Lascassas
Ad
---
---
Most Recent Answer

By mj rayhart. (Guest Post)05/15/2008
I've used a simple glass cutter (one used to cut window panes or mirror tiles) as well as a glass breaker (a pliers shaped tool used by stain glass workers). To affix glass I've found super glue and/or epoxy to work best.
Feedback Forum
Feedback about this article is posted here. Want to contribute? Click above to post feedback.

08/01/2011
This is so cool, most of the good wills and salvation army stores get bowling balls.

By Marni Sorce04/21/2008
That is too cute! Boy, you could find a bunch of things to do that to. Thanks for sharing!

By sharon weidensaul [3]04/19/2008
Absolutely lovely, Jodi. The display holder is perfect. Thanks for sharing your art! Sharon in Turkey

By Penny Squeeker (Guest Post)04/19/2008
That is the prettiest thing! How clever to use those flat marbles! Lots of bowling balls around, nice to have some way to use them! That will brighten up a garden spot! A friend of mine found a bowling ball covered with old pennies. It was nice in a corner of her house. Both would be just wonderful to have as conversational pieces! I think if I find one at a garage sale I might just have to try it!
je