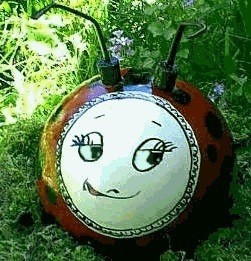 This is a bowling ball I painted to look like a ladybug. I used eyeglass frame, handles for the antenna, pushed them into corks and glued it to the top of her head. Her back looks really cute but you can't see it in this photo.
I used outside varnish so I can pop it up under a plant. I put a copper pipe in the ground and sat in on that, using one of the holes in the bowling ball, That is to keep it off the ground. A friend of mine made the eyes move. They really do not move in real life. LOL
By Eve from Gulf Coast
September 14, 2009
0

found this helpful
When I put the pic on the eyes were moving. I guess it didn't show up animated. That's good. I didn't want them to move. A freind made them move as a joke. It was cute!
Read More Comments
Recycle those old bowling balls. Spray them with primer and then spray paint them any color you choose. Use them as garden globes. The size is a little off but they are not so breakable as the glass globes. Your will just have to buy a stand. This was my idea after breaking so many of those garden globes.
By Linda O from Highland Lakes, NJ
March 28, 2009
0

found this helpful
I have done this for years. I add a spray of high gloss poly to give it the shine and it also makes the paint stay better. Still have one that was done 12 years ago that looks fine.
Read More Comments
I'm decorating old bowling balls with old mirror parts. What is the best way to break an old thick mirror and the best way to attach it to the bowling ball? Thanks.

Hardiness Zone: 7b

Bonnie from Lascassas
Related Content
(article continues below)
Either use tape - tape the ENTIRE mirror - or contact paper and cover the back side. Lay mirror side flat on a sheet, place 2 to 3 layers of old towels on back, taped side and gently hit with a large pan or hammer, preferably a rubber or wooden mallet. Handle carefully.
May 7, 2008
0

found this helpful
You'll need to wrap the mirror in a towel, blanket or paper bag then hit it with a hammer. Even though you have your mirror wrapped up, be sure to still wear safety glasses! (you can get a pair at the $1 store). Most people use a product from the hardware store called "mastic" to attach glass or tile to mosaic work (you'd need to sand your bowling ball to give it "tooth" before you start). But because it's a bowling ball, instead of mastic, I'd recommend a glue called E-6000 or GOOP to attach the mirror pieces. You might even be able to use a calking gun with construction glue. Also, to get the best looking results, you should grout your project after waiting several days for the glue to set up. If you decide not to grout, I'd recommend a coat of silver or gray paint after you sand the ball & before gluing the mirror pieces down. This way in between the mirror pieces, you'll see a color that more closely matches the tiny mirrors.
* If you're making this as a "garden ball" be sure to seal the grout & make sure your glue, etc is acceptable for outdoor use, so it will hold up to the elements. If you don't grout your ball, you could have a safety hazard because of the sharp pieces, so keep children & those on blood thinners from handeling the mirrored-ball! ... Also, when you work with mirror pieces, be sure to wear 2 pairs of latex gloves, especially when you grout! (so you don't cut yourself)
---> If you live in a dry area & you set your mirror-ball in the garden, remember that the sun will hit the mirrors & could bounce off of them on to dry grass or leaves, which could start a fire. I once road in a truck over loging roads with a Washington State Forest worker, & she told me that a significant amount of forest fires are cause by the sun hitting pieces of glass (from old bottles) which can then magnify it, causing grass fires in dry areas, which can turn into forest fires... Anyway, not to scare you, because the chances are remote, but just use care where you placing your ball, if you live in a drought prone area.
I'm really curious what you are going to use a mirrored bowling ball for.
Another alternative-My neighbor did that project using pieces of broken cds.
May 9, 2008
0

found this helpful
If you are wanting same-size pieces, you might take the mirror to a hardware store and have them "score" it for you so that it can be broken at the score marks.
May 9, 2008
0

found this helpful
Hi,
I made a gazing ball out of a bowling ball and mirror. First I filled the holes with expando foam. I had experience working with stained glass so I just cut my mirror into small 1" square pieces. You can do this with a glass cutter. It takes a bit of practice scoring and cutting the glass. I'm sure you can find instructions on the internet. I also added some colored stones to my ball. I attached the pieces with Liquid Nails (you can buy that stuff at Lowes or Home Depot). I have also used the tile mastic that is used to attach ceramic tiles in bathrooms. When you are finished covering the ball with mirror you need to grout it. It really turns out beautiful if you take your time. Good Luck
Rose
May 15, 2008
0

found this helpful
Enclose the mirror in brown paper and hit it with a hammer. This gives you uneven pieces. For glue, I would try silicone, you can buy it at any hardware store.
May 15, 2008
0

found this helpful
I've used a simple glass cutter (one used to cut window panes or mirror tiles) as well as a glass breaker (a pliers shaped tool used by stain glass workers). To affix glass I've found super glue and/or epoxy to work best.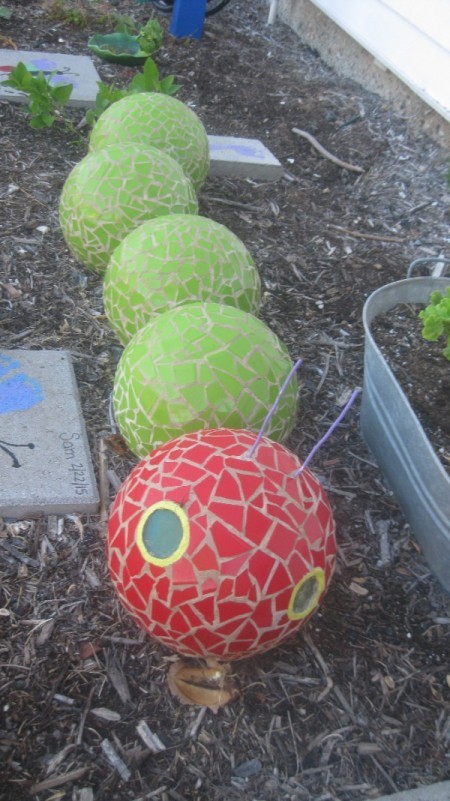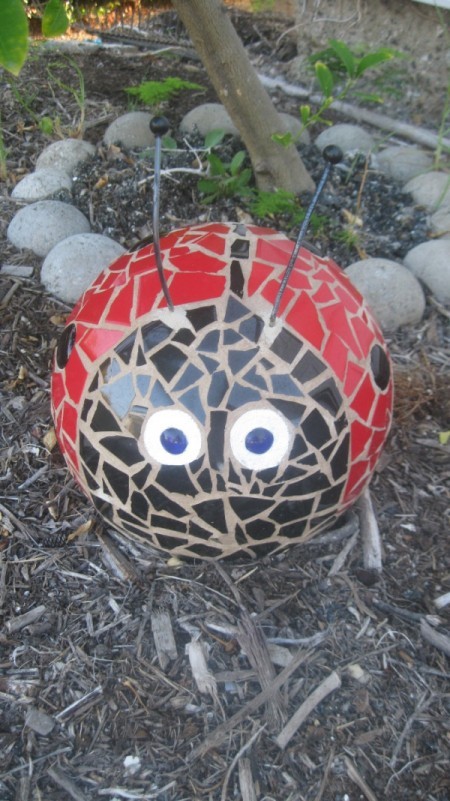 Photo Description
I received a few old bowling balls from a friend and wanted to make something cute. I tried painting them but within a couple of months, the sun had eaten through the 4 layers of marine varnish. I decided that tile would be a lot sturdier and hold up to the elements. I bought the tiles and immediately smashed them up. (Gasp!) It was a long process of gluing the tiles down, grouting between the tiles and then applying many layers of grout sealant. I did discover that, while I love crafts, I hate mosaic tiling! But, these guys make me smile. I love watching kids walking down the street and getting excited to see the Very Hungry Caterpillar and his friend the ladybug. (I don't think this one is grouchy, though!)
Photo Location
Torrance, CA (outside of Los Angeles)
October 4, 2015
0

found this helpful
Very cute! The effort was quite worth it!
Read More Comments