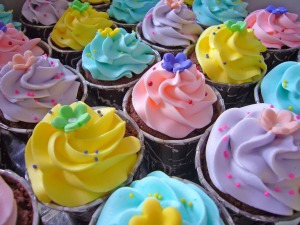 The theme of this kind of party is color and often table decorations and foods are based on one color. This guide contains rainbow tea party ideas.
Ad
---
Solutions: Rainbow Tea Party Ideas
Read and rate the best solutions below by giving them a "thumbs up".
We have been having a rainbow tea for 16 years. I took the idea to my church and asked seven ladies to help. I assigned each lady a color. I also asked each lady to ask nine more ladies to help them.
Give a "thumbs up" to the solution that worked the best! Do you have a better solution? Click here to share it!
Questions
Here are questions related to Rainbow Tea Party Ideas.
I want to know about how to decorate for a rainbow tea our church is having on October 13, 2007. My color is indigo.

Mrs. Mary Ann Gregory from Chase City, VA
AnswerWas this interesting? Yes No
Ad
---
---
Best Answers
By tonia (Guest Post) 08/21/2007 Flag
Last year our color was yellow. We did deviled eggs and dyed the eggs yellow with food coloring, yellow sugar wafers, yellow cupcakes, chicken wings wrapped in yellow cellophane paper
---
By Roberta (Guest Post) 03/18/2008 Flag
My Color Was Red:

Red stands for the Blood that Jesus Shed on Calvary, it also stands for Power.

I used a Red Table Cloth, with Matching Red Skirt, a Beautiful Red Rose Centerpiece with Fresh Baby Breath and Greenery..

Each Captain is asked to invite anyone you choose to Wear your Color on that Day, and Collect donations as well.

My foods were: Bar-B-Que Hash, Bar-b-que Ribs, Red Rice w/tomatoes and Red Sausage, Red Jello topped with Whipped Cream, Deviled Eggs with Red Food Coloring, Pasta Salad with Red Cherry Tomatoes, Bar-B-que Drummettes, Lil Smokies, Meatballs, and Finger Sandwiches.
---
By Renee' H (Guest Post) 06/23/2008 Flag
For centerpieces, try something unusual like a clear vase with the chosen color fish and the fish can be given to the captain as a gift. Also, flowers are always a good idea. If you are doing foods in your color, try the unexpected. Get a local bakery to dye a cake in your color and have it precut in cute shapes and placed on a saucer in the same color or contrasting color to give it a little pop! Also do healthy varities of your food color like yellow peppers, squash casserole, corn pilaf, yellow rice, lemon squares, etc.
---
My color this year is red. I'm making red punch to drink for my table and I got red plastic plates w/ red plastic tumbler cups to match. I'm having a friend to make me some rainbow mint suckers that will be in a bouquet form and serve as my center piece as well, along w/ floating candles in a tall glass holder with red marbles in the bottom. It will sit on a glass mirror with individual red rose petals. I am giving each one of my guest a with box with red ribbon on it w/ red rose mints inside of it.
---
What kind of gift can I give to my guest at a rainbow tea party?

Claudia from Wilmington
AnswerWas this interesting? Yes No
Ad
---
---
Most Recent Answer
By Saber Alexander 9 73 11/07/2008 Flag
Well, I'm not quite sure what a "rainbow tea party" is either... But how about a prism? You know, one of those glass baubles that hang in front of a window, and bend the light into rainbow colors on the wall.

You can often get them, I know, in places that sell semi-precious gems, or New Age items...possibly places like hallmark and the like. Most look like little disco balls. Some are in a quartz-crystal like shape.
---
How do you make money doing Rainbow Tea Parties. I heard that you can. I need details.

Fances
AnswerWas this interesting? Yes No
---
Most Recent Answer
By Natasha (Guest Post) 01/02/2009 Flag
I just wanted to tell all who contributed to this site thank you and please pray for me as I try to direct a Rainbow Tea for the first time ever myself. God bless you all
---
We are having a Rainbow Tea at my church. I need ideals on a theme and a Bible verse to go along with it. Ideas for decorations would also be helpful.
By Lillie from Missouri City, TX
AnswerWas this interesting? Yes No
---
Most Recent Answer
http://girlsteaparty.wordpress.com/ ... great-ideas-for-a-rainbow-tea-party/
above is a link I found.
Also, go to Biblegateway.com to look up verses...maybe search the word "promises", as the party is a celebration of God's promises towards us!

Off the top of my head, I would do: New Living Translation: Ephesians 2:10 For we are God's masterpiece. He has created us anew in Christ Jesus, so we can do the good things he planned for us long ago."

I would have the theme as "God's Masterpiece" and have "canvases" in frames around and let the kids write in different colors of the rainbow markers/crayons different promises the Bible says about them (maybe after a teaching on it?). I'd talk about the Artist's color plate and how just like God does in our lives, he knows what colors to put where to make a masterpiece.
---
What is a church rainbow tea party?
By shortstack from Fayetteville, NC
AnswerWas this interesting? Yes No
---
Most Recent Answer
By frankie 1 1 11/30/2010 Flag
A Rainbow Tea is a wonderful fun raiser and a time to fellowship with your church members and friends. My church will be celebrating it's 3rd year and it is certainly growing. We chose a color of the rainbow (7) and each group had a color (we pulled to determine who would get which color) each group decorated their tables to include foods with the color pulled. it was really pretty. We had a program with light entertainment and plenty of food.
---
My color is yellow and I would like some ideas on what to serve?
By Mary Kay from Lincoln, NE
AnswerWas this interesting? Yes No
---
Most Recent Answer
By Rose Anne Hutchence 7 237 04/18/2015 Flag
Lemon angel food or pound cake(s), butter tarts, lemon meringue pie or tarts, lemon slices for the tea, lemonade, cupcakes with lemon icing, yellow bell pepper wedges with dip, yellow cherry tomatoes.